Wondering if all Shimano chainrings are interchangeable? This article answers that and explains even more.
Shimano chainrings are a critical component of the drivetrain of a bicycle. They facilitate the transfer of force from the pedals to the back wheel. 
As a professional cyclist myself, I can't overemphasize their impact. When it comes to chainrings, compatibility is a no-brainer.
Incompatibility between a chainring and your bike's drivetrain system results in problems with shifting, greater wear on your drivetrain's parts, and less power transfer.
If you want to replace your chainring, you might wonder if the Shimano chainrings are interchangeable. I'll cover this in detail. Continue reading…
Shimano Chainring Compatibility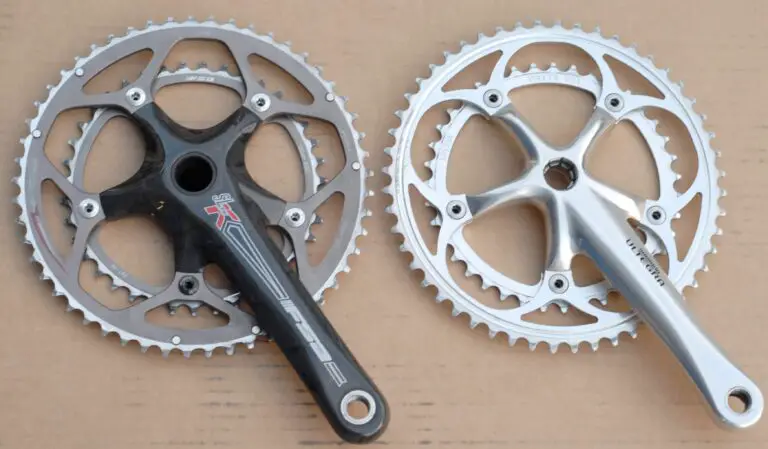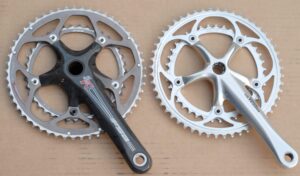 There are a couple of critical variables that affect chainring compatibility, which are:
Chainring size and the number of teeth: Different chainring diameters and tooth counts alter the gear ratios accessible on your bike. Shimano chainrings come in a range of sizes from 24t to 56t and have tooth counts from 30t to 53t.
The size and tooth count affect your bike's overall gearing, ability to climb hills, and ability to maintain speed on flat ground.
Bolt Circle Diameter (BCD): The chainring's bolt circle diameter measures the space between the bolt holes. Shimano chainrings come in various BCD sizes, affecting their ability to work with multiple cranksets. Shimano chainrings typically come in 110mm and 130mm BCD sizes.
Compatible cranksets: Your pedals and chainrings are connected by a piece called the crankset. Different cranksets are made to work with particular chainring sizes and BCDs and have distinct specs. 
Interchangeability of Shimano Chainrings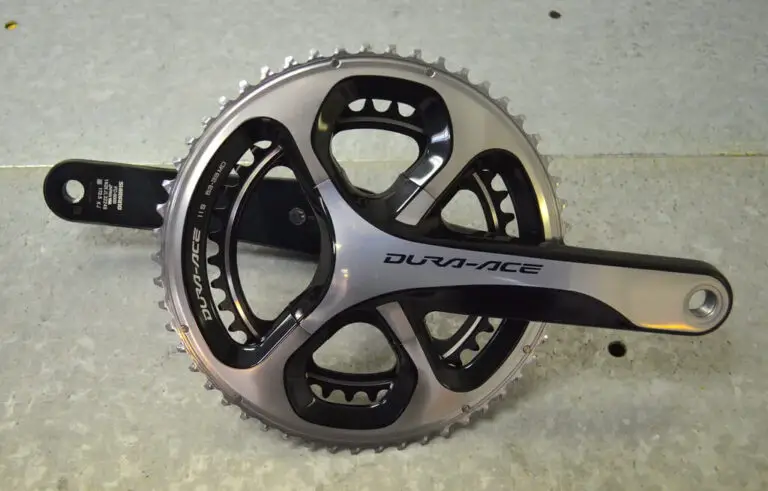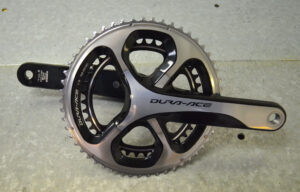 On whether "Are all Shimano chainrings interchangeable?" 
No, not all Shimano chainrings are interchangeable. A chainring's compatibility with a certain crankset or bike depends on size, teeth count, BCD, and Shimano groupset compatibility.
But Shimano chainrings can occasionally be switched between various cranksets or bicycles. For example, if you have a Shimano 105 5800 11-speed groupset and want a Shimano 105 R7000 11-speed groupset, you can use your current chainrings, provided they have the same BCD and tooth count.
The universal design of some Shimano chainrings enables them to be used with various cranksets and groupsets. You can use these chainrings to update or swap out existing chainrings without completely rebuilding the groupset because they are made adaptable.
Remember that the BCD and tooth count of the chainring must still match your crankset and groupset, even if you're using a universal chainring. When you use a chainring with the incorrect BCD or tooth count, your drivetrain will suffer, and there may be safety risks when you ride.
Tips for Replacing Shimano Chainrings
The following are some valuable pointers to have in mind if you plan to change your Shimano chainrings:
Compatibility check: Confirm compatibility with your crankset and groupset before buying new chainrings. Using a wrong size chainring can result in poor shifting, damage to the drivetrain, and safety risks.
Note the material: Shimano chainrings come in various materials, such as steel, carbon fiber, and aluminum. The most popular material, aluminum, provides a nice blend of price, weight, and durability. 
Steel chainrings are better for heavy-duty cycling since they are heavier but more durable. However, rigid and light carbon fiber chainrings are more expensive and may only be ideal for some types of riding (primarily professional).
Determine tooth count: The gear ratios available on your bike depending on the number of teeth on your chainrings. Lower tooth counts offer more resistance for climbs, while higher tooth counts make pedaling easier on flats and descents. 
Consider your riding style and the terrain before investing in new chainrings to get the proper tooth count.
Go for high-quality components: Buying high-caliber chainrings can significantly improve the performance and longevity of your drivetrain. Although less expensive chainrings seem good, they may not perform as well as authentic Shimano parts. Always go for quality!
Seek help from experts: It's good to ask. If you need help with the technical details of upgrading, compatibility, or installation, seek a skilled bike mechanic or Shimano dealer. They'll help you pick the suitable chainring for you and help you install them. 
Chainring Materials
Here's an overview of the materials used to make Shimano chainrings:
Aluminum: There is a good reason why aluminum is the most popular material for chainring construction. It is cheap, strong, and lightweight. 
Different aluminum chainring thicknesses are available, with thicker chainrings being more robust and less likely to bend or warp. Shimano uses premium aluminum alloys in their chainrings which increases durability.
Steel: Compared to aluminum, steel chainrings are heavier but more robust. They are perfect for demanding rides, like touring or mountain biking when toughness and durability are crucial. 
Steel chainrings last longer than aluminum chainrings and are less prone to warping or bending.
Carbon Fibre: High-performance chainrings are made of lightweight, material solid carbon fiber. It is perfect for competitive or race cycling since it provides outstanding power transfer. 
But because carbon fiber chainrings are more rigid and less durable than steel or aluminum, they are more expensive and might only be appropriate for some types of riding.
Shimano chainring replacement requires careful consideration of the compatibility of various materials. Some chainrings are different from some materials. For example, some Shimano cranksets might not be compatible with carbon fiber chainrings due to the material's stiffness.
When choosing the best chainring material for your bike, ensure it's compatible with your groupset and crankset. 
Crankset Compatibility
Crankset compatibility is essential. Here's what you need to know about crankset compatibility:
Crankset Anatomy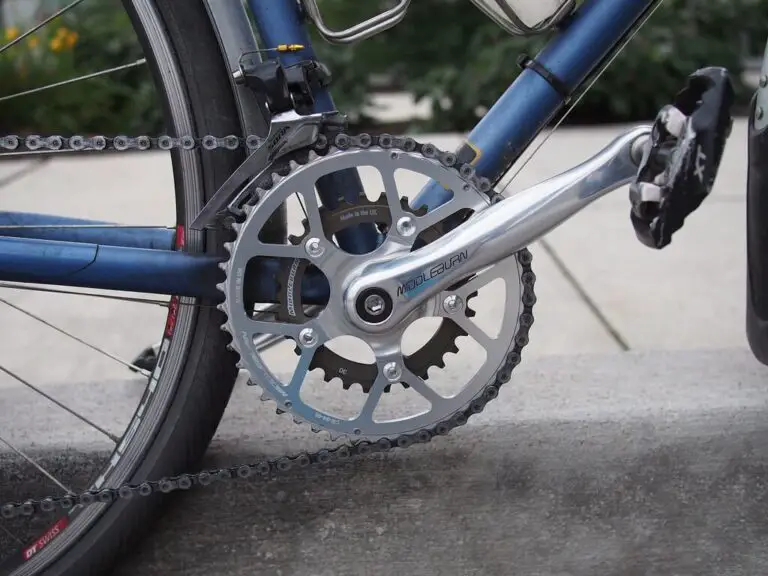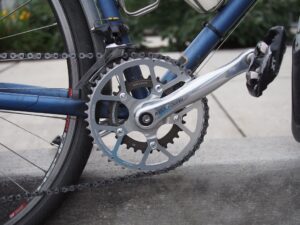 Length of Crank Arm: The distance between the pedal spindle and the center of the bottom bracket is the crank arm length. The crank arm length impacts the rider's comfort and pedaling effectiveness. 
There are various arm length ranges that fit different rider heights and preferences. 
Compatible Bottom Brackets: The portion of the bicycle frame that joins the crankset to the frame shell is the bottom bracket. The type of chainring you can use depends on the bottom bracket standards and compatibility criteria of your crankset. 
When choosing chainrings, consider your crankset's compatibility with the bottom bracket.
Chainring compatibility with various cranksets
Shimano Chainrings: They are intended to work with Shimano cranksets. When choosing chainrings, note the crankset's exact model and year. Specific chainring models or materials may not be compatible with all Shimano cranksets.
Alternative Cranksets: Although Shimano chainrings are made to work with Shimano cranksets, they might not work with cranksets made by other manufacturers. 
Before making any purchases, ensure your non-Shimano crankset is compatible with Shimano chainrings. Specific chainring designs or materials could be necessary for certain non-Shimano cranksets to operate correctly.
The Various Crankset Types and Their Compatibility
Road Cranksets: Compared to mountain bike cranksets, road cranksets typically have smaller chainrings and a narrower chain. They are made for road bikes. 
Mountain Bike Cranksets: Compared to road bike cranksets, mountain bike cranksets are primarily designed for off-road riding and include larger chainrings and a wider chain.
Gravel and Cyclocross Cranksets: Designed for riding on mixed terrain, gravel, and cyclocross cranksets often have a larger range of gears than cranksets for road or mountain bikes. 
Shimano Groupsets and Compatibility
Shimano groupsets comprise several parts intended to function as a unit. They enable reliable, efficient, and smooth shifting. 
Shimano groupsets are offered at various price points. And they are made for multiple riding styles, from entry-level road bikes to top-of-the-line racing bikes. 
Here is a summary of Shimano groupsets:
Shimano Groupsets 
Shimano Road Groupsets: These groupsets range in price from the budget-friendly Claris to the high-end Dura-Ace and are explicitly made for road cycles. 
Shimano Mountain Bike Groupsets: They range in price from the budget-option Altus to the high-end XTR. They are made for off-road riding. 
Chainring compatibility within the same Groupset
Chainrings created for a certain Shimano road groupset are often interchangeable with other parts of that groupset. 
Chainrings made for Shimano 105 cranksets generally work with derailleurs and shifters for the exact bicycle model.
Chainrings explicitly made for a particular Shimano mountain bike groupset are often interchangeable with other parts. 
Chainrings made for Shimano Deore cranksets may work with derailleurs and shifters made by the same manufacturer.
FAQS
Are all Shimano cranksets compatible?
Not all Shimano cranksets are interchangeable. Shimano cranksets' compatibility varies depending on elements, including the number of chainrings, bolt circle diameter (BCD), and style of bottom bracket interface. 
How do I know if my chainring is compatible?
You should consider the number of teeth, the bolt circle diameter (BCD), the number of bolts, and the type of crankset when determining whether your chainring is compatible. You can discover this information using the manufacturer's specifications or a compatibility chart. 
Are all 5 bolt chainrings compatible?
No, not all chainrings with five bolts are compatible. Choose a chainring made expressly for your crankset, matches its BCD, and has suitable bolts. 
How do I choose a replacement chainring?
Consider the teeth, the bolt circle diameter, and the crankset compatibility when choosing. Ensure the chainring you select is suitable for your shifting system and meets the requirements of your present crankset. 
Can you mix and match Shimano?
Mixing and matching Shimano parts, such as chainrings, is possible if they are compatible. Check that the parts are compatible with your current drivetrain, from the same speed range, and have similar bolt circle diameters (BCD). Shimano components can be combined and matched to create flexibility and customization possibilities. But, do so carefully to prevent any performance issues.  
Can I mix 105 and Ultegra?
Mixing 105 and Ultegra components is possible as long as they are compatible. Shimano's road groupset series includes the 105 and Ultegra, and as they have comparable features and specs, they can be used together.
Wrap Up
Not all Shimano chainrings are interchangeable. They come in various shapes and sizes that are made to fit particular cranksets and groupsets. 
Thanks to Shimano's vast selection of chainrings, it is easy to get a new chainring you can add to your cart. And go back to your enjoyable cycling escapades.
Happy cycling!
Keep Learning:
If you liked this article, here are other similar articles you can read!