A good bicycle helmet provides reliable head protection whether you are cycling during the day or night. In this Basecamp specialized bike helmet review, we explore a top tier helmet that packs all the necessary features for riding safely especially at night.
I take part a lot in cross-country cycling. One big mistake I see a lot of pro-cyclists make is not investing in a good helmet. You never know when the inevitable will happen and when it does, you want to come out of that ordeal unscathed. For me, a good helmet should be durable enough to resist impact especially when the rider falls head fast to the ground. I also prefer my bike helmet to come with bonus features like a backlight to make me more noticeable at night. My quest for a premium helmet led me to the Basecamp Specialised Bike Helmet.
Basecamp is a household name when It comes to manufacturing bicycle accessories. They manufacture quality helmets that are CPSC certified for riding. This particular model, Basecamp Specialised Helmet, comes with all the standard features of a riding helmet and more.
Basecamp Specialised Bike Helmet
Did you know that bike helmets have an 88% chance of preventing injuries to the head and brain while riding? This is why it is important to always wear a helmet even when you are having a casual evening ride with your bike. When shopping for helmets, ensure you are choosing a helmet certified for use on the road. The material used to craft quality helmets should be tough enough to withstand impact. Strong helmet material also prolongs the helmet's shelf-life.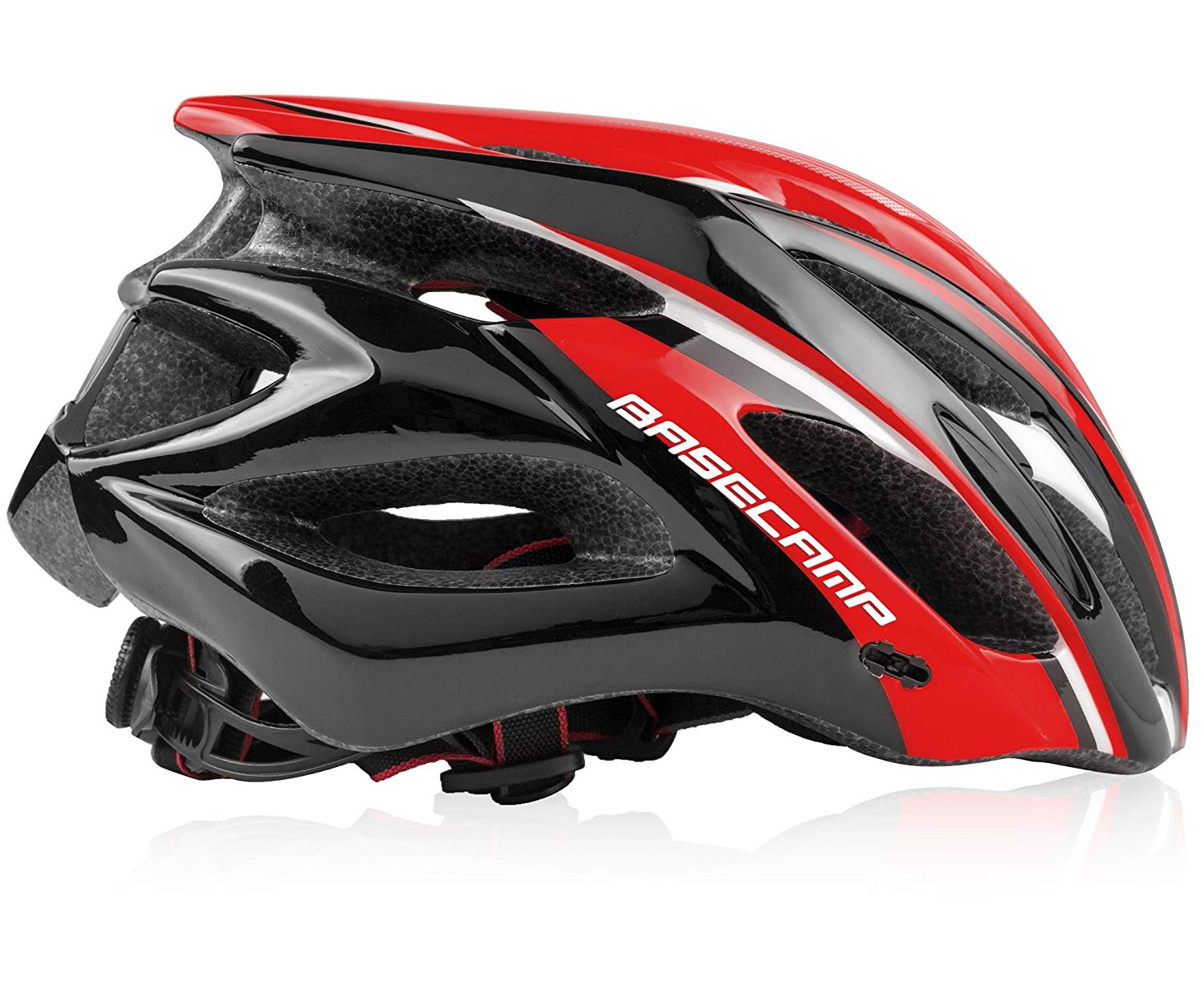 Here are the top features of the Basecamp specialized bike helmet.
Features
Quality Material
Basecamp used PVC, EPS, and PC foam to construct this helmet. These materials are high density and can withstand any impact subjected on them. PVC and EPS are also very durable forms of plastic that add to the longevity of this product.
Adjustable Head Circumference
Basecamp specialized bike helmet fits the standard head size of between 22.83 and 58 cm. This helmet also includes adjustable straps and a dial resize knob. These two features make it possible to readjust the helmet's circumference until it fits your head form. There are extra adjusters on this helmet to resize it even further.
Premium Ventilation
The best bike helmet has an inbuilt ventilation system for providing cooling in hot weather. The Basecamp specialized bike helmet has over 22 flow vents that allow cold wind in and expel hot air out. This ensures your head does not feel sweaty while riding.
When moving at high speed, the flow vents let air in and out to ensure the helmet remains streamlined. This feature helps cyclists pick up speed fast and effortlessly ride against wind currents. Inside the helmet is a spongy lining that also helps in cooling. This lining is detachable so you can wash it and install it back later.
Safety LED Backlighting
This is one of the few premium bike helmets on the market that comes with LED backlighting. Basecamp revised the original light on this helmet and have made it bigger. The Led backlight comes in three lighting modes; steady, fast, and slow flashing. The light's new size ensures that motorists or other cyclists are able to see you even in poorly-lit areas.
Inbuilt Visor
An inbuilt visor omits the need to wear sunglasses while riding. This visor is strategically positioned so that it offers ample shade to the rider. You do not have to worry about the sun getting into your eyes when riding in its direction. When the weather is cloudy, remove the visor to allow more cool air to hit your face.
Many Color Options
Basecamp specialized bike helmet is available in a variety of color. You can buy it in colors like black, red, blue, white, green, pink, or yellow. Basecamp also sells this helmet in different color combinations. You may also vary the color of the LED backlight to complement the helmet.
Pros
Built with tough durable material
Includes an LED safety light
Comes in many color options
Adjustable to fit better
Cons
May not fit all head sizes
 
Conclusion
Your safety comes first when riding on the road or through a forest. A Basecamp specialized bike helmet has all the necessary features required by pro riders. It boasts of a tough impact-resistant material that is also lightweight. A large LED backlight ensures you remain visible to other cyclists and motorists while on the road.
Basecamp specialized bike helmet is a premium product that anyone can wear. It provides safety while riding to work, school, or a weekend getaway. Feel free to compare this Basecamp specialized bike helmet review with other products from the same company such as Basecamp LED Cycling Helmet and Basecamp Visor Shield bike helmet.