Top of the chain in regard to commuter bikes is none other than the Cannondale and Giant road bikes. The Cannondale bike is no newcomer in the biking arena, receiving standing ovations with every new model. Come with me and find out more about these two bikes in this detailed Cannondale vs Giant road bike review.
Who said that in cycling there's no sense of style? Clearly, they were wrong. If you are looking for that classy, elegant ride to get you there, the Cannondale road bike will by far surpass your wildest expectations.
If you are looking for a more vigorous, rugged feel, the Giant road bike is sure to elicit gigantic emotions.
For years, these two bikes have crisscrossed different city paths each bike making its own statement and getting different reactions. What everyone seems to agree on is that these are two bikes where quality takes the first stance.
Being a biking enthusiast I sought to dig deeper and find out what makes each one of these two bikes run. What is so intriguing about them? Is there more to the hype than their simple appearance?
Here's a Cannondale vs Giant road bikes quick review.
| | | |
| --- | --- | --- |
| Model | Cannondale bike | Giant bike |
| Frame material | Carbon Fiber | Aluminum |
| Gears/speed | 27 speed | 9 gear |
| Brakes | Disc brakes | Disc brakes |
| | | |
Cannondale vs Giant road bikes detailed comparison
Frame material
Imagine trying to climb hills, ride down steep slopes and negotiate corners with a heavy bike? You'd be lying on your back completely tired trying to catch your breath barely halfway through your journey. This explains why it is very important to find a lightweight bike that is simultaneously strong enough to hold your weight and withstand shock from bumps along the way.
The Cannondale bike frame is made of Strong carbon fiber material. This bike has been computer programmed with bends and curves to use only as much material as is necessary.
The Giant road bike frame, on the other hand, is made of durable Aluminum alloy. It is also light in weight, but much heavier compared to the Cannondale road bike.
Gears
A good gear is the difference between a breathtaking riding experience and an okay ride. The gear is in charge of triggering a variety of speeds and supplying power to counter different challenges. For example, to climb upwards you'd need a powerful gear that can propel you forward with ease.
The Cannondale road bike comes installed with a 27-speed gear full of options you can conveniently use when riding on diverse terrain.
The giant road bike is designed with a high-quality 9-speed gear. This means you have enough gears for simple commuting and short distance rides but not as much power for demanding challenges on the road.
Brakes
Road bikes designed with powerful gears and very light frame materials have the potential to achieve very high speeds in split seconds. This, therefore, makes it necessary to have good, reliable, high-quality brakes to help you control speed.
The Cannondale bike comes with disc brakes which are the most effective and shifters that trigger desired actions with a single tap.
Giant road bikes also have disc brakes that are equally effective. With regular maintenance, these bikes will not break down.
Tires
Designed to last for long and withstand stress when ridden on rough roads and on paved roads, tires come in different qualities, sizes, and thicknesses. Tires are another imperative factor to look out for when choosing a road bike.
Cannondale road bikes can fit tires within the 26mm and 28mm in thickness. These tires are tough enough to take you through the roughest roads and still last you for years. They are strong enough to bear the bikes weight and bear the rider's weight.
The Giant road bike comes with 27.5 mm tires which even with constant use do not tear and wear. They are wide enough to give you the right amount of balance needed when turning sharp corners, going downhill or when riding uphill on all types of surfaces.
Cannondale vs Giant road bikes quick review
Cannondale Road bike review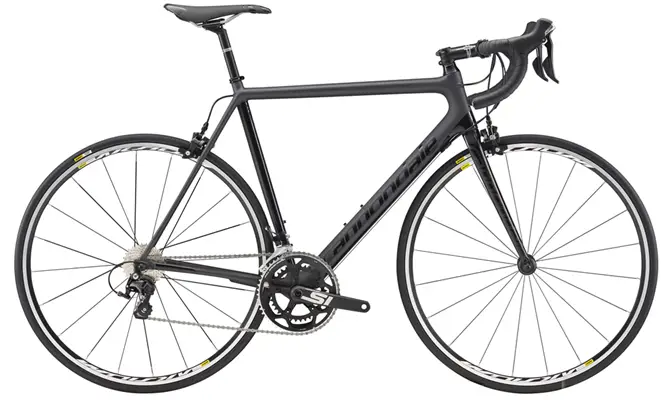 It takes weeks of hard work, paying close attention to detail and passion to complete the designing and assembly process of just one Cannondale bike. With the help of computers and modern machinery, these bikes parts are carefully made from scratch leaving no room for error. This explains why a Cannondale bike easily holds the reigns in several international competitions and the Olympics.
If you ask me, this is the most comfortable bike, most attractive bike and most well-designed bike I have ever come across. Everything about this bike has been carefully thought out and built to accommodate the rider. From its high-quality gears, its enchanting colors, effective shifters, reliable brakes, it would take you days to figure out half of what's good about this bike.
Pros
High-quality disc brakes
Durable, light carbon fiber frame
27-speed gear
Con
This bike may be too highly priced for people looking for a commuter bike on a budget
 
Giant road bike review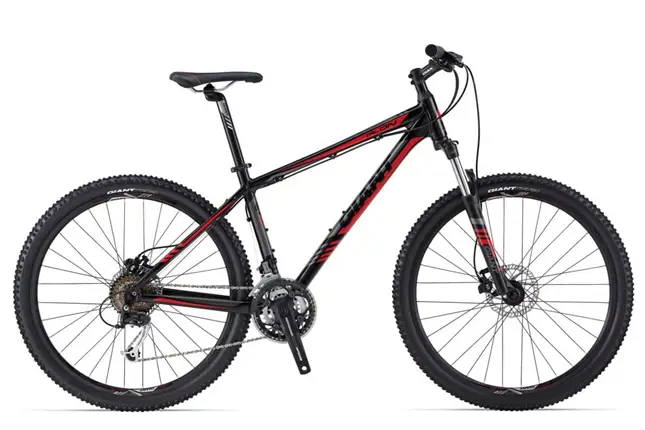 Another well-designed bike that is sure to leave you all smiles is this beautiful Giant road bike. Made for that easygoing, free-spirited rider. If you want an affordable bike that has all the necessary characteristics needed for a rewarding commuting experience, the Giant bike is what you have been searching for. It is stable, all thanks to thick strong tires. This bike can move well on paved roads, gravel roads and on dirt roads with incredible ease.
It has a frame made of aluminum material, powerful disc brakes and a 9-speed Shimano gear. With easily triggered shifters, all you need is a simple tap and the gear is switched. The problem with most bikes is that they tend to break down often. It takes several tries to get the brakes working or to change gears. Something that may prove detrimental if you were either moving at a high speed or down a steep slope.
Pros
Wide stable 27mm tires
Made of strong and durable Aluminum alloy material
Has a 9-speed gear
Con
This bike has an Aluminum frame that makes this bike significantly heavier than other road bikes.
 
Final say
Through top-notch engineering, Cannondale bikes have for years belonged to the winning team and the reason why this bike takes the leading position today. A road bike that eliminates uncertainty and guesswork out of the equation. With this bike, your only job is to focus on getting to the finish line. When it comes to the Giant road bike, affordability is the keyword. But you may think that it's an indication of poor quality parts. This is not true. As this Cannondale vs Giant review shows, there's a lot that this bike has to offer.