If you are serious about road racing, you have certainly crossed paths with either the Cannondale or the Trek bikes. If their mere appearance did not awe you, here is a Cannondale vs Trek bike review that is sure to.
Each rider has his or her own reason for hopping onto a bike and riding away. Some do it for the experience, others do it to unwind, some do it for fun, others to achieve a sense of freedom. Whatever your reasons are, wouldn't it be fun to have a reliable bike by your side?
Over the years there have been infinite improvements on bikes. Notice how bikes look modern and sleek nowadays. But it goes beyond the looks too, intricate technology has found an unlimited number of roles to play in how bikes operate today.
Nothing proves this more than the Cannondale and Trek bikes. Two elegant bikes that make amateur riders look like they've just won an international bikers race. But what really lies inside? My curious self sought to find out.
This Cannondale vs Trek bikes review dissects and presents you details I'm sure you're eager to learn if you want one of these high-end bikes.
| | | |
| --- | --- | --- |
| Model | Cannondale | Trek |
| Weight | 17.4 lbs. | 19.07 lbs. |
| Gear/Speeds | 27 speeds | 11 speeds |
| Tire clearance | 28mm | 32mm |
| | | |
Cannondale vs Trek similarities and contrasts
Frame size and Material
Despite both Cannondale and trek bikes being made of the same carbon fiber frames, there's still an over 2 lbs. difference. If you are one to go for short fitness rides, routine commutes or random errands, you will barely notice the difference in weight. But if you intend to ride for a long distance you will realize why a lighter bike is much better.
Weighing 17.4 lbs. the Cannondale is made lighter all thanks to intricate technology which advocates for using as much carbon material as is necessary. Also to enhance the bike's aerodynamics, this bike uses smaller yet stronger frame parts.
Trek alternatively weighs 19.07 lbs. which is slightly heavier than its counterpart something that you should not overlook if you want a bike that accommodates your long distance riding requirements.
Brake
There are two main types of brakes, disc brakes, and rim brakes. The Cannondale bike is designed to achieve much higher speeds and move or different types of terrain. This makes it necessary to use reliable braking systems to improve efficiency and of course to keep you safe even when riding at lightning speeds or up a steep hill. This bike specifically comes with hydraulic disc brakes that are made to be resistant to bending or becoming loose.
The trek road race bike improvises the traditional disc braces which are very reliable and effective but may not offer you much especially on rough roads.
Gears
As you may have already guessed, a Cannondale bike comes with no hustle easy to operate gear shifters. With just one finger, you can move from one gar to another depending on how slow or fast you want to move. With up to 27 speed options, there's practically no terrain too much for this bike to adapt to.
The Trek bike comes with a good set of high-quality Shimano gears with 11-speed options. While this bike is guaranteed to perform well on paved roads it may struggle to keep up with the Cannondale bike when riding on dirt roads or during wet weather.
Tires
Cannondale bikes use tires ranging between 30 Inches and 35 Inches in size with 26 mm to 28mm width respectively. They are designed with enough tread to keep you grounded and comfortable when riding through the paved city paths.
What's more, Cannondale bike tires come with a reflective coating on the sidewalls that further goes to enhance your safety by improving visibility, especially when going for a late evening ride.
Trek tires tend to have more clearance which means they can fit wider tires. Most trek bikes fit tire sizes 32mm wide and 30 inches to 35 inches in diameter.
Cannondale vs Trek road race bike reviews
Cannondale road race bike review
They call it the Rolls Royce of all bikes, could be due to its elegant, clean, sleek finish or its top-notch design. Either way, once you ride this bike, you'll be hooked for life. This bike prides itself as a winning road race bike having clinched up to seven wins in the renowned world Tour racing competitions. You will notice that it is very easy to climb on to this bike and just as easy to get off. Its unique design is meant to take advantage of each steer to push you further faster.
Most Cannondale bikes fit average sized riders. This particular bike may be significantly shorter in height compared to other road race bikes in the same category. This leaves out taller riders to find other bikes that may be more comfortable and can better fit their riding needs.
Pros
It is made of lightweight carbon material
Seamlessly shifts from high speeds to low speeds and vice versa
A bike that gives you the best results in regard to both comfort and performance
Con
Being a high-end bike, this bike's price may be over budget for most riders
Trek road race bike review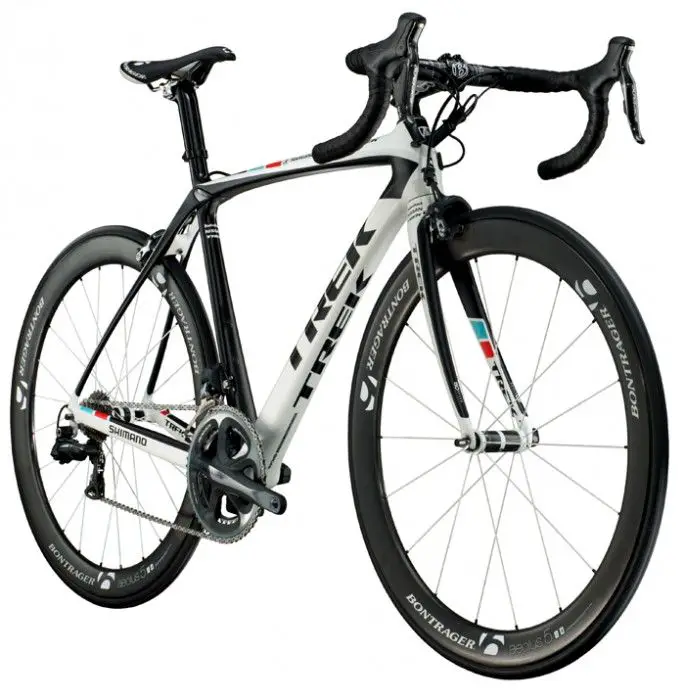 Trek road bikes are hands down the simplest bikes to ride. Whether you just entered the road racing arena or you are a veteran road racer, this is the one bike that promises to work with you. It comes with a lightweight frame, wide tire clearance to fit different sized tires and a powerful gear.
This bike is perfect for that daring rider who is ready to conquer the world on a high-quality bike that meets their budget and has the best performance.
Pros
It comes in a lightweight frame made of carbon fiber material
Has a wide tire clearance which lets you experiment with different tire sizes
A stable bike that can handle different types of terrains
Con
This bike is slightly heavy and may cause unnecessary fatigue when used for long distance riding.
Conclusion
I always want to associate myself with the best. This is why for me, the Cannondale bike is a worthy investment and my ultimate choice. It may cost me an arm and a leg but compared to the value I get to enjoy in return, it somewhat a small price to pay.
The Trek bike does have its own fair share of qualities that even I can't ignore. This Cannondale vs Trek detailed review proves that if you want an affordable bike to use for shorter day to day errands or commutes, this is a good bike to own.