Factors to do with bike quality, performance, and consistency have continued to improve. But between carbon and alloy frames, a debate has long been brewing based on which is more ideal. 
In my time as a cross country champion for the past three years, I have gained a few new perspectives.
My preference has changed with the changing technological improvements that have made previously fickle materials among the strongest in the manufacture of bikes.
Carbon is today my favorite type of frame to go for but this has not ruled out the allure of aluminum alloy because it was my first.
Before you set out to settle on your preference, take a look at some of the advantages and disadvantages that come with each material for a more informed opinion.
What is the difference between Carbon and Alloy Mountain Bike?
| | | |
| --- | --- | --- |
| Model | Giant Anthem Advanced MTB | Kona Process 153 |
| Drivetrain | Shimano SLX | SRAM GX Eagle |
| Brakes | Shimano Hydraulic | SRAM Guide RSC |
| Frame Material | Carbon | Aluminum Alloy |
| Fork | 100mm Fox32 Float SC | RockShox Lyric Solo Air |
| Shock | Fox Float DPS | RockShox Deluxe RT Trunnion |
| Tires | Maxxis Recon Race 29 inches | MAXXIS Minion DHF 27.5 inches |
| Availability | | |
Carbon vs Alloy Mountain Bike: How do they compare?
Weight
Carbon material makes for a lighter build or frame compared to aluminum.
Your bike's weight plays a huge role in your performance on the track. It is a well-known fact thatcarbon material makes for a lighter build compared to aluminum.This is the main reason why most premium bikes have leaned towards it.
Of course, it is possible to come across an aluminum designed bike measuring close to the same weight as a carbon alternative. However, the quality of the carbon will always outweigh that of aluminum.
Every great cyclist knows that a lighter bike will give you a faster ride especially when trudging uphill. Another plus that comes with a light bike is the ability to accelerate and shift lanes dynamically.
This is why, as a cross country cyclist, I need to lose a few grams to give me a leg up over my competition. Luckily for me, it has worked every time.
However, not everyone choosing to cycle through varied terrains is looking to compete in an exhilarating ride just to be named champion.
Light bikes do not pack the same weight a heavy bike does which helps to cut through strong winds therefore aiding your speed.
Another drawback to a light bike is the difficulty in controlling your bike that will be heavily experienced especially on off-roads that are rough and rugged.
This is why those endure racers will mostly be spotting an alloy frame for better downhill stability.
Stiffness
Carbon is on average 3 times stiffer than alloy which is great because it helps keep the bike grounded in high speeds or in descents.  
The carbon frame offers riders 2 to 5 times more rigidity than alloy frames which I can tell you makes a huge difference in my bike's responsiveness and accuracy when making those sharp turns.
On the side of endure and downhill riders, they would much prefer the flexibility and allowance that alloy frames afford them. This benefits their riding style.
Strength 
While an aluminum frame is advantageous for its resilience to blows or tears, carbon bikes unfortunately break easily.
Aluminum has historically been stronger than carbon. However, technology has turned the tables with a composite material called epoxy resin, that has been added to increase the toughness to the carbon.
In my cross-country training, I have had my share of broken carbon bikes. Mostly, as a result of their weakness especially when I tried to heavily cut down on the bike's weight.
Even some endure and mountain bikes have benefited from this improvement by featuring thicker frames. They prove very durable in the face of great impact while still maintaining their lightweight.
Durability 
While carbon frames will eventually crack or break, aluminum frames will spot dents and then break at these weak points if they are not replaceable.
This shows that the carbon frames will instantly go from functional to broken but the alloy frames will show signs of damage before they cave into the pressure.
This also means that a dented aluminum frame can still be ridden but the carbon frame is written-off for once the damage is done.
Another concern that most cyclists hold is that with carbon frames, you are assured of a lifetime of use but with the alloy, it will slowly deteriorate over time.
Again, technology seems to have saved the day because these concerns have been laid to rest after top companies recently started offering a lifetime guarantee on their aluminum frames.
Carbon vs Alloy Mountain Bike: A comparison overview 
To help further detail the differences between an alloy and carbon framed mountain bike, here are reviews on two cool bikes in the market.
Giant Anthem Advanced MTB Review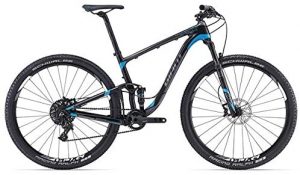 This bike is specially designed with cross country lovers in mind. It almost glosses over the single-track trails with its carbon frame that features a Float SC fork, DPS shock, and 90mm of rear-wheel travel.
It easily gets over steep trails and it gains speed easily and effectively which makes it a great choice for all types of riding whether competitive or leisurely.
Its special feature is the trunnion shock mount that is used to lower the shock ratio which then effectively lowers the center of gravity and makes the ride even more stable.
Because this is a carbon bike, you are guaranteed of faster and nimble rides across the ridges.
Pros
Shimano XT 12-speeds
Giant XCR carbon wheels
Light frame
Cons 
Kona Process 153 CR

This is an aluminum bike that comes alive when riding downhill and the roomy cockpit and short chainstays make the bike effortless in getting through curves.
It requires the rider to be fully active in the process to keep a steady grip on the bike's front wheel controls. Shifting your weight back and forth as the terrain demands are key in maintaining your grip at every turn.
It features a plush rear leakage that absorbs massive hits with its 153mm of travel. Progression at the bike's end also guarantees a cushioned riding experience but you need to watch out for stiffening when hard braking.
Pros 
A lot of standover clearance and room
Powerful rear suspension
Durable and Quality bike
Cons 
Requires an engaged riding style
Slow on climbs
Verdict: So, which is better – Carbon or Alloy Mountain Bike?
The best option for a mountain bike would be the Alloy frame because of the unpredictable terrain that is out on the tracks and the material's capacity to withstand hard knocks and still be viable for riding.
While carbon framesmake a good bargain, they had better stick to the less challenging tracks of cyclocross riders like myself. They have a better chance of lasting a lifetime in these more favorable conditions.
FAQÂ 
How long do carbon mountain bikes last?
Depending on your style of riding, as long as the frame is not cracked by any hard impacts, it should last you a lifetime. However, any experienced mountain biker can tell you that this is close to impossible to achieve especially if you take it out to the trails.
How long do alloy frames last?
You are guaranteed of durability anywhere between 5 to 10 years with alloy frames. This is because alloy possesses the shortest fatigue of any other bike frame material.