There are plenty of bike brands on the global scene today, each presenting varied models to satisfy the needs of vast populations. We take a look into Cervelo and Specialized brands to determine which brand packs the punch. 
In our childhood years, my sister and I spent exhilarating hourswatching the Olympics more so, the cycling portion of it. It was here that I witnessed bikessuch as the Cervelo competing on the track.
I finally afforded my Cervelo R5 bike in college and I was over the moon about it. However, when I rode the Specialized Stumpjumper at an event, my mind was opened up to the great and vast possibilities existing within varied brands.
What is the difference between Cervelo and Specialized?
| | | |
| --- | --- | --- |
| Model | Cervelo S5 | Specialized Venge |
| Brakes | Shimano Dura-Ace 9000 | SRAM Red hydraulic disc |
| Shifters | Shimano Dura-Ace Di2 9070 | SRAM Red eTap AXS |
| Saddle | Fizik Antares | S-Works Power |
| Stem | FSA OS-99 | Venge Integrated |
| Cassette | Shimano Dura-Ace 9000 | SRAM RED XG-12 Speed |
| Wheels | Hed Jet 6 Plus SCT | Roval CLX 64 |
| Check Availability | | |
Cervelo vs Specialized: How do they compare?
Frame
The Cervelo bike features a short head tube that is 35 percent stiffer than the Specialized bike.
Cervelo has a fork that is 17 percent stiffer than most which creates a firm steering that is favored by cyclists who like to have total control over the front wheel of their bike.
It houses an internal Di2 battery in the down tube and has future-proof cable routing that keeps the bike's aesthetic clean.
The Cervelo bike features a short head tube that is 35 percent and a fork that is 17 percent stiffer than other bike designs and this allows you to get lower and put more weight over the front end without messing up the stem angles.
The Specialized aero bike has a 571m stack height and a 408mm reach which is neither too low nor too stretched.
These bikes are built with 73.5-degree angles and 44mm fork offset that creates quick handling with unlimited steering.
Comfort
Specialized used rims are wider and allow for fitting of thicker tires that provide comfort in ways superior to the comfort Cervelo wheels provides.
This aero bike is designed to be as comfortable as possible and this has been achieved by running 25-degree fibers down the seat tube and giving them a twist to reduce the impact felt by the rider.
Cervelo seat post clamp has been decoupled from the saddle's single bolt to add some flexibility to the build.
The Specialized aero bike features a four-bolt bar clamp that holds the flat winged Aerofly II bar in place.
Specialized rides on 26mm tires and the saddle is compliant to the Toupe Sport Body Geometry which guarantees generous padding for supreme comfort.
Components 
With Specialized bikes, you will get the top-quality SRAM pinnacle matched to the Red AXS that creates precision sharper than Cervelo.
The 52/36 chainrings work perfectly with their bikes and they are reliable regardless of the surface you are riding them on.
They use machined chainrings that are directly mounted onto the crank arms and feature a power meter that creates a neat and accurate setup.
Specialized offers a 48/35 chainset on the 10-33 cassette with over 12 gears to shift to. This setup helps to maintain high speeds even at a consistent cadence making the bike suitable for climbs and descents.
Using HED Jet Plus 6 SCT wheelset puts the Cervelo rider limit at 220 pounds and incorporates 60mm rims that look good and perform great.
Cervelo vs Specialized: A Comparison Overview
[amazon box="B00C2TMO0Q" template="horizontal" ]
This brand of bicycles has been around since 1996. They were created in Canada and showcased to the public in Toronto during a Bike Show.
Cervelo has a reputation for being the most sought-after bikes in cycling, especially where racing is concerned.
The founders of Cervelo, Phil White, and Gerard Vroomen focused on time trial bikes and triathlon bikes which are still leading the pack in-frame development.
It features a range of bikes in the R-series road bikes, S-series aero bikes, and P-series for all triathlon and professional cycling.
P Range
The Cervelo P range refers to the triathlon excellent bikes that feature a more upright geometry with dropped downtubes that hide behind the front wheels and shield the seat stays.
By using a bottom bracket shell built with oversized tubing and 11mm extended to the left, the bikes are made to be stiffer and lighter.
R Range 
In the R range, the bikes are built to conquer all terrains and they have more clearance to fit larger tires and take up the Squoval Max shape to deliver the right amount of stiffness at lower weights.
Pros
Great front-end handling
Quality Di2 components
Fast handlebar
Cons
Average wheels
Uncomfortable handlebar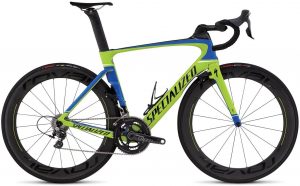 Founded by Mike Sinyard, Specialized was initially a brand known for importing Italian made parts and selling them in the United States.
They made their mark in the industry with the introduction of brands such as Specialized Allez road bike, Stumpjumper mountain bike, and Sequoia touring bike back in 1981.
The Specialized collection has everything ranging from aero road bikes to mountain bikes with full-suspension.
Specialized Tarmac
Built to be a road race bike, it puts the rider in an aggressive riding position that offers quick handling and lightweight properties that are perfect for climbing and comfortable responsiveness.
It caters to both women and men and the cockpit, seatstays, forks, and Seatpost have been optimized to create more stiffness in the rear end.
Specialized Roubaix
Provides a future shock front suspension that guarantees rider's comfort and an adjustable 20mm of travel. The Seatpost is D-shaped to reduce vibrations and increase aerodynamic capabilities that breeze over cobblestones.
It is built with more clearance to take up tires as wide as 33m. they are fitted with Shimano hydraulic brakes that work in connection with the Roubaix SRAM eTap AXS model system.
Pros 
Compact bike
Quality parts
Reliable handling
Cons 
Conclusion
While the handlebar designed for the Cervelo bike gives good handling and aerodynamic advantage, it lacks grip and proves to be less than comfortable for large-handed riders. The bike's carbon handlebars lack bar tape and this poses a risk of slipping even in cool weather.
For the Specialized bikes, the S-Works Cotton Turbo tires roll beautifully over varied terrain but they are prone to punctures. If you would like to go fast and throw caution to the wind, replace the tires with a tubeless alternative especially in the wintertime.
Verdict: So, which is better – Cervelo or Specialized?
The Specialized bikes are better than the Cervelo bikes. This is because they have a reliable design in their collection that gives riders the option to make replacements that don't affect the bike's aesthetics or performance.
FAQ
Is Cervelo S5 good for climbing?
Yes, it is. Even as this is an aero bike, it performs marvelously in climbs because of its SRAM Red system.
Why does the Di2 junction box sit in the Specialized Seatpost?
This clears up the cockpit and allows for easy adjustments to be made on the stem, handlebars, and headset.