Equally appreciated by the pro cyclist and the average biker, we look into Colnago and Pinarello brands to find out which one makes the better roadie.
My buddy, Jack, and I love to race through the traffic so much that we even plan our days out to make sure we leave work at the same time just so we can see who gets home first.
As you can imagine, we both have different tastes when it comes to the brand of choice but I can tell you for free that we each think our individual choice is the best overall.
We decided to put an end to the debate this year. So, we took turns on each other's bikes and came up with a summary of these two Italian powerhouses.
What is the difference between Colnago and Pinarello?
| | | |
| --- | --- | --- |
| Mode | Colnago C64 | Pinarello Dogma F12 |
| Frame | C64 lugged carbon | Toray Carbon with NanoAlloy Tech |
| Fork | C64 all carbon | Pinarello ONDA F12 with ForkFlap |
| Groupset | Campagnolo Super record EPS | Shimano Dura Ace Di2 |
| Wheels | Campagnolo 25mm | Fulcrum Wind 400 |
| Tires | Vittoria Corsa 25mm | Pirelli P Zero 25mm |
| Brakes | Direct mount | Shimano Dura Ace Di2 disc |
| Saddle | Prologo Scratch 2 | MOST Lynx NS Carbon |
| Weight | 6.9 kg | 6.71 kg |
| Availability | | |
Colnago vs Pinarello: How they compare
Frame 
Colnago bikes are built into a lugged frame using carbon tubes which beats Pinarello's stiff frame that covers the routed cables through the integrated handlebar.
Carbon tubes on Colnago have been bonded into carbon lugs that allow them to offer a bigger range of bike sizes in either slopped or horizontal top tubes.
In helping with aerodynamics, Colnago chooses to reduce the distance between the cage and the frame by using a recessed bottle cage.
The handlebar on Pinarello is a Talon Ultra type with 20 percent of the exposed area at the frontand the stem which they say reduces drag by at least 5 percent.
Components
Colnago offers a compact chainset that offers a larger range of lower gearsthough by a whisker compared to Pinarello's chainring.
You will find the ergonomics on Colnago bikes in terms of shifter levers, to be very convenient with an easy reach and offering comfortable hoods to ride.
Options available are the mechanical SRAM or Shimano that feature a positive click that notifies you whenever you make a shift and allows for multiple shifting of sprockets when held down.
Pinarello chainstays and forks have been designed in the hydraulic disc versions to improve bike stiffness and improvements such as direct-mount brakes for the rim version have contributed to the superior braking system.
The tires are up to 28mm for the bike clearance offered by Pinarello Dogma F12. The bike's fork may be a bit wide for most people's preference because it cuts short on the comfort but this is taken care of by the wider tires that may also be prone to puncture pinching.
Riding Experience 
Riding the Colnago feels better and more predictable compared to the explosive riding that the Pinarello experience offers.
When riding the Colnago, you will feel the responsiveness of the road and you can trust the bike to follow in the direction you point it.
Handlebars are comfortable and positioned close to the shifters. The Vitorria tires roll easily and have awesome grip enough for maneuvering sharp bends and descents.
Polymer upper cups have been designed into the headset to cushion the rider from extreme road vibrations.
With a heavy emphasis made on stiffness, the Pinarello is made into a racing champion that gives great performance at every turn. The stiff riding experience is explosive in motion and better suited for races.
The ride feeling of Pinarello is edgy and nimble giving you the impression that it could always go faster. The narrow wheel design is suitable for both weekend and weekday rides because it is robust and can withstand just about anything you throw at it.
Colnago vs Pinarello: A Comparison Overview 
Colnago Review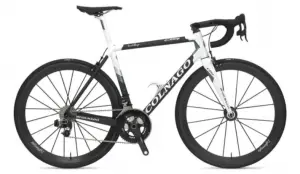 Colnago is an Italian company founded in 1964 by Ernesto Colnago and makes both road and mountain bikes. their road bikes have gained huge success and have been driven to victory in international championships and Grand Tours.
Based on its rich history, Colnago bikes are said to have good handling and to give the rider a pleasant riding experience.
Their flagship road bike is the C59 which is a bit pricy compared to the ACR but they are both made of carbon and created into a race-ready geometry.
Colnago mountain bikes are undisputed and cater to both cross country racers and regular adventure junkies.
The Colnago 29ers with carbon frames are suited for the speed chasers wanting to limit bike weight. There are the long 26ers which are reliable for loaded suspension and extremely rugged terrain. Lastly, the 27.5 bikes cater to regular cyclists with a taste for adventure.
Pros
Cons 
Expensive
Harsh riding experience
Pinarello Review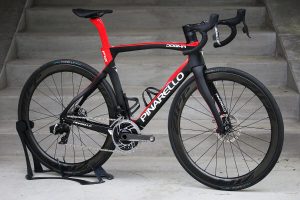 Pinarello is an Italian company that started in 1952 by Giovanni Pinarello and famous for its quality road bikes. however, it does offer other models such as a mountain, track, cyclocross, and city bikes.
Their flagship race bike is the Dogma which has been ridden to victory at the Grand Tour championships. It is built into an asymmetrical geometry that guarantees stiffness and flat tubes it is made up of giving great aerodynamic characteristics.
Other models in this pro-level are the Gan and Bolide. Away from professional cycling, regular bikers can enjoy the Noer and Razha built for comfort in long-distance rides.
The mountain bike version of Pinarello bikes is the Dogma XM and for cross country races, you can pick the Dogma XC. They both feature similar geometry to the flagship roadie with slight adjustments made to the design to fit the specific riding uses.
Other Pinarello models are such as Grevil+ for the aerodynamic sticklers, Crossista+ for cyclocross, and the Mercurio for hybrid lovers who like to zoom through the city traffic.
Pros 
Classic lugged frame
Awesome power transfer
Disc brakes and 28mm tires
Cons 
Road vibration felt through Seatpost and saddle
Conclusion 
The Colnago bike offers great performance and power transfer but they are a bit limited in the saddle which is less than stellar in the transmission of road imperfections.
Pinarello goes fast and can keep you in the lead but only if you are willing to brave the harsh riding experience it subjects you to.
Verdict: So, which is better – Colnago or Pinarello?
The Colnago bike brand beats the Pinarello because you can rely on their effective riding experience through any weather because of its grippy tires. The small issue with the saddle is solved by a quick replacement with a saddle of your choice.
FAQ 
Why does Colnago opt for a single piece seat tube?
This is done to reduce the weight of the bike and to increase its stiffness and opens up the opportunity for the brand to have a variety of up to 14 different seat tubes to fit each frame size.
Why is the front axle of the Pinarello F12 set below the curvy fork crown?
This reduces the wheel's turbulence by increasing the channeling of air.