As life in the city gets busier, you will need a way to dodge traffic and get to your appointments quicker. In this Critical Cycles Pista Review, we tell you why a fixer bicycle can solve all your commute troubles.
Life in a busy city is quite hectic sometimes. There are mornings that everything is in harmony and I move around with ease. Then there are days when Pandora's box opens. There is traffic everywhere, hordes of people in the streets, and time is never on my hands. I realized my biggest challenge was beating traffic to get to work. With traffic starting as early as 5 am, it meant I had to be on the road by 4 am. That was impractical for me (because I need my full 8 hours of sleep). I finally got an answer to my woes in a Critical Cycles Pista bike.
Critical Cycles Pista Bike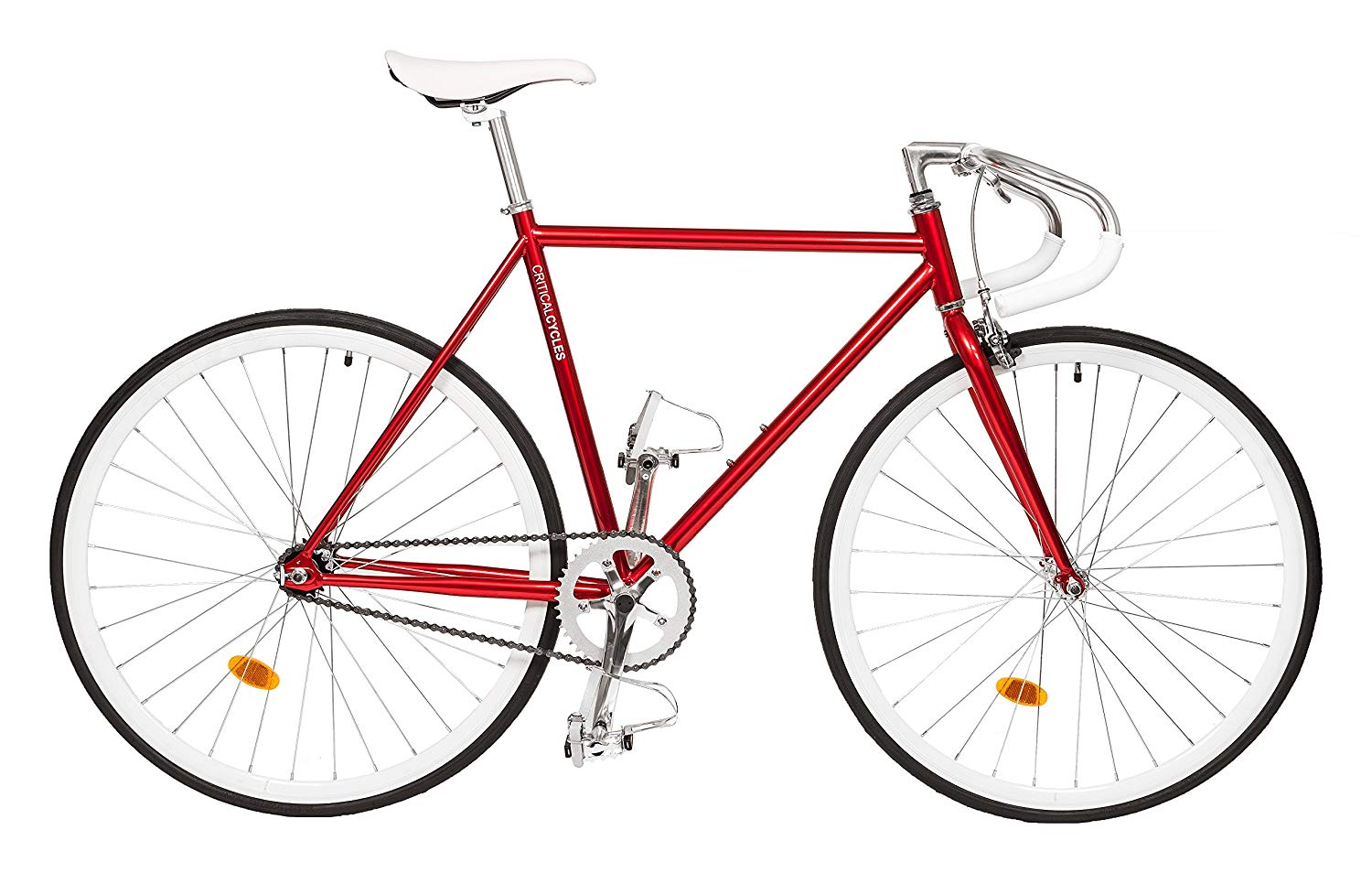 A Critical Cycles Pista bike is what you need to beat traffic in the city. It features a thin frame making it tiny enough to wiggle between cars. The handlebar boasts of a Pista Drop bar design that keeps you streamlined as you cycle. The saddle is high enough and comfortable to sit on. The tires are big enough to ensure you pedal less to go fast. The bike features a colorful frame too which is ideal for the city life.
Features
Frame
This bike features a hi-tensile steel frame hand-built to perfection. The saddle to handlebar distance is wide enough facilitating a comfortable riding position. This frame has great bar spin clearance as you. You will never experience horizontal dropouts or toe overlaps as well.
Handlebar
Critical Cycles Classic bike comes with a Pista drop bar handlebar. What makes it unique is that it curves forward like a bull-horn handlebar. The handle tips then curve downwards in a drop bar style. The handle tips have soft Kraton rubberized grips for steering and control of your bike.
Drivetrain
For city dwellers, a one-speed bike is enough for your daily commutes. This bike has a one-speed drivetrain which keeps you within manageable speed limits. The drivetrain features an integrated flip flop rear wheel hub that allows you to switch to a fixed-gear. A strong and durable KMC chain handles the tension of peddling fast, slow, or uphill.
Wheels
Critical Cycles Pista bike has super Deep-V rims. These rims are double-walled and have stainless steel spokes. Critical Cycles installed wand tires on the rims to complete the package. You will love the performance of this wheel setup. You can go fast on minimal pedaling. The tires are thick enough to absorb shock when doing bar spins or wheelies.
Other Accessories
This bike comes with long-lasting alloy pedals. The comfy saddle is all-leather for durability as well. To reinforce the fixie drivetrain is a pro-max front brake. Riding a fixed speed bicycle never requires a braking system. When you stop pedaling the bike stops moving. The front pro-max brake is the second assurance of your safety.
This product comes half-assembled. The bike's maker will send you a convenience toolbox to complete installing your bicycle. You also get a detailed manual to
Size
You can buy the Critical Cycles classic Pista in four main sizes. These are 43cm, 49cm, 53cm, and 57cm. This bike is fit for teenagers wanting to have fun and adults looking for a reliable mode for commuting.
Colors
Critical Cycles Pista is available in three colors. You buy this bicycle in crimson, white, and midnight blue. The crimson or midnight blue frames match with the black and white tires. The white bicycle looks awesome with all-black wheels, saddle, and handlebar.
Pros
Tough and durable frame
Interchangeable drivetrain
Quality high-performance tires
Cons
Pedals may be plastic
Only a single-speed
Conclusion
Part of conquering the urban jungle is knowing how to get around faster. A Critical Cycles Pista bike is an inexpensive investment that will get you anywhere you want. This bike features a tough and durable frame. The frame is thin enough to wiggle through traffic and get to your destination faster. The large and thick tires move faster on minimal pedaling. The handlebar design is unique and keeps you streamlined to move faster. The saddle boasts of quality leather and is wide enough for comfortable sitting.
A Critical Cycles Pista bike is all you need to make commuting easy in the city. For more details, compare our Critical Cycles Pista review with other Pista reviews.