There's a long list of balance bikes you can find for your little ones. But how sure are you that the one bike you pick is going to offer maximum support and convenience for your child? This Cruzee vs Strider balance bike review will show you just how you should go about tackling this dilemma.
I didn't know how to ride a bike until I turned sixteen. Why didn't you learn earlier, you ask? Well, turns out I was an overly cautious kid who just wouldn't stop fussing. After several failed attempts, my parents gave up.
The bikes scared me, they were huge and intimidating. In fact, I could barely touch the ground with my two feet. For me building enough confidence to ride meant being in control of my bike. This is something I certainly did not have seeing as I was training using a bike way beyond my size.
Now I wonder if this narrative would be different if, during my time, there were these cute little balance bikes I see at the bike stores. They are just the perfect size for toddlers and such fun to play with. I like that younger kids can easily control how fast or slow they can go on this bike.
I made sure my three kids all learned how to ride a bike before they were two years old, thanks to balance bikes. I guess it's safe to say that I am an expert when it comes to balance bikes. In this Cruzee vs Strider review, here's what I can tell you about what I have so far learned.
| | | |
| --- | --- | --- |
| Model | Cruzee | Strider |
| Weight | 4.4 lbs. | 6.7 lbs. |
| Material | Aluminum | Steel |
| Seat height | 11†to 19†| 12†to 20†|
| | | |
Cruzee vs Strider, detailed comparison
Material
Children, the same age can have different physique and weigh different. For this reason, it would be naïve to assume that there's a one size fits all balance bike. It is important that when you are looking for a balance bike you find one that works with your child. One that's not too heavy, not too small and not too big for him or her
The Cruzee balance bike is made of aluminum which is incredibly light, my two-year-old carries it around effortlessly. It is the best starter bike for kids who are more on the lighter side in weight.
Strider is much heavier because it is made of steel. This bike is better suited for kids who are much heavier or older.
Bike weight
As your child learns how to ride, they often want to carry their bikes over pavements or across puddles to get to a better space before hopping on and riding away. It would be easier for your kid to do so if he or she was using the Cruzee balance bike. After all, it only weighs a paltry 4.4 lbs.
The Strider balance bike weighs significantly more at 6.7 lbs. This makes it difficult for a younger child to move it or carry it without your help.
Seat adjustability
It is important that you find a bike with features that can accommodate your child through different stages of growth. As the child grows older, they grow taller. Cruzee and strider bike manufacturers know all too well about this and have designed their bikes with adjustable seats.
The Cruzee bike seat can adjust from a minimum height of 11†up to a maximum of 19â€. Kids as young as 18 months can ride this bike just as well as kids who are 5 years old.
The Strider bike seat adjusts from a minimum height of 12†up to a maximum height of 20â€. This is an indication that this bike is good for kids between the ages of two years and six years.
Tires
Both balance bikes are made out of foam material. Foam is much stronger than plastic or rubber tires because it does not deflate nor can it get punctured. The traction is the same on both bike's tires making these bikes ideal for riding on asphalt, concrete paths, and pavements.
But if you look closely you will see that Cruzee tires are significantly wider than strider tires. As a result, this bike is likely to give your kid more stability than the Strider bike.
Saddles
Some kids like to sit on the saddle more and others like to spend most of their time on their feet when riding. Depending on your child's riding style, you can choose that bike that offers more convenience for him or her.
The Cruzee saddle is bigger in size and has some cushioning covering on the seat. This bike is better suited for a kid who sits more when riding. The strider saddle alternatively does not have cushioning covering the plastic seat hence better for kids who ride on their feet.
Cruzee vs Strider Review
Cruzee balance bike
Built with plastic scratch guards the Cruzee balance bike manufacturers know that this bike endures a lot. Even after years of use and numerous crashes, this bike frames is still able to maintain its shiny good looks. This bike is very easy to assemble with no tools needed. Quick release clamps help you conveniently and securely fix the pieces together and just as easily disassemble them.
Pros
Ultra-lightweight balance bike41
Seat adjusts from 11†to 19â€
Has narrow handlebars, round edges and flat bolts designed to protect little hands and legs from injury
Con
Can be too light for aggressive riders and older kids
 
Strider balance bike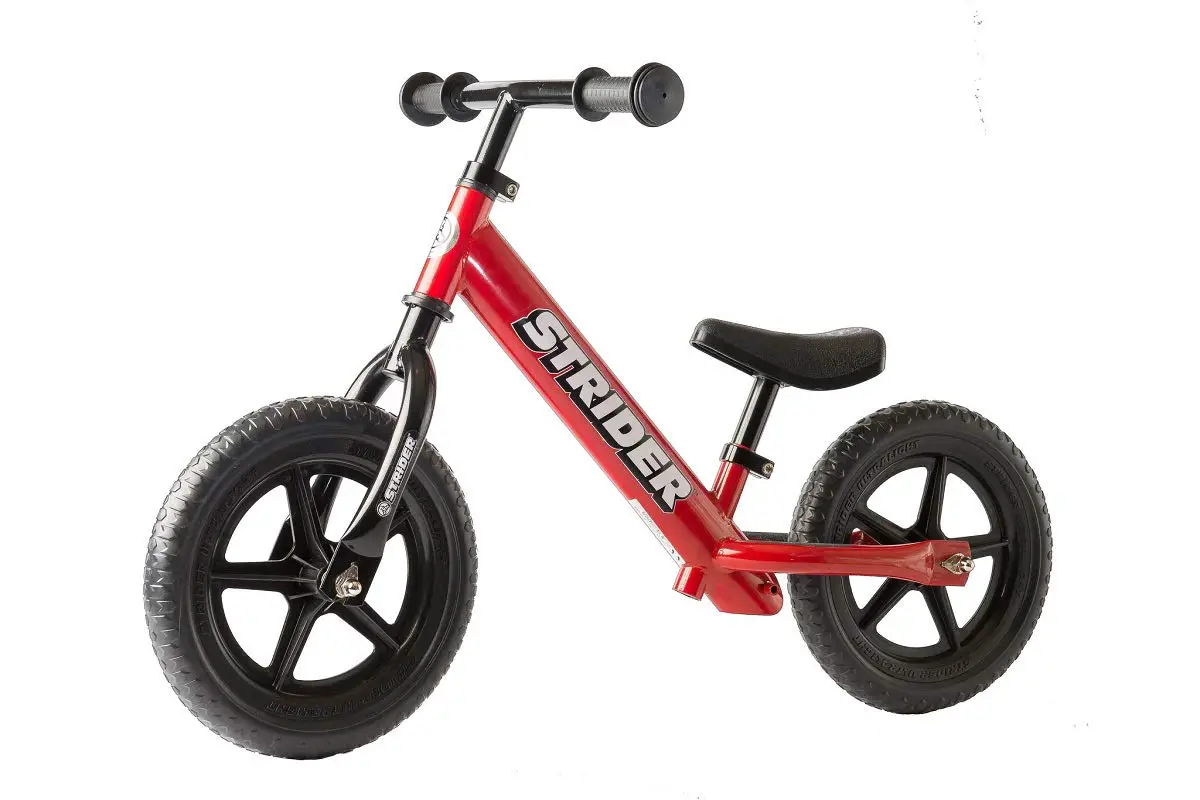 This bike is perfect for that child that's ready for the outdoors but not quite ready to play with the bigger, older kids. A balance bike that is sure to remove boredom out of the equation. The Strider balance bike is built with the right features to help a child between 2 years and three years get a tight grip on his or her riding. With foam tires, steel frame and a seat adjustment of up to 20 Inches, your kid will be a pro rider by the time they are old enough and ready to use a bigger pedal bike.
Pros
Strong durable Foam Tires
Ideal for older more aggressive kids
Has adjustable seat that can reach 20†height
Cons
This bike may be too heavy for an average two-year-old child
 
Conclusion
These two bikes are incredibly similar. But if you are very observant, you will notice some key differences. When you look at the frame, the handlebars, and the wheels you will see that they are the same design, size, and length. But if you focus just a little more you will notice that the bikes look slightly different.
It's these small details that tipped my decision into vouching for the Cruzee balance bike. If you are looking for a bike that accommodates your child this Cruzee vs Strider detailed comparison will hand you all the details you need to make an informed decision.