Do you see yourself as the next Dakota Roche or Nathan Williams? Then you need to consider buying a top quality BMX bicycle and start training. This Diamondback vs. Mongoose review gives you an in-depth look at what the best BMX rides have to offer.
BMX bicycles are an excellent off-road option for people who love the thrill of the outdoors. Before I purchased my first BMX ride, there were a lot of variations and models available in the market, which caused me a lot of confusion. After considering my riding style and the terrain in which I would ride, the choice became much easier. Diamondback and Mongoose BMX bikes were at the top of my list due to their affordability and convenience as well as their perfect balance of form and functionality.
The following Diamondback vs. Mongoose comparison review provides detailed information on what these two top tier BMX brands have to offer.
What are the differences between Diamondback and Mongoose BMX bikes?
| | | |
| --- | --- | --- |
| Model | Diamondback Insight 20†Complete Youth BMX bike | Mongoose Legion L40 Freestyle BMX bike |
| Frame | Hi-Tensile Remington steel freestyle BMX frame with Chromoly seat tube | 20.5†Hi-Tensile steel frame |
| Handlebars and grips | Hi-Ten steel 2-piece handlebars with DB icon grips and nylon end plugs | 8†Hi-Ten steel raised handlebars and grips |
| Saddle | Diamondback BMX padded saddle | Mongoose slim and railed saddle |
| Drivetrain | 25*9T micro-drive | 25*9T |
| | | |
Diamondback vs. Mongoose- How do they compare to one another?
Grips
A good bicycle grip determines the level of steering and braking control it has. It also alleviates tension on your back and hand while you ride on various terrains.
Diamondback BMX bikes have Hi-tensile steel 2-piece handlebars with DB icon grips and nylon end plugs. The flanged grips are made up of soft Kraton rubber for smoother and more comfortable handling while the end plugs consist of soft Krypton for a more stylish appearance.
Mongoose BMX rides feature 8.75†Hi-tensile steel handlebars with a rotating hub which allows handlebar spins, which are one of the basic tricks of Freestyle BMXing. The raised handlebars also have soft rubber grips for maximum steering performance and precision riding.
Wheels and Tires
The Diamondback BMX bike has 36 spoke 20†black wheels with Freestyle BMX 20*2.1†tires and alloy rims which are perfect for street, park, dirt, and flatland BMX riding. These Comp III style tires have knobby treads which offer extra grip as you perfect your freestyle stunts on flatland or concrete. The bike also comes with two trick pegs fixed on the rear axle and at the front wheel, enabling the rider to pull off a wide range of tricks.
Mongoose BMX bikes have 36 spoke black alloy wheels as well as smooth freestyle-oriented tires that have a tread, ideal for pavement riding. The wide BMX tires provide extra grip and stability as you ride through all types of terrains. Pegs are installed in the front and rear hub, giving the bike versatile performance for stalls, grinds and many more.
Brakes
With rear Rush alloy linear pull brakes with coaster hub and front U-brakes, Diamondback BMX bikes contain all-weather stopping power. Apart from this brake set being a low maintenance option, they are also light in weight, and the front brakes give the rider a chance to experience rim brakes, often found in high-end BMX bikes.
On the other hand, Mongoose BMX bikes have aluminum front and rear U-brakes which offer the rider excellent braking control as they ride on various terrains with confidence. At the front, the bike has a rotating hub which controls cable routing as well as allows handlebar spins.
Diamondback vs. Mongoose –A comparison review
Diamondback Viper 20†Freestyle BMX bike Overview and Key features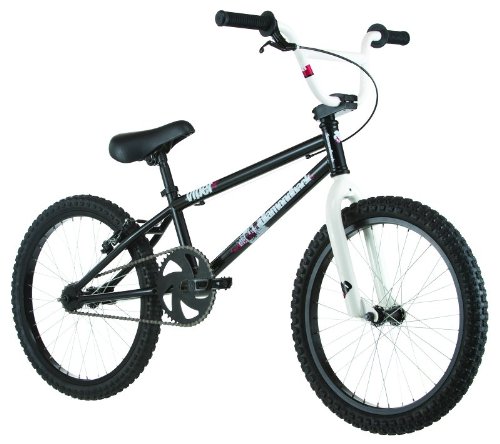 If you are looking for a BMX bike for freestyle fun, Diamondback Viper 20†Freestyle is the ideal option. This legendary bike is one of Diamondback's top-selling BMX rides and with good reason. It features a sturdy steel frame, a 25*9T micro-drive drivetrain for improved performance, and front and rear U-brakes for better stopping control.
The bike also has a comfortable padded saddle seat with a micro-adjust seat post to fit the height and weight requirements of all types of riders. With its BMX tires and two trick pegs, you can comfortably do your freestyle stunts with ease and confidence.
What we like
High-quality and durable steel frame
Comfortable handlebars and grips
BMX freestyle tires for more traction and versatile performance
What we do not like
 
Mongoose Legion L40 Freestyle BMX bike Overview and Key features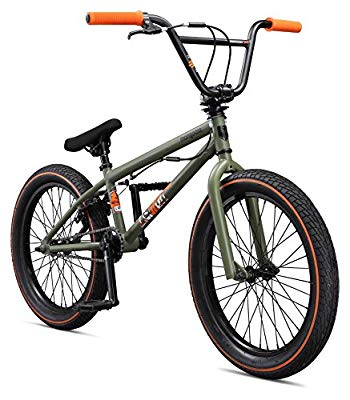 If you are looking for an entry-level BMX ride that is pocket-friendly, the Mongoose Legion L40 Freestyle BMX bike is the ride for you. It offers high-end features and offers a quality level of riding experience. The bike has a reasonably light steel frame and fork with a total weight of 37lbs when fully assembled, providing the real sense of freestyle riding and stability.
With a 25/9cassette setup and a smaller sprocket, the bike allows the rider to make short bursts of speed when required as well as higher ground clearance. Other features of this bike include 3-piece tubular pair of crank tubes, alloy pedals, rear and front U-brakes with a rotating hub as well as alloy wheels with smooth freestyle-oriented tires.
What we like
Versatile gearing setup.
Rotating hub which allows handlebar spins
Front and rear U-brakes which provide all-weather stopping power
Durable alloy pedals
What we do not like
The bike is quite heavy for a BMX ride
 
Frequently Asked Questions
What is the difference between a BMX bike and a regular bike?
BMX bikes are often used for short-distance sprouting on human-made tracks with a smooth surface to allow large jumps. Regular bikes are for a wide array of purposes such as commuting, fitness, long-distance off-roading and leisure rides, among many others.
How to do I know which BMX bike is best suited for me?
Some of the considerations to make include:
Choose which type of BMX riding you want to major in (Classic, freestyle or jumper)
Pick a bike that suits your body frame,
Consider buying a bicycle with an aluminum frame as it is lighter than steel frames
Choose the right type of BMX wheels depending on your riding style