Mountain biking is an excellent hobby for people who love to explore the outdoors. But, finding the ideal entry-level mountain bicycle fit for your size and needs may be an overwhelming task. This Nishiki vs. Diamondback mountain bike review offers an in-depth look at what these two entry-level mountain bikes have to offer.
When I first got interested in off-road cycling, I was confused by the many entry-level mountain bikes available in the market. I wanted a durable bicycle with quality level performance while climbing steep hills, during long distances as well as while rolling downhill. Among my top choices were Nishiki and Diamondback mountain bikes. Here is why:
The following comparison review gives comprehensive details on what these two bicycles have to offer.
What are the differences between Nishiki and Diamondback mountain bikes
| | | |
| --- | --- | --- |
| Model | Nishiki Pueblo 26†mountain bike | Diamondback Hook mountain bike |
| Frame material | Heated-treated Hi-Tensile steel frame with mountain geometry | High-quality 6061 aluminum frame |
| Grips | Steel handlebars with mountain grips | DB riser handlebars with Silicone flanged grips |
| Saddle | Sport saddle with steel seat post | DB Sync'r saddle with an alloy micro adjust seat post |
| Drivetrain | 7-speed | 8-speed |
| | | |
Nishiki vs. Diamondback mountain bikes- How do they compare to one another?
Frame material
The frame of Nishiki mountain bikes is made from high-quality HI-tensile steel which is long-lasting and robust, giving a rider steady support and reliability as they tackle rough terrains. The bicycle features mountain body geometry for a proper riding posture that reduces pressure on your hands, neck, and back while improving stability and versatile performance.
Diamondback mountain bikes have the revolutionary 6061-T6 Aluminum frame which is durable and light in weight. The low-sprung frame material offers impressively precise performance on tight trails due to its longevity at the front and shortness at the back.
Suspension
Nishiki brand mountain bikes have front suspension forks with 60mm of travel which absorbs road shocks on rough terrains. The forks are rust-resistant and quite durable, providing a smooth and more comfortable ride.
Diamondback mountain bikes consist of front SR Suntour XCM forks with 120mm of travel. These coil spring powered plush suspension forks are made of Hi-tensile steel, making it durable and rigid, thus providing an unforgettable riding experience.
Brakes
To put Nishiki mountain bikes to a halt, they have alloy linear pull brakes which offer ample braking power and require low maintenance. The brakes are also quite fragile in cases of impact; thus the wide tires to protect the bike from excessive impact.
With their Tektro Aries mechanical disc brakes, Diamondback mountain bikes possess all-weather stopping power. Their highly responsive brake system utilizes minimal effort, thus ideal for emergency braking. They are also long-lasting and more suitable for mountain bikes.
Nishiki vs. Diamondback mountain bikes- A comparison review
Nishiki Pueblo 26†mountain bike Overview and Key features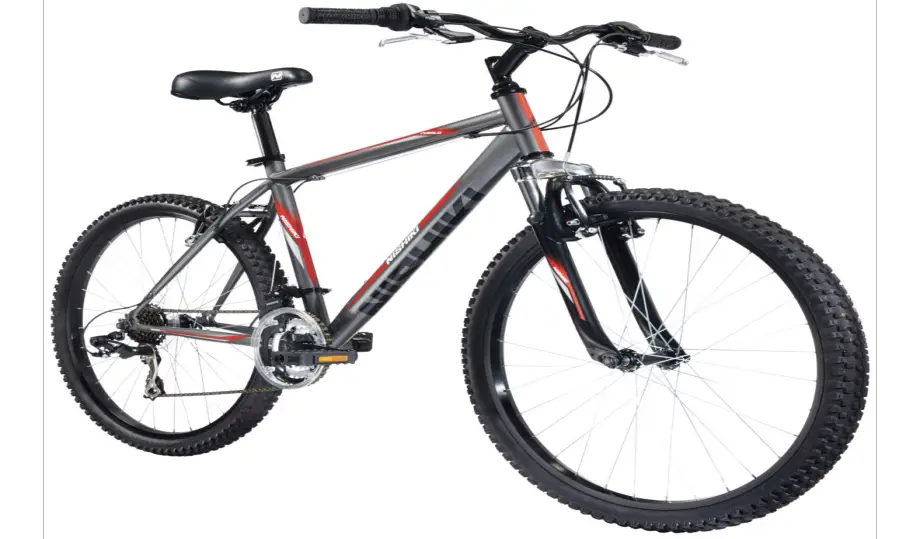 If you are looking for a durable and cost efficient mountain bicycle to start your mountain biking hobby, Nishiki Pueblo 26†mountain bicycle is your best buy. With its Hi-Tensile steel frame and high-end Shimano components, the Pueblo mountain bike will offer you a stable and comfortable ride, even on aggressive trails. Other key features of the Nishiki Pueblo include front and rear 7-speed Shimano derailleur, 26*2.1†tires with 32H aluminum rims, and alloy linear pull brakes for responsive braking.
What we like
Relatively light and sturdy steel frame
Cushy saddle
Wide tires to absorb road vibrations
Available in various frame sizes
Relatively durable resin pedals
What we do not like
 
Diamondback Hook mountain bike Overview and Key features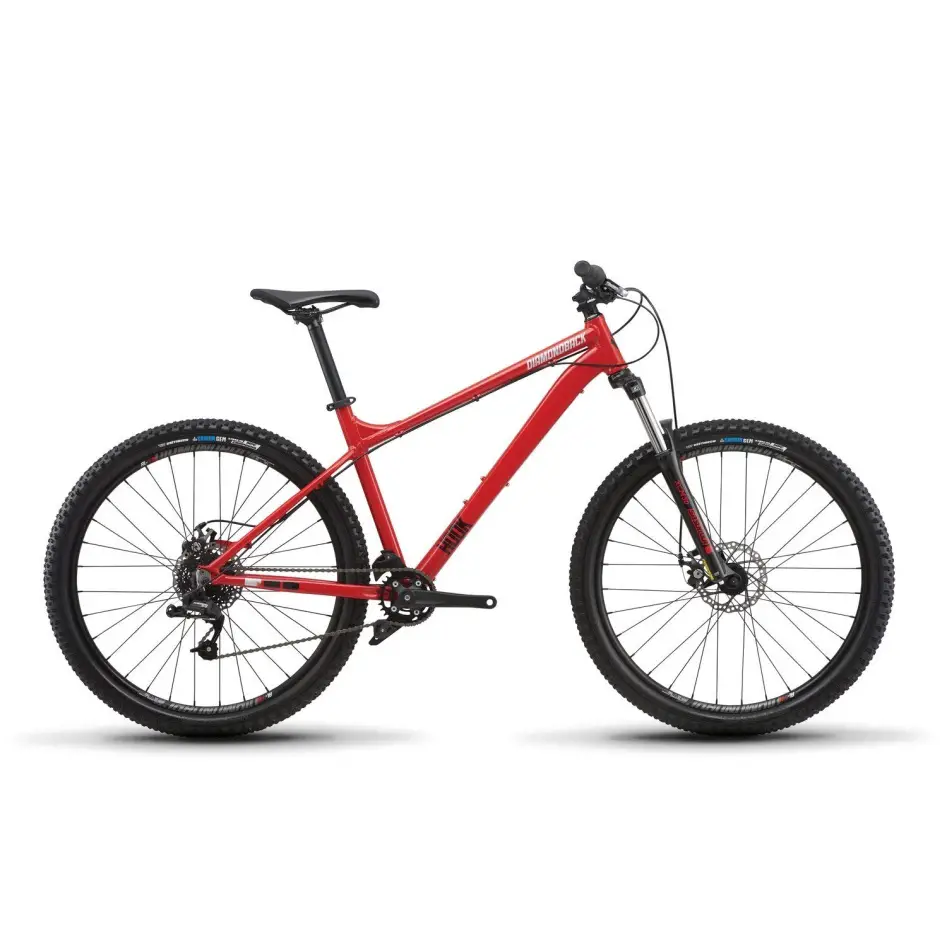 Diamondback is well known for making top quality mountain bikes at reasonable prices. The Diamondback Hook lives up to this expectation. It is a simple yet highly functional mountain bike with high-quality components found in expensive mountain bikes.
The Hook features a sturdy and lightweight modern aluminum frame which gives the bike a sleek appearance, fit for trendy mountain bikers. The bike also has a Plush SR Suntour XCM front suspension fork with 120mm of travel for absorbing road vibrations on any trail. It also consists of SRAM single-ring 1*8-speed drivetrain, 27.5-inch wheels with SL-7 double-wall alloy rims, and Tektro Aries mechanical disc brakes.
What we like
Lightweight and strong aluminum frame
120mm of travel front suspension fork
SRAM single-ring 8-speed drivetrain for top performance
Wide tires for maximum stability
Tektro Aries Mechanical disc brakes for potent braking control
What we do not like
 
Frequently Asked Questions
Can I ride my mountain bike on the road?
Mountain bikes are built specifically for off-road riding. As such, they are relatively harder to pedal and slower on paved roads. However, they are comfortable and provide an upright riding position while riding on a wide range of terrains.
Can I ride my mountain bike in the snow?
The fat tires with knobby treads found in mountain bikes make riding in the snow more doable as they offer more traction and stability. Find stable ground to comfortably cycle and wear the appropriate attire to keep you warm.
What is the difference between a mountain bike and a trail bike?
Mountain bikes are built for top performance and agility and are substantially slower on descents and quicker on climbs and flat surfaces. They have narrow handlebars, 90-100mm stem length, short travel of suspension, and smoother tires for faster and easier rolling.
On the other hand, trail bikes are designed for aggressive terrains and are relatively quicker when going downhill and quite slow on climbs. As such they have wide handlebars, shorter stem length of about 40-80mm, more extended suspension travel fork, broad and heavily treaded tires.