Off-road riders are carefree people looking to conquer the world. To support your adventure, it takes you riding on a powerful, well-designed bike like Diamondback bike or the Specialized mountain bike, so here is a detailed Diamondback vs Specialized mountain bike for you.
To get in touch with the outdoors and see the wonders of nature up close, is therapeutic, to say the least. I like breathing in the crisp, fresh air, smell the wildflowers, listen to the waterfalls and watch magnificent sights.
Cars make me feel boxed and detached. I would take a road trip on a bike any day given the choice. Isn't that too much, you ask? Nope! Not when you have a good mountain bike on your side. Mountain bikes are as intriguing as bikes go.
They are made with all intentions and purposes to work with the rider not to drain your energy but to preserve it. With a carefully designed, high-quality mountain bike, you barely feel any fatigue, even after covering hundreds of miles. Assuming of course, that it's not your first time.
Here, is a detailed Diamondback vs Specialized Mountain bike review that tells you the good and bad side as I have come to learn.
| | | |
| --- | --- | --- |
| Model | Diamondback mountain bike | Specialized mountain bike |
| Frame material | Aluminum alloy | Carbon |
| Brakes | Disc brakes | Disc brakes |
| Gears | 11 speed | 12 speed |
| | | |
Frame material
The type of frame, especially for a mountain bike is paramount to getting to the finish line on record time without facing physical or mechanical challenges. This is why most mountain bikes are designed to use the strongest, lightest frames.
Diamondback mountain bikes are made of Aluminum alloy frames. The focus here is making sure the bike is the strongest and is equipped with superior quality parts. A bike made to accommodate even the most aggressive riders.
Most men's and women's Specialized mountain bikes are made of carbon material. To enhance the level of affordability, there are a number of Specialized mountain bikes made of Aluminum alloy frames available.
Gears
Gears to a bike are equal to a car's engine and gearbox combined. If you want more power for your mountain bike to negotiate choppy terrain or steep hills, the right gear combination will help you get to your destination without any struggles.
The Diamondback mountain bike comes with an 11-speed gear that gives you a good amount of power and options to maneuver off-road tracks. You will not feel the bike hesitate or jump with each gear change. Instead, you are sure to enjoy a seamless shift from one gear to another.
The Specialized mountain bike has a 12-speed gear that is equally powerful and effective for any terrain. Whether you are riding during the rainy season or the dry season, you can rely on this bike to take you anywhere.
Tires
Mountain bikes need those wide tires with lots of traction. Good tires keep the bike balanced when riding in different angles while simultaneously securely gripping the ground. Diamondback mountain bikes come with 27.5 Inches by 2.8 Inch tires that are durable, strong and thick enough to last you many long rides.
Specialized Mountain bikes come with tire sizes measuring 27.5 Inches by 2.3 inches. This is quite wide but not as wide as the bike above. This small difference may not mean much for a beginner off-road rider but for a pro rider, better balance means better security.
Brakes
The outdoors is full of uncertainties that you are sure to come across while on the road. It could be a squirrel running past, a huge rock right at the center of your path or an unexpected bump or corner. For these reasons, you need a bike that has brakes so strong and effective they stop the bike within lightning speed.
If you are looking at the Diamondback mountain bike and are wondering what kind of breaks it has, you'll be glad to know that it has disc brakes. Of all brake types, disc brakes have a reputation of being the most reliable.
Alternatively, Specialized Mountain Bikes also come installed with disc brakes known otherwise as caliper brakes. They have excellent stopping power and remain highly effective irrespective of the amount of pressure on the bike or how rough the terrain is.
Diamondback vs Specialized mountain bike detailed reviews
Diamondback mountain bike review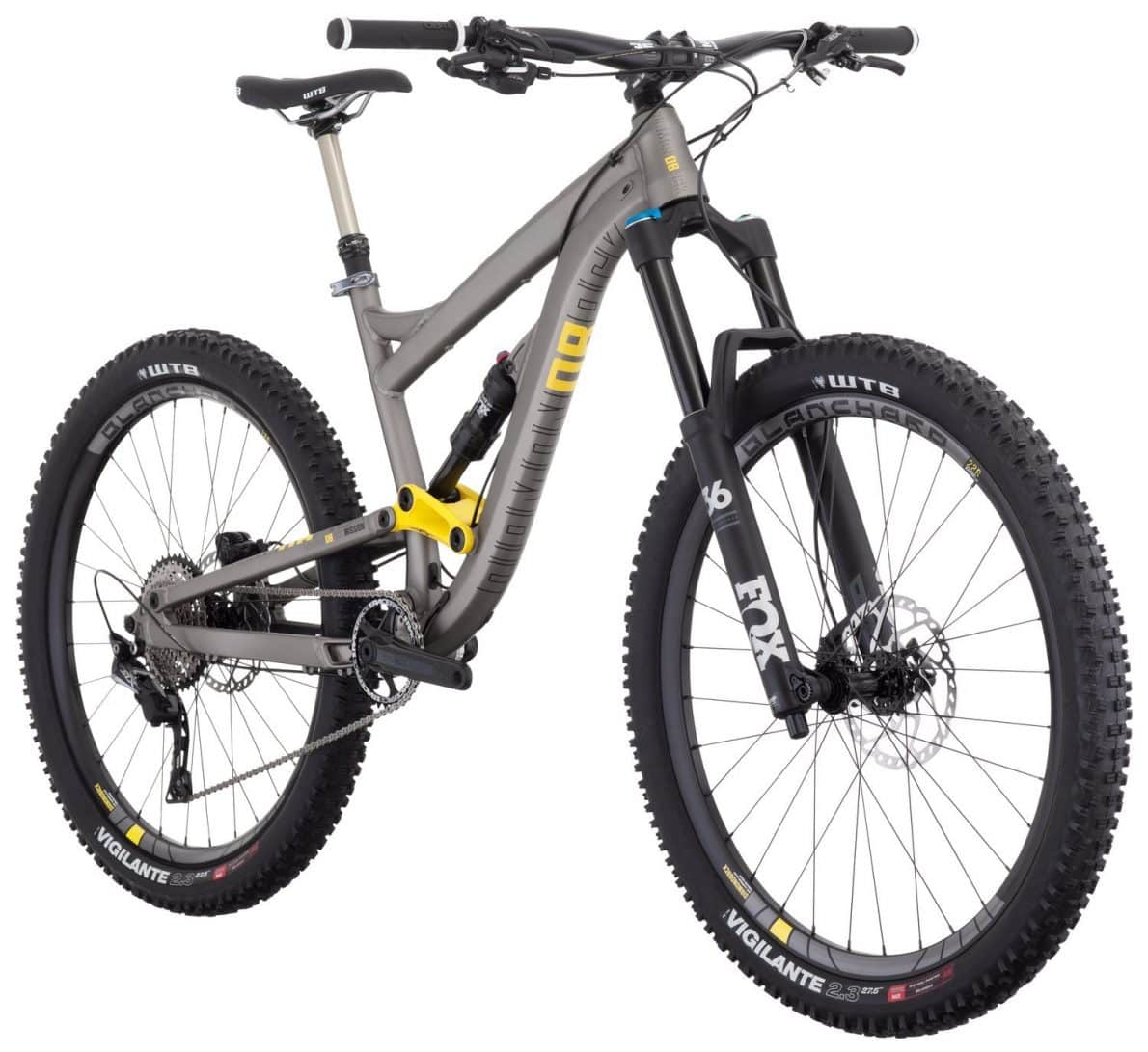 From its strong aluminum frame, its thick durable tires, full suspension mountain bike, it would take all day for me to tell you about all the good qualities this bike possesses. The Diamondback mountain bike is very easy on the eye. It has a beautiful design both inside and outside. From how the frame is shaped, how the handle is designed, to how the wheels are positioned, it doesn't take much to realize why this bike has had several gold medals and first place tags in the Olympics and other international competitions.
The only downside to this bike is that this bike may be better suited for experienced off-road riders but not so much for beginners. Its suspension as some riders may report is that it is very stiff. Plus it is quite expensive, but hey, if you want a high-quality bike, you must be willing to make a worthwhile investment.
Pros
Light, tough Aluminum frame
Effective disc brakes
High-quality 11-speed gear
Con
Expensive and better suited for pro riders only
 
Specialized Mountain bike review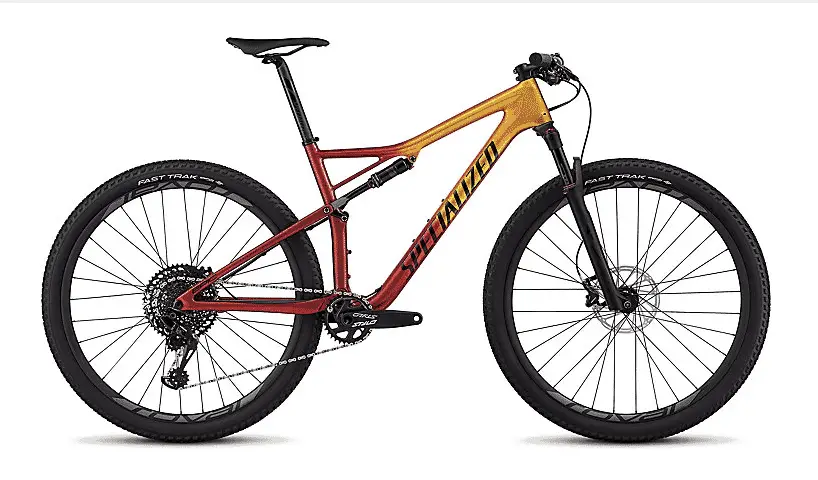 What I like most about specialized mountain bikes is that no one is left behind. Whether you are a beginner rider or an experienced one, you can still appreciate what this bike has to offer. Compared to previous models, this latest model has made great improvements. Notice the lighter stronger carbon frame, faster speeds, and catchy looks?
With wider tires, this bike has far better stability than other bikes in its price category. It comes in a 12-speed gear and efficient disc brakes for excellent control and enough power to go anywhere.
Pros
Tough, light carbon fiber frame
12-speed gear and disc brakes
Better balanced
Con
It can take a second for you to learn how to handle and operate these bikes controls because of how they are set.
 
Last word
Taking first place today is the Diamondback mountain bike. I think that it takes many good, high-quality parts working together to render a bike the best of the best. Everything about this bike shows effort and attention to detail which is something I know by experience contributes positively to every riding experience. The specialized mountain bike has also met certain standards but could use some more improvements.