Whoever said cycling is an expensive hobby did not know about the Dynacraft and Mongoose bike models. Both bike brands provide riders with affordable bikes with high-quality parts and versatile performance. With that said, let us quickly delve into this Dynacraft vs. Mongoose review for more details.
When I first started cycling, I looked for a top quality entry-level mountain bike that did not break my bank account. The Dynacraft and Mongoose bike brands provide superior entry-level mountain bicycles which pair functionality with affordability. These bikes are quite durable and offer new riders versatile performance as they battle with rough off-road paths while mountain bicycling. If you are looking for a cheap mountain bike on a tight budget, consider buying Dynacraft or Mongoose mountain bikes.
The following comparison review will provide detailed specs on what these two bike brands have to offer.
What are the differences between Dynacraft and Mongoose mountain bikes
| | | |
| --- | --- | --- |
| Model | Dynacraft Alpine Eagle 26†mountain bike | Mongoose Status 2.2 26†mountain bike |
| Frame material | Hard-tail steel frame | Aluminum full suspension frame |
| Handlebars and grips | Smooth handlebars and grips | Riser handlebar with colored end plugs |
| Saddle | Padded saddle seat with quick release adjustable seat post | Cushion-covered silicone gel seat |
| Drivetrain | 21-speed | 21-speed |
| | | |
Dynacraft vs. Mongoose mountain bikes-How do they compare to one another?
Frame material
Dynacraft mountain bikes have a hardtail steel frame with alloy wheels and 26†tires. The frame features a white and black base color with pops of light blue and red for increased visual appeal as you tackle various terrains. Its hardtail steel mountain bike frame ensures maximum control and maneuverability as it is lightweight and long-lasting.
Mongoose mountain bikes feature a lightweight and robust aluminum full-suspension frame with hydroformed tubing for smooth riding experience. The frame design and sturdy suspension fork ensures stability and versatility as you ride uphill and downhill.
Suspension Fork
Dynacraft mountain bikes consist of a front suspension fork which absorbs road vibrations as the bike rolls over rocks, turns corners, and brakes sharply. With front suspension, the bike distributes the rider's weight evenly allowing comfortable riding. The front suspension fork contains a spring which progressively tightens as you ride over rough terrain.
Mongoose mountain bikes have full suspension with Shimano 21-speed rear derailleur and SRAM MRX twist shifters which smooth out any humps and bumps along your trail. Its full suspension enables smooth rolling with maximum control and comfort as you ride downhill. While pedaling uphill, the forks inhibit energy transfer to the pedals, making it more difficult to climb hills.
Brakes
With front and rear V-brakes with resin levers, Dynacraft mountain bikes have all-weather stopping control as you ride. This Shimano braking system is easy-to-use and robust, giving the rider confidence and control to ride on various terrains.
Mongoose mountain bikes have high-quality dual disc brakes for quick stops on trails. With dual disc brakes, the bike has an incredible amount of stopping power, allowing the rider to apply less force to the lever while coming to a halt. This unique feature lessens muscle fatigue as you enjoy your riding experience.
Dynacraft vs. Mongoose mountain bikes- A comparison review
Dynacraft Alpine Eagle 26†mountain bike Overview and Key features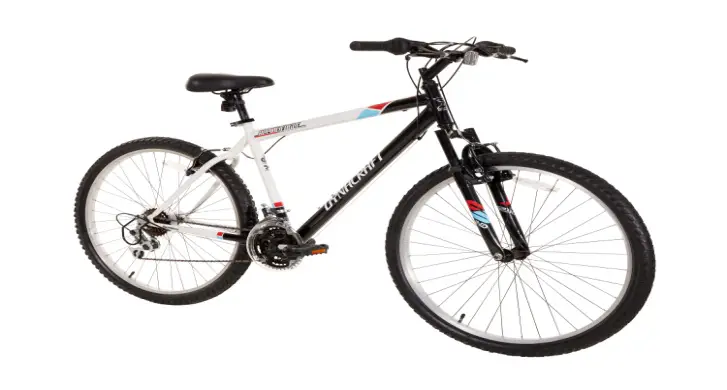 The Dynacraft Alpine Eagle is an excellent mountain bike option if you are a novice rider looking for the full thrill of mountain biking. Featuring a hardtail steel frame and efficient Shimano derailleur with SRAM twist shift shifters, this bike absorbs shocks and ensures you have a one-of-a-kind riding experience.
This impressive bike also contains a 21-speed drivetrain, padded saddle seat, comfortable and smooth handlebars, and grips as well as front and rear V-brakes with resin levers for solid braking control as you soar to your mountain biking adventure.
What we like
High-quality and durable hardtail steel frame
Smooth and comfortable handlebars and grips and saddle
Adjustable seat post
Effective dual V-brake system
Sleek appearance and lightweight alloy rims
What we do not like
 
Mongoose Status 2.2 mountain bike Overview and Key features


Mongoose mountain bikes have been in the market for over 40 years. These bikes pride themselves of their authenticity and durability as they provide mountain bikers with what they need most-versatility and stability.
The Status 2.2 mountain bike has a lightweight aluminum frame with a sturdy suspension fork and Hydroformed tubing. The bike also has a 21-speed shifting system for a smooth and reliable ride and quick shifting and gearing on rough terrains. Its 26-inch wheels with sturdy and lightweight alloy rims guarantee easy and smooth rolling over various grounds.
What we like
Lightweight and resilient aluminum frame
Front suspension fork for steering and braking control
26*2.195†tires with knobby treads for increased traction and stability
Raised handlebars with colored end plug for a complete mountain bike look
What we do not like
 
Frequently Asked Questions
Can you use mountain bikes on roads?
Generally, mountain bikes are for off-road riding on unpaved roads or gravel paths. They are harder to pedal and slower to ride on pavements because of their suspension and fat tires.
What is the fastest gear on a mountain bike?
A cyclist's 'big gear' is most useful when descending or when riding at high speeds. A rider can achieve the slowest gear by combining the smallest rear cog with the largest front chainring size and vice versa to make the fastest gear.
What is the average speed when mountain biking?
Depending on your trail, the average speed of mountain bikes varies. From 3mph on technical trails to 15mph on green pathway trails, mountain bikes feature versatile performance due to their high-end components. The average speed on single-track trails is 6.98 -10mph depending on the smoothness or roughness of the terrain.