There's a wider variety of comfort bikes out in the market now than there was a few years back. Each bike has its own unique features. Today we delve deeper into two of your favorites in this Electra Townie vs Cruiser review.
Comfort bikes have been around from as far back as I can remember. With tons of brands and designs to choose from, I find it daunting to pick one out of a series of seemingly good bikes.
Having been a rider for years, I know all too well that there's more to a bike than its looks. It is the specifics that matter. Yes. It is a comfort bike, is all the fuss really necessary? Well, by all means! Any bike should pass the durability test. Even more, it should prove functional and efficient regardless of how short or aggressive the ride is.
With so many people stuck with bikes they never ride in their garages, me being one of them, I've sought to find out if these comfort bikes are worth their weight. Here's an Electra townie vs Cruiser 7D review
What are the differences between Electra townie and Cruiser 7D?
| | | |
| --- | --- | --- |
| Model | Electra Townie | Electra cruiser 7D |
| Frame material | Aluminum frame | Steel frame |
| Wheel size | 26 Inch | 24 Inch |
| Gear | Single speed | 7 speed |
| | | |
Electra Townie vs Cruiser 7D-what are the differences and similarities?
Frame material
Comfort bikes are designed to give you high-quality service for as long as possible. It is no wonder you'll see comfort bikes decades upon decades old on the streets. If you are observant, you will notice that they are always in good condition. This is all thanks to their frame material. Different bikes come with frames made of different material. Note that the emphasis here is not weight but rather, durability.
The Electra townie has an aluminum frame which is much lighter yet durable and more resistant to corrosion compared to other materials. The Electra Cruiser 7D, on the other hand, has a steel frame which is much heavier but all the same durable.
Wheel size
The easiest way to distinguish one bike to another is by looking at the wheel size, but what happens if we are comparing two comfort bikes? What sets comfort bikes apart from road race bikes, for example, is the type of tread and how wide the tires are.
When it comes to comfort bikes, they all have one thing in common, wide tires. The aim is to give you the rider, enough cushioning. This way you don't feel any bumps and have the smoothest ride each time you hop on.
The Electra townie comes with 26 Inch wheels while the Electra Cruiser 7D comes with 24 Inch wheels.
Gear
Bike gears have come a long way from what they used to be years ago. It was harder to change gears because the shifters were difficult to operate. Now, advancements in technology have had a direct impact in the massive improvements witnessed on bike gears. Now there are many gear designs each with its own abilities and limitations.
Comfort bikes like our very own Electra townie has a simple single speed gear that can easily handle challenges that come with city riding.
It is however not surprising to find a comfort bike with numerous gears rendering it well able to handle rough terrains. In a bid to increase diversity and makes them much faster, the Cruiser 7D comes equipped with 7-speed gears.
Electra Townie vs Cruiser 7D reviews
Electra Townie Review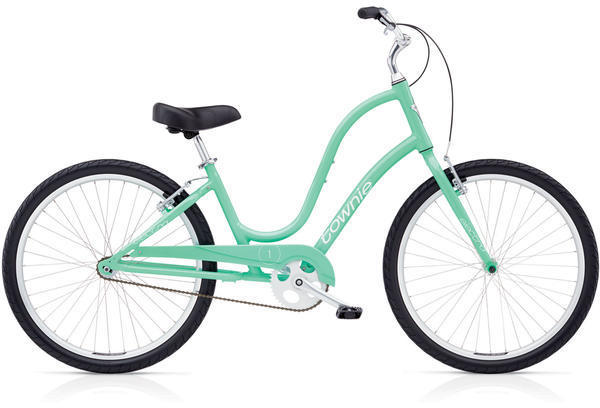 If you don't want to walk, run or drive and are looking to have a breathtaking riding experience, then get on a bike. The Electra Townie is a comfort bike that true to its word will offer you comfort beyond what you have felt riding other types of bikes. It simple step-through design makes it easy for you to hop on and off whenever you want to.
You no longer have to risk straining a muscle by using your tip-toes to stop, this bike is designed so that you can put your feet comfortably flat on the ground the moment you come to a halt. It is a strong bike that for me has proven useful for all my simple town riding thanks to a single speed gear and wide tires.
Pros
Strong Aluminum frame
Wide stable tires
Con
When riding on a rough surface or for a longer distance, I found the saddle to be quite uncomfortable.
Electra Cruiser 7D review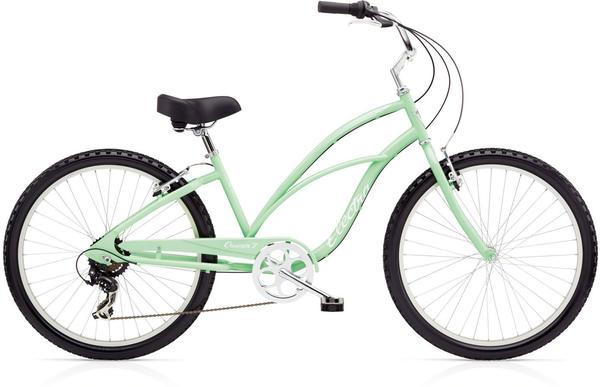 The Electra Cruiser 7D bike may fit into the comfort bikes category but everything about it is unique. Riding this bike feels stable and of course comfortable. It has a sleek clean look and finish to make any rider feel like they stand out.
You will notice that this bikes wheels are a tad bit smaller than the standard comfort bike wheels. This bike comes with 24-inch wheels as opposed to the traditional 26-inch wheels. If you only intend to ride this bike on the city streets or on paved roads, this slight difference will go unnoticed. But if you happen to ride on a dirt road, you may feel that this bike is slightly unstable.
Pros
Durable steel frame
Practical step-through design
Con
This bike may be unstable if you ride it on a dirt road.
Conclusion
Save for a few differences here and there, the Electra Townie and cruiser bikes are very similar. If you plan to do your riding on a relatively flat surface for short distances, then the Electra Cruiser bike is going to make your day.
If you are however looking for a bike that has more efficiency to offer on different surfaced roads then the Cruiser 7D bike will be a delightful surprise.
Despite being designed as a comfort bike, this Electra townie vs Cruiser 7D review shows why the Electra Cruiser 7D bike is the winner in this dual. It has better, accommodating qualities that render it more useful on different terrains.
Frequently Asked Questions
Is the Electra townie bike good for a first bike?
The Electra townie bike is designed to have flat foot technology. This way it's easier for you to use your own two feet to stop the bike in case you lose balance making this a good option for a first bike.
How does the Electra cruiser and the Trek Calypso cruiser differ in price?
Owing to different features and technologies used on each bike, it may be hard to tell exactly how much these two bikes differ in price. Due to the increased number of accessories, the Electra townie may cost more than the Trek Calypso Cruiser.
How comfortable is the Electra townie women's bike?
Foot forward and flat foot are two intricate technologies designed to encourage an upright and comfortable posture. This means that women riders will find this bike very conducive.
How does the Trek verve compare to the Electra townie bike?
The Trek verve is a hybrid bike that you can ride on multiple surfaces. The Electra townie bike, on the other hand, is a town bike designed mostly for paved surfaces.
How does the crank forward bike compare to flat foot technology bikes?
The crank forward bike is designed to promote an upright posture with the seat located further back and the crankset forward. Flat foot technology means being able to set both your feet flat on the ground while still on your bike.