Going by their looks, it is almost impossible to tell the difference between a cruiser bike and a town bike. They are both comfort bikes, but what more do you need to know about these two? Here is an in-depth Electra townie vs Cruiser review to answer your concerns.
You know how people collect cars as a hobby, I collect bikes for fun. In fact, I still have the first bike I owned as a kid and every bike I have owned after that to this day. The type of riding I want to do pretty much dictates the kind of bike I choose for that day.
When I want to relax and go for an evening ride for some errands here and there, I choose either my Electra townie bike or my cruiser. These are bikes that I have come to treasure over time. It can be quick to dismiss these bikes when you're younger but as you grow older you start adopting a more laid back, easy lifestyle.
In this Electra townie vs Cruiser review, I want to tell you what I know, including intricate differences you may have missed about these two.
What are the differences and similarities between Electra townie and cruiser bikes?
| | | |
| --- | --- | --- |
| Model | Electra Townie | Electra cruiser |
| Frame material | Aluminum | Steel |
| Brakes | Linear pull brakes | Coaster brakes |
| Gears | Single speed | Single speed |
| | | |
Electra townie vs Cruiser-what are the main differences and similarities?
Frame material
The Electra townie has a beautifully designed step through Aluminum frame. This type of frame is preferred because it is durable, it is resistant to corrosion or rust and it is affordable.
The Electra Cruiser bike, on the other hand, has a steel frame that is fixed at an angle to make it easier for you to get on and off the bike. The best thing about steel frames is that they are strong and most affordable of all frame materials. If they aren't well maintained or if the paint chips, they are highly susceptible to rusting.
Brakes
The Electra Townie comes with front and rear Rim brakes. This type of brakes are perfect for when you need to slow down when riding down a slope or when you need to stop abruptly in case of an emergency.
The Electra Cruiser alternatively improvises coaster brakes. This is why you do not see any wires dangling from the handlebars. Coaster brakes work by quickly rolling the pedals backward to get the bike to either slow down or stop.
Gears
The 7-speed gear fixed on this Electra townie bike means that you have a bit more than a simple comfort bike. If you were to come across a dirt road or you ride in a place where there are hills and slopes, you can rely on the gears to help you get there all while maintaining high comfort levels.
Choosing to adopt a simple minimalistic theme the Electra cruiser bike comes with a single gear. Remember that this bike is meant for short, non- aggressive rides. It is not such a bad trait for it to have a single speed gear. It can still move at a relatively fast pace.
Electra Townie vs Cruiser reviews
Electra Townie review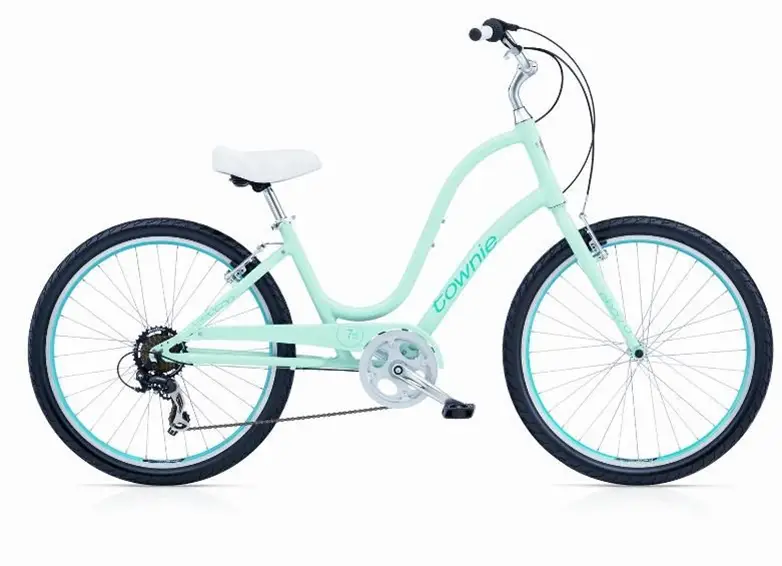 The one bike that accommodates really short people and really tall adults at the same time. This is thanks to a step-through design that means there is no barrier that keeps a shorter person's feet from reaching the pedals or a taller person from fitting on the saddle. In fact, this design is here purposefully to make it easier for you to stop by placing both of your feet flat on the ground. It is no wonder they call it a comfort bike.
With a 7 speed gear, you can ride this bike during any type of weather or surface. Provided relatively flat, you should face no problems at all. Your comfort and enjoyment is guaranteed.
Pros
Durable light Aluminum frame
7-speed gears for all weather riding
Cons
You can't ride this bike on a standing position
Electra Cruiser review


A simple bike for the simply laid back person. Its high handlebars are built to help you ride in a more comfortable upright position. This is a valued quality especially for seniors, or people with joint problems or back issues. Riding this bike almost feels like you're floating. Its 26 Inch knobby tires aid the bike to get a good grip on the road. This together with the coaster brakes mean that you actually have more stopping power than you think.
A steel frame means this bike is not a one-time wonder. Here, you have the stability, support, and durability you want in a town bike. It has a wider saddle for enhanced comfort and the most beautiful design.
Pros
Strong steel frame
Durable Knobby tires for enhanced support and stability
Con
This bike's coaster brakes may fall short when you need to stop in case of an abrupt emergency
Conclusion
These two bikes are very fun to ride. They are both made of tough material, they are attractive to look at, they are comfortable and they are ideal for short rides. Seeing as I am one to always choose versatility and function first, the Electra Townie bike is the one bike that gives me optimum satisfaction. This Electra townie vs Cruiser review proves that contrary to what you may assume, the Cruiser bike is a favorite for many and one that has so much in store.
Frequently Asked Questions
How good are townie bikes for commuting?
Owing to their ability to enhance comfort, townie bikes are excellent bikes for day to day commuting. Note however that these type of bikes are ideally designed for paved surfaces.
Is the Electra townie bike heavy?
The Electra townie bike has a frame made of aluminum material. Of all the main materials, aluminum, carbon, and steel used to make bike frames, steel is the heaviest. The Electra townie is then likely to feel relatively lighter in weight compared to steel framed bikes.
Are cruiser bikes good for long distance riding?
For cruiser bikes, it is not so much about the distance as much as it is about the type of surface you are riding on. On a smooth surface a cruiser bike can cover miles and miles without developing problems but on an unpaved surface, mechanical issues are bound to occur if riding for a long distance.
Does the cruiser bike and Electra townie bike compare in quality?
Both cruiser and Electra townie bikes have similar designs for enhanced comfort and have steel frames for durability. This makes the bikes quite similar in regard to quality.
Between Electra townie and Trek, which bike should I get?
Your intentions and uses for a bike dictate which bike is best for you. If you plan to ride on paved surfaces only, then you should get the Electra townie bike. If you plan to ride on different types of surfaces, then you are better off with a Trek bike.