Comfort bikes and hybrid bikes have for a long time gone head to head in competition. Ever wonder what makes them so different? In this Electra vs Giant suede review, we look at what makes each bike stand out
My friends and I made a pact a few weeks ago to stay more active and live healthier. Our work patterns were too irregular for us to consistently go to the gym. At the same time, we could barely scoop out enough time to do any kind of meaningful fitness exercises on our own each one at their convenient time.
I love riding on weekends. After every ride, I always feel so energized and always looking to have more. I had an idea, I suggested we start to use bikes to commute to and from work. Since none of us work too far away from where we live there was a better chance this method would work.
All four of us were up for it. It took some time for us to debate and agree on which type of bike to use between a comfort bike and a hybrid bike. We decided to use whatever bike anyone felt they were comfortable with. After observing these two bikes, here is an Electra Townie vs Giant suede review to help you choose best.
Electra townie and Giant suede, how do the two compare?
| | | |
| --- | --- | --- |
| Model | Electra Townie | Giant suede |
| Frame material | Aluminum | Aluminum |
| Wheel size | 26 Inch | 26 Inch |
| Brakes | Linear pull brakes | Linear pull brakes |
| Gears | Single speed | 7 speed |
| | | |
Electra townie vs Giant suede- how these two bikes compare;
Frame material
Unique qualities make aluminum the best type of frame you can find on any bike. This type of metal is very light. This means that the bike will not weigh you down especially when you have to ride uphill. It can withstand a great deal of impact without getting damaged or needing maintenance. Both Electra townie and Giant suede bikes are made of durable, strong, high-quality aluminum frames.
Brakes
These two bikes come fitted with linear pull brakes also commonly known as rim brakes. This type of brakes are not unusual to see on comfort bikes and hybrid bikes because they give you the rider as much braking effect as you would need. Whether you are going really fast or you want to regulate your speed as you're riding downhill, rim brakes as they are commonly known work by pressing against the wheel in order to slow down the bike.
Gears
Advancements in technology has seen gears become so much easier to engage. Easy to shift gears mean easier rides which is what everyone who rides a bike is looking for. If you want to buy a bike the number one question you should ask is where you intend to ride this bike. If it is a relatively flat area then you can get away with a bike with fewer gears. If however, you want to ride in pretty irregular terrain, you will need a bike with more gears.
This is why the Electra townie comfort bike is designed with a single speed gear while the Giant suede hybrid bike is designed with a 7-speed gear.
Electra townie vs Giant suede reviews
Electra townie review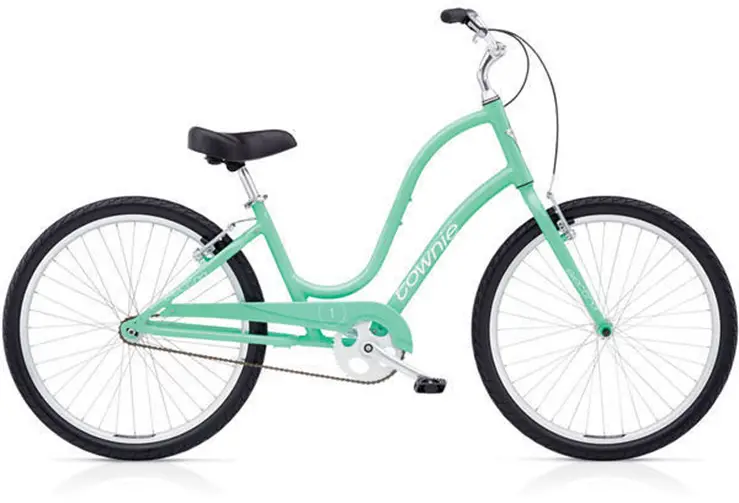 The Electra townie bike is one bike that has surpassed all my expectations for a comfort bike. With a step-through design and a flat foot technology, I cannot think of any other bike in the market that is as comfortable to ride as this one. I noticed that this comfort bike is not as heavy as other comfort bikes which is always a plus. This considering I would want to go really fast without feeling like the bike is holding me back. Other qualities that you will love about this bike is its incredibly comfortable seat, linear pull, brakes and chain guard.
Pros
Light durable aluminum frame
Wide, sturdy wheels
Con
A single speed gear may mean that you do not have that many choices in deciding how fast you want to go or the type of terrain to ride on.
 
Giant suede review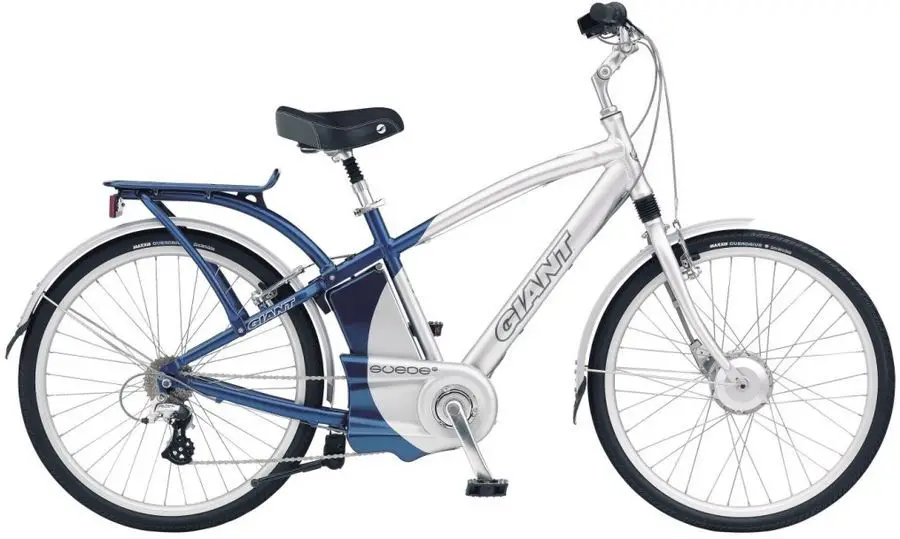 In comparison to comfort bikes, it is safe to say that hybrid bikes are newcomers in the biking arena. But this is not to say that they have been left behind in how good they look and how well they work. This giant bike is a hybrid bike that promises to awe you with its countless good qualities. It certainly does not look like other hybrid bikes. Most bikes have suspension system on the front only or none at all. To give you ultimate shock absorption, this Giant suede Hybrid bike has a suspension system on the front wheel and right under the saddle. It is no wonder riding this bike felt like I was floating even when it was on a dirt road.
Pros
Frame made of durable aluminum
Suspension system for effective shock absorption.
Con
The larger than usual chain guard may add significantly on to the bike's weight making it so much heavier than other hybrid bikes.
 
Final say
I have given both this bikes a test ride and both bikes managed to really impress me. Being one to ride on different types of terrain or surfaces, I must say that I may be biased and more inclined towards picking the Giant suede bike as my best choice. But going by this Electra townie vs Giant suede review, it is clear that comfort bikes serve their own irreplaceable role.
Frequently Asked Questions
Should I avoid the Electra townie bike?
Owing to their inability to properly maintain their bikes most riders believe that the Electra townie bike is not a good bike. But, with the right care and scheduled visits to the bike shop, you should have no problems with this bike.
Exactly what is the Electra townie flat foot technology?
Electra townie patented flat foot technology is what enables the rider to step on the ground with their own two feet flat on the ground without having to get off the saddle. The idea is to enhance efficiency while stopping the bike.
What other bikes are similar to Electra townie?
Milano, Sun Cruz, Sixthzeero, Raleigh Retroglide, Fuji Barnaby, and Giant Liv are a few of the many bike options available in the market that closely resemble the Electra townie bike. Be very keen on the specific features you want for example, do you want a single speed gear or a 7-speed gear. This way you will avoid getting disappointed.
Which bike should I get, the Giant simple or the giant Electra townie?
The Giant simple bike is a hybrid type of bike designed to glide through paved and unpaved roads on both flat and hilly areas. The Electra townie bike is on the other hand designed for riding on paved areas which are relatively flat. Depending on the terrain you wish to ride on you can get either one of these two bikes.
Which comfort bikes are best for women?
All comfort bikes are great for women because they are built to encourage an upright posture. However, most women prefer comfort bikes with the step-through frame as it is more accommodating.