Comfort bikes have dominated the industry for ages. But do you know what more they offer? Here's a deeper look into it in this detailed Electra townie vs Loft review.
There are adrenaline junkies and then there's the easy going people. Comfort bikes are meant more for the cool, calm and collected personalities looking to cycle to places without having to worry about a thing in the world.
To be honest, sometimes I love facing challenges and doing stunts that leave my blood boiling hot in excitement. But most times I am more laid back, looking to enjoy my beautiful surroundings, wave to friends I come across along the way and just breathe some fresh air.
But does this mean I have to give up my love for riding for something else? Nope! In fact, there are bikes made just for such scenarios. You might have come across these beauties a couple of times, they are generally called comfort bikes. In this Electra vs loft review, we look deeper into two of my favorite comfort bikes.
What are the main differences and similarities between Electra townie and Loft bikes?
| | | |
| --- | --- | --- |
| Model | Electra Townie | Loft |
| Frame material | Aluminum | Aluminum alloy |
| Brakes | Hand/ rim brakes | Rim brakes |
| Gears | 7 speed | 3 speed |
| | | |
Electra townie vs loft- what important details do you need to know?
Frame material
Designed for comfort, the Electra Townie and Electra loft bikes have a uniquely designed frame that is unlike what you've seen on other conventional bikes. The frame has a step-through design that slants downwards at an angle to make it easier for you to stop with your own two feet flat on the ground and to make it easier for you to get on and off the bike without hurting your knees or ankles.
The Electra townie and the Electra loft bike frames are made out of very durable and light Aluminum material.
Brakes
Some Electra townie bikes come designed with either the handbrakes, pedal brakes or both. This particular design features handbrakes. The handbrake is also known as the rim brakes because they are activated when you use your hands to pull on the lever located on the handlebar.
The Electra loft bike is also has rim brakes which work by pressing on to the wheel to slow down the bike. They are very effective especially for town bikes compared to other brake systems.
Gears
A comfort town bike such as the Electra Townie is meant for short distance riding at a generally slow pace on a relatively flat area. You could easily manage with a single gear town bike. But, the Electra townie refuses to leave anything to chance. Just in case you ride your bike where the terrain is mildly irregular you can count on this bike's 7-speed gear to get you there with ease.
The Electra loft bike, on the other hand, comes installed with an easy to maintain 3-speed gear. You may never have to use most of these speeds, but if you do, you'll notice how easy it is to shift gears when the surface changes.
Electra townie vs loft reviews
Electra townie review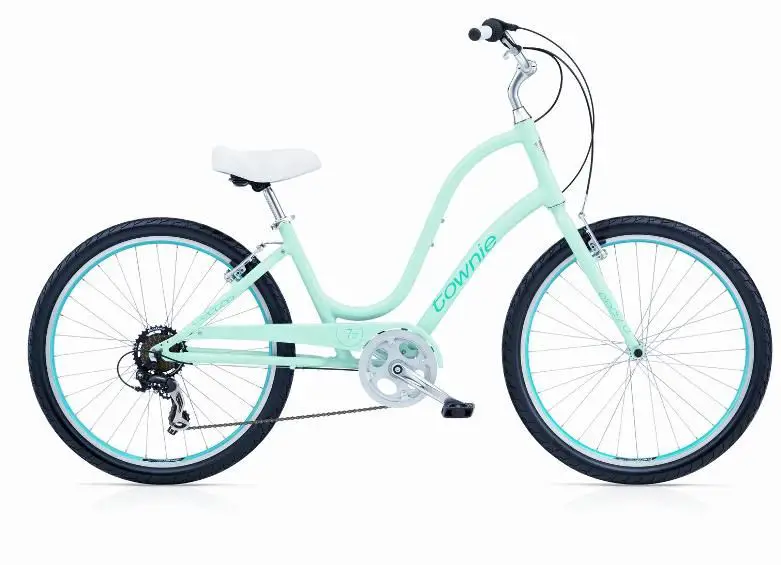 With most town bikes, if you want to stop using your feet you can only use your toes. Not here! The Electra townie has a patented flat foot system that allows you to stop with so much ease by placing your foot flat on the ground. If you have an injured knee, experience joint pain or you are a senior rider, you will find this bike incredibly friendly.
It is designed to encourage forward pedaling, has a high handlebar and a comfortable saddle. Here you receive 100% comfort no matter how long you are on the bike or how far you intend to go. Its angled frame makes it easy for you to get on and off. 700C tires aren't too wide nor too narrow, they are just the right size to carry on the comfort theme in addition to enhancing stability.
Pros
Lightweight Aluminum frame
7-speed gear for easy maneuvering through uneven terrain
Con
This bike's design may make it very difficult for you to ride on a standing position
 
Electra loft Review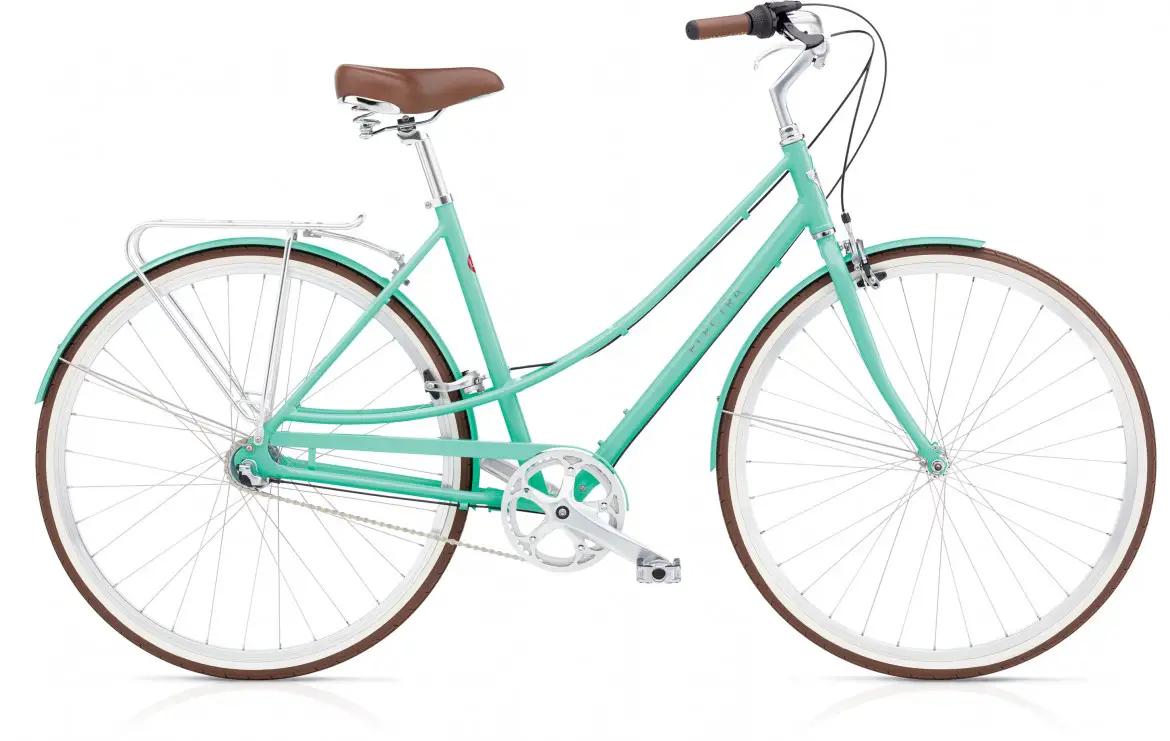 Riding this bike feels like you own the city, all eyes are on you. Ride confidently, slowly and comfortably through the streets on what I think must be the lightest town bike available. With an angled frame, 3-speed gear and rim brakes, this bike has all the quality components you are looking for. Designed with a minimalistic theme, this bike is guaranteed to help you achieve two main goals functionality and comfort.
It has straight handlebars and comes with 700C tires that elegantly glide over potholes, past cabs and buildings and so on. With an upright riding position, you won't experience any back aches or joint pain as a result of straining excessively.
Pros
Durable, light Aluminum Alloy frame
Encourages an upright riding position
Con
Due to fewer gears, this bike is limited to the city or town environment only where the terrain is relatively flat.
 
Conclusion
Having received so much praise going by what I have heard from friends, this Electra townie vs loft review proves them true. I have found the Electra townie to be a quality comfort bike, which is light in weight has a cool comfortable design and a powerful gear with enough options to ride even on a dirt road. Certainly more t this bike than the hype.
Frequently Asked Questions
Other than the Electra Townie, what other bikes would you recommend?
Town bikes are all similar save some few differences here and there. Other town bikes that closely resemble the Electra townie include The Raleigh Retroglide, Milano, Giant Liv, Sun Cruz, Phat Cycles del Rey, and Fuji Barnaby to mention but a few.
Electra townie vs Raleigh, how do the two compare?
Electra townie is a town bike designed for a more laid back ride around town. The Raleigh bike is a hybrid bike designed to ride on different types of surfaces. Town bikes have single gears which support slower speeds while hybrid bikes have multiple gears for faster speeds.
Is the Electra townie good for commuting?
The Electra townie has a comfortable fit, patented flat foot technology and designed to ride seamlessly of flat paved surfaces. This makes it a good choice for you if you are looking for a simple bike to get you to and from work daily.
What sizes does the Electra bike fit?
Bikes come in different sizes and designs making them ideal to ride for men women and kids. Depending on your height, weight and sometimes gender, you are able to get a bike that fits your dimensions perfectly.
What brakes are most reliable on the Electra townie bike?
The most common type of brakes are the V brakes/rim brakes and disc brakes. For more vigorous riding Disc brakes are considered ideal, but for comfort bikes, rim brakes are more effective.