The Electra Townie and Schwinn bikes are no new names to a cyclist's ears. Aside from one bike being a comfort bike and the other being a mountain bike, what more do you know about these two? Here's a detailed Electra Townie vs Schwinn bikes review
Many assume comfort bikes are way below other modern types of bikes. Probably owing to their mild specifications and the fact that they are mostly limited to moving on a relatively flat surface. But the more I ride comfort bikes like the Electra Townie, I have come to realize that these assumptions are misconstrued.
It is not so much what a bike cannot do but more about how well it can perform. Did you know that it is just as hard to ride a mountain bike on a flat paved surface as it is to ride a town bike on a hilly dirt road?
These are lessons I have learned through experience in my years as an ardent cyclist who loves trying different bikes for fun. Today I want to tell you more about what I have learned about town bikes in comparison to mountain bikes. So here is a detailed Electra Townie vs Schwinn bikes review.
What are the major differences between the Electra Townie and the Schwinn bikes?
| | | |
| --- | --- | --- |
| Model | Electra Townie | Schwinn bike |
| Frame material | Aluminum alloy | Steel frame |
| Gear | Single speed | 21 speed |
| Brakes | Linear pull | Disc brake (front) and linear pull brake (rear) |
| Wheel size | 26 Inches | 26 Inches |
| | | |
Electra townie vs Schwinn bikes- what do you need to know?
Frame material
Electra townie comes with a durable yet strong aluminum frame. This frame is preferred on town bikes mostly owing to its ability to resist corrosion and its lightweight nature. If you want a bike that can withstand high amounts of pressure or force then the aluminum frame bike is what you're looking for.
The Schwinn mountain bike, on the other hand, comes with a tough steel frame. The good thing about steel material is that it can handle the aggressiveness that is characteristic of vigorous riding on dirt roads. The only problem I find with steel frames is that they are significantly heavier than other frame materials and need a lot of maintenance if at all you want to keep them rust free.
Gear
The major determining factor in regard to the type of gear you should choose is your purpose for the bike. I always ask myself, where do I want to ride this bike? If the answer is a relatively flat area, then I know I need the Electra Townie which has a single-speed gear.
If I want a bike I can use both on paved roads and on dirt roads, I instantly know that I need a Schwinn bike which is fitted with a 21-speed gear. Gears make riding easier as you have the option to increase or decrease gears to suit the demands of the road.
Brakes
The Electra townie bike comes equipped with front and rear-wheel linear-pull brakes. This type of brake squeezes the wheel of your bike the moment you press on the brake levers on the handlebar. They are very effective for use on bikes intended for riding on flat areas during drier weather.
The Schwinn mountain bike is leaving no room for chance by combining disc brakes on the front wheel and linear pull brakes on the rear wheel. Disc brakes are labeled the best types of bikes for their ability to remain effective and for their high level of performance through all types of weather and through all types of surfaces.
Electra townie vs Schwinn bike reviews
Electra townie review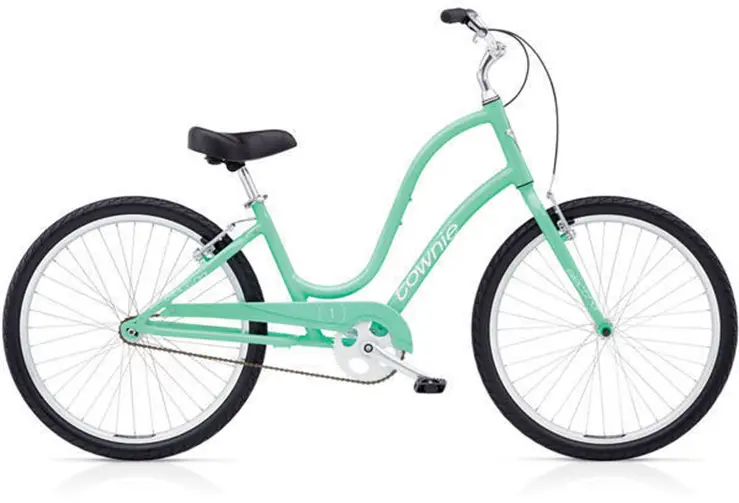 A chain guard, a strong aluminum frame, alloy wheels are only a few attractive qualities possessed by this bike to show you how durable it is. For a town bike, I found this bike to give me way better performance compared to other town bikes I have tried.
It has a stable set of wheels that render this bike useful even on dirt roads. If you are looking for an easy going bike that does not compromise on quality, the Electra townie bike is certainly a bike you want to own.
It has the most comfortable sitting position and an ergonomic design that guarantees support throughout your ride no matter how uneven the terrain is.
Pros
Has a durable, conveniently curved aluminum frame
Has strong stable tires
Con
Schwinn mountain bike review


For enhanced safety, this Schwinn mountain bike uses both disc and linear pull braking systems. Disc brakes are preferred for their ability to withstand rough terrain and their continued effectivity through all types of weather.
The linear-pull brakes, on the other hand, are loved for their ability to quickly stop the bike. Combined, these two braking systems make this bike stand out a few steps ahead of other mountain bikes. It has a strong aluminum frame which is very light and ideal for vigorous riding on off-road trails.
Pros
Has disc brakes-front and linear-pull brakes-rear for better speed control
21-speed gear means more options and better performance on different terrain
Con
This bike has a sitting position designed more for speed than for comfort
Final verdict
These two bikes have irreplaceable qualities. Despite being very different they both promise to give you high performance each in its own category.
My craving for being in the wild and for speed is what leads me to arrive at the decision that the Schwinn mountain bike is my best choice. This Electra Townie vs Schwinn bike review goes to show that two bikes can have different qualities but give you the kind of performance you'd want.
Frequently Asked Questions
How much does bike maintenance cost?
Your bike maintenance costs may vary depending on how many accessories need to be replaced and how long ago you went for your last maintenance.
Is the Schwinn bike good for commuting compared to the Electra Townie?
You can use any bike to commute. Only problem is that with the Schwinn Mountain bike is designed for rough terrains which may render it so much harder to ride on paved roads during your commutes. The Electra townie is precisely designed for riding on paved roads making it more ideal for commuting.
Why does the Schwinn bike have more gears than the Electra townie bike?
Gears are responsible for helping you achieve certain speeds and ride smoothly. For example, without gears, it would be so much harder to pedal uphill but with gears, you have enough power to propel you forward with ease. This is why the Schwinn bike comes with more gears than the Electra townie bike.
What is the difference between the Electra cruiser and the Electra townie bike?
The Electra cruiser has fatter tires and a less forward pedaling position. The Electra townie alternatively has the renowned flat foot technology, thinner tires and a more forward pedaling position.
How does it feel to ride the Electra townie vs cruiser bikes?
It all narrows down to preference. For example, some people prefer handlebars that curve towards the rider on the Electra cruiser bike while others prefer the enhanced forward pedaling position on the Electra townie bikes.