Comfort bikes have for ages secured their place in the biking industry. Hybrid bikes bring some level of versatility unseen in any other type of bike. Want to know what sets these two apart? Here is a detailed Electra townie vs Specialized roll bike review.
The way the bike glides on top of a surface, the way the gears shift, the wheels wheezing with each spin, there's nothing as captivating as the joyous sounds you can hear on a bike. A good bike has the power to block all else and have you dazed in an astoundingly unforgettable experience.
It's safe to say that I am in love with bikes. Comfort bikes have been my go-to bikes each time I am looking to unwind and take in my surroundings. But as my needs grow, I find that I need a bike that can do more, one that is not limited by anything.
This has left me fighting within myself trying to figure out which one of these two bikes is what I need. So to help demystify my dilemma here's what I have been able to gather in this detailed Electra townie vs Specialized roll bike review.
What are the main similarities and differences between the Electra townie and Specialized roll bikes?
| | | |
| --- | --- | --- |
| Model | Electra Townie | Specialized roll |
| Frame material | Aluminum alloy | Aluminum alloy |
| Gears | Single gear | 8 speed |
| Wheel size | 26 Inches | 650bx2.3 Inches |
| Brakes | Linear pull | Hydraulic disc brakes |
| | | |
Electra townie vs Specialized roll- how do these two compare?
Frame material
I was surprised to learn that the type of frame material used on a bike has a direct impact on how great a ride you can get out of it. Both the Electra Townie and Specialized roll are fitted with Aluminum alloy frames. The best thing about this frame type is that you will get to ride your bike for years and years thanks to its durability. Another plus is that aluminum frame bikes are very light in weight and they are affordable. They do not corrode when they come into contact with moisture and they need very little maintenance to stay in perfect condition.
Gears
The one thing that stands out most when it comes to gears nowadays is that they are easier to shift. A few years ago, this was not the case. It all depends on what kind of a bike you wish to get and where you want to ride it. If you want a simple town bike like the Electra townie bike, its single speed gear is more than enough to have you cruising around town on paved roads without a care in the world who is looking. The Specialized roll bike is made to handle different types of terrains which explains why it is designed with an 8-speed gear.
Brakes
Electra townie's linear pull brakes are ideal for low demand mildly aggressive city riding. It is rare to find anyone riding a town bike on a dirt road during rainy weather. This because these are not the kinds of conditions this bike was designed for.
The specialized roll bike, on the other hand, is designed to move swiftly whether you are riding it on a rough trail or on a smooth surface, when it is sunny or when it is rainy. This bike can take you anywhere. Through all these scenarios you can depend on this bikes disc brakes to have your back whenever you want to slow down.
Electra townie vs Specialized roll quick review
Electra townie review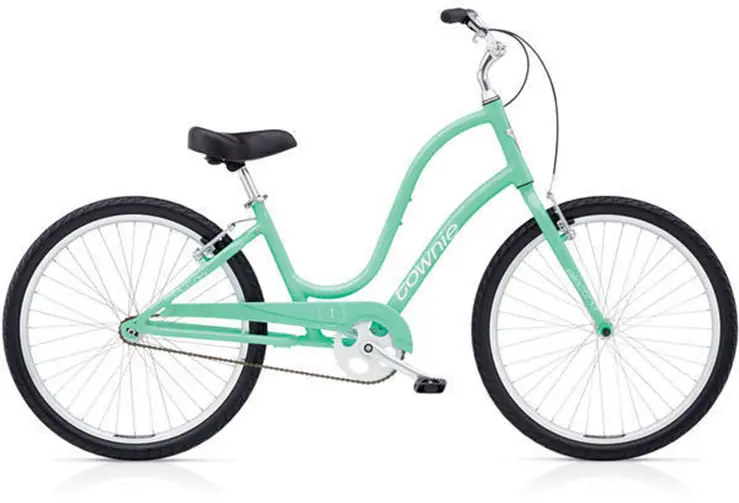 Designed with a comfortable low angled saddle and a high positioned handlebar, you never have to worry about suffering backaches even after riding for long durations. This bike is made entirely for comfort but not so much for speed. This explains why there's a single speed gear. In case you are riding down a slope or you are trying to negotiate sharp corners and bumps, this bike has linear pull brakes on both wheels. Most people find this bike to be very convenient owing to its step-through design. You can easily get on and off the bike without the risk of hurting your knee or ankles.
Pros
Linear pull brakes for enhanced safety through slopes, corners, and emergencies
Has an upright position design for comfortable riding experience
Con
This bike is not suitable for riding on dirt roads
 
Specialized roll review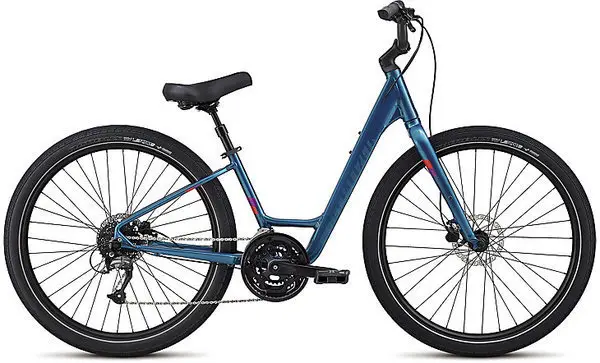 If you are very observant, you will notice that despite the Specialized roll being a hybrid bike, it has a step-through frame and larger than usual wheels. It is designed to give you maximum comfort the entire time you plan to go riding while at the same time ensuring stability. Good thing about hybrid bikes is that they are not limited to any particular type of terrain. You can ride this bike on a dirt road, a paved road, uphill or downhill and expect the same high-quality performance. It is fitted with disc brakes on both front and rear wheels. Disc brakes are preferred for high-speed bikes such as this one owing to their enhanced effectiveness through all types of weather and surfaces.
Pros
Convenient step-through design
8-speed gears for more speed and easy riding through different types of terrain
Con
Due to the absence of a reliable suspension system, this bike may be slightly uncomfortable to ride on rough terrain.
 
Final say
I admit that sometimes I want to ride calmly up and down the neighborhood streets. But more than that I like to feel the wind ringing in my ears as I rush past trees and traffic. This is why I prefer the Specialized roll bike better because it has all the qualities anyone would want in a hybrid bike. This Electra townie vs Specialized roll review shows that town bikes are also worth their weight in regard to high-quality parts and how efficient they are.
Frequently Asked Questions
What are the Electra townie women bike frame sizes?
Depending on the standover height, reach and stack among other factors, Electra townie women bikes frame sizes differ.
Is the Electra townie a good fitness bike?
While riding, the key lies in maintaining the right posture. This way you get to tone all the muscles from your core down to your calves without running the risk of you experiencing fatigue or injury. So yes, any bike including the Electra townie can make a good fitness bike.
Can I change from using disc brakes to using rim brakes on my specialized roll bike?
Depending on weather patterns and terrain in your area, you can choose to use either disc brakes or rim brakes. Disc brakes work well with all types of weather and are more effective on rough terrain. Rim brakes work better on smoother surfaces where the weather patterns are relatively dry.
Electra townie vs Specialized roll bike, is there a difference in quality?
Quality is measured generally by how strong and durable the bike is. Seeing as both the Electra Townie and Specialized roll bikes are made of aluminum alloy frame and fork, it's safe to say that both bikes are of equal quality.
Is the specialized roll a new type of hybrid bike?
The specialized roll bike may look slightly different than ordinary hybrid bikes. This owing to different features meant to enhance its comfort and efficiency. For example, it has BMX style handlebars, larger tires, strong aluminum frame, and mountain bike gearing.