Competing for first spot is the Electra townie vs Trek pure comfort bikes. Two bikes that are so alike but yet quite different from each other. Who will win? Let's take a closer look at these two.
It doesn't take much to convince me to hop on a bike and ride away. Some bikes are made for speed, other bikes are made for comfort. Having tried a wide array of bike types across the board. I cannot help but acknowledge how comfortable town bikes are.
No matter how far I go, how much time I spend on the saddle riding through relatively flat areas, I haven't once complained of backaches, fatigue or experienced numbness. Comfort bikes are built to accommodate city riding while keeping you in the right posture the whole time.
I am in search of a comfort bike as my other one is too old. Torn between the Electra Townie and the Trek pure bikes I have spent a good amount of time trying to pit one against the other. Want to know what I found out? Here is a detailed Electra townie vs Trek pure review.
What are the main differences between the Electra Townie and Trek Pure bikes?
| | | |
| --- | --- | --- |
| Model | Electra Townie | Trek Pure |
| Frame material | Aluminum | Aluminum |
| Gear | Single speed | Single speed |
| Wheel size | 26 Inch | 26 Inch |
| Brakes | Linear pull | Linear pull brake (front) and coaster brakes (rear) |
| | | |
Electra townie vs Trek pure-what are the differences and similarities?
Frame material
The frame is an important part if not the most important part of any bike. This is what holds the bike together. Considering that most adult bikes are beyond 20 lbs. in weight, you must find a bike with a frame that is capable of not only carrying its own weight but a bike whose frame is well able to bear your weight as the rider. When it comes to either the Electra Bike or the Trek pure bike you needn't be worried. They both come with strong, durable, rust-resistant aluminum Frames.
Gear
Town bikes are designed to go at a slower pace on flat ground. Here you would have no use for a bike with so many gears because the need for it wouldn't arise. Gears are there to help supply the bike enough power to move faster or to endure different types of terrain. This is why both the Electra Townie and the Trek pure bikes come fitted with single speed gears.
Brakes
Drivers and cyclists sometimes share the same roads. This means that at one point or another the two are going to clash as they compete for right of way on the road. Aside from that, you may be riding downhill and you need to monitor your pace down to something you are comfortable with. These are two of the many scenarios that explain why brakes are an integral part of every bike.
The Electra townie bike is designed with linear pull brakes on both wheels. The Trek pure bike, on the other hand, has linear pull brakes on the front wheel and coaster brakes on the rear wheel for enhanced braking effect especially in the event an emergency occurs.
Electra townie vs Trek pure detailed reviews
Electra townie review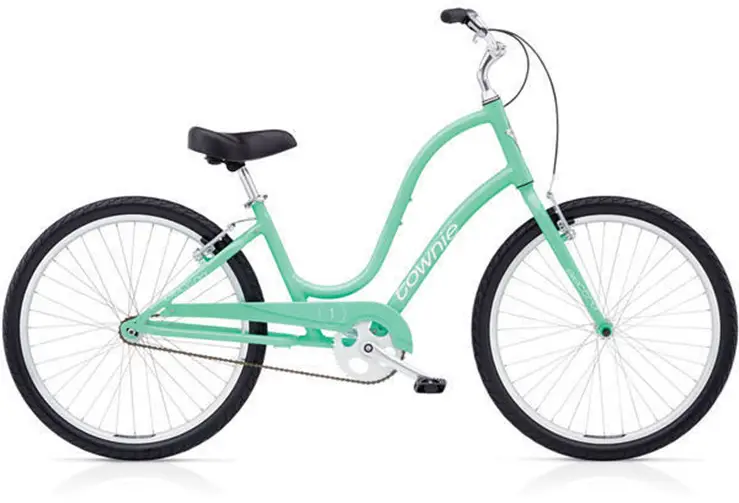 Electra townie bikes are the mothers of all city bikes having been around for decades. They say that with age comes experience and nothing proves this to be true more than what this bike has evolved to become. How can something so simple be so intricate all at the same time? This bike has a single speed gear installed, but it is no ordinary gear, this gear is so much easier to shift and engages easily without hitches. Its aluminum curvy frame is designed to give you an easy time getting on and off the bike. I noticed that this bike's seat is positioned much lower than the handlebar. This is a deliberate move aimed at encouraging an upright sitting position to keep your back comfortable throughout the ride.
Pros
Durable aluminum frame
High-quality rim/linear pull brakes
Con
If you are after speed, this bike may not be the one for you. it has a single gear speed designed only for normal, much slower speeds.
 
Trek pure review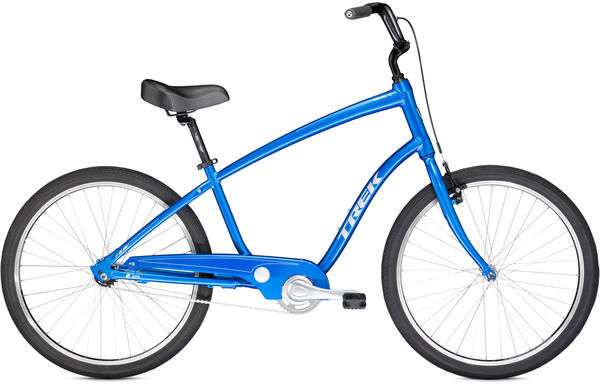 The Trek verve is another simple bike for anyone looking for a calm ride up and down the city streets. This bike comes with 26-inch wheels which may be the standard for town bikes but all the same, serve an important role. Such wheels mean you have more stability and comfort while riding. It's unique linear pull brakes at the front wheel and coaster brakes at the back wheel mean you have more than one option to slow down or stop. If you slowly want to stop coaster brakes will come in handy, but if it's an emergency situation, then the highly effective linear pull brakes come to your rescue. Not so simple after all huh?
Pros
Combines both linear pull brakes and coaster brakes for enhanced safety
Medium sized wheels that give you more traction and stability on paved roads
Con
The frame design may limit easy access on and off the bike particularly for shorter stature riders owing to its design.
 
Conclusion
Town bikes have a lot to offer for those people out looking for a good time in the outdoors. Having taken a ride on both the Electra Townie and the Trek pure bikes, I must say that the Electra townie bike delights me the most. While the trek bike is not so bad, this Electra townie vs Trek pure review proves that comfort and quality must go hand in hand.
Frequently Asked Questions
Does the Trek pure bike differ from the Electra townie in quality?
Both the Trek pure and Electra townie bikes have frames made of durable aluminum. This combined with their similar features, these two bikes are of the same quality.
Is the Trek pure bike faster than the Electra townie?
Due to the fact that the Electra Townie and the Trek pure bikes are the same mechanically, they are no different in speed.
What other bike alternatives are there to the Electra townie bike?
The trek pure and the trek shift are bikes that make equal same priced alternatives to the Electra Townie. Cheaper alternatives along the same lines include the Giant liv bike, Sixthzeero, Raleigh Retroglide, Sun Cruz and Fuji Barnaby bikes.
How does the Trek pure men's comfort bike differ from the women's bike?
Men have generally longer legs and torsos while women happen to have longer legs and shorter torsos. You will as a result notice that women bikes have shorter or slanted frames with the seat located higher up than the men bikes so as to better accommodate their physical features.
Crank forward pedals versus the regular pedals, what's the difference?
Crank forward pedals are located further forward towards the front wheel while regular pedals are located right between the front and rear wheels. The crank forward is designed to enhance comfort while riding at a slower pace while regular pedals are designed more for speed.