Cycling classes have moved from the public gym to the private comfort of your home gym. As more people hop onto this trend, manufacturers have taken notice and produced impressive training equipment. Which between the Expresso and Peloton bikes is better?
My name is Brianna and I love to cycle both indoors and outdoors. It's been sort of a family tradition for my siblings and I to go out cycling every weekend whenever we can get together. When we can't enjoy the outdoors, we cycle indoors.
We recently moved to a new state and we decided to get a new bike to commemorate our move. Our choice came down to these two bike brands and it took us a while to settle on one over the other.
Here's what we learnt.
What are the key differences between Expresso and Peloton?
| | | |
| --- | --- | --- |
| Bike Model | Expresso | Peloton |
| Handlebars | Movable Left and Right | Movable |
| Pedals | Toe-cage design- SPD Compatible | Clip-in design – cycling shoes |
| Flywheel | 29 pounds | 30 pounds |
| Resistance | Magnetic with 32 levels | Magnetic with up to 100 levels |
| Weight Supported | 300 lbs | 297 lbs |
| Training App | Studio SWEAT | Peloton |
| Screen | 26.5-inch | 22-inch |
| Price | | |
Expresso vs Peloton – How do they compare?
Riding Experience
Expresso bikes have the largest screen yet registering a cool 26.5-inches. Using the wireless connection, Expresso bikes bring the action to you. Studio SWEAT presents on demand classes and also updates their workouts daily.
I found the Expresso bike to be very interactive with its versatile engagement options that allow for challenges among racers and provides scenic rides across the globe. You have over 9 maps to choose from and game results are displayed on the leaderboard.
The Peloton features a screen that displays your vital information and gives you a clear picture of the training programs and on-demand live streaming classes. With Peloton's 22-inch, you are able to screen cast this display to another device.
I loved the Peloton experience too because they have over 10 classes to choose from and they have more variety like Yoga, cardio and stretches. Their instructors are also considered to be top-notch.
Both these bikes bring you great workouts on premium screens. However, you get a wider screen if you pick the Express bike.
Design
The pedals on the Expresso feature a toe-cage option and a clip-in option when flipped. This makes it convenient for you to use your normal gym shoes and if you have a pair of cycling shoes, you can try them on the bike as well.
The Peloton requires special cycling shoes because the system provided in the pedals is SPD compatible only. Otherwise, to use a regular sport shoe, you need to buy new pedals and swap them out.
Handle bars on the Expresso have motion control sensors andare movable either to the left or the right adding to the riding experience as you steer your way through the captivating scenic routes.
The seats on Expresso are more padded than the Peloton which have been built to resemble race bike seats. They have 20 positions of adjustable range vertically and 9 positions horizontally.
Peloton handlebars and seats are also adjustable. If the seats on either bike's does not satisfy you, you can always replace them.
The versatility of Expresso's pedals is what makes it better in build than the Peloton which requires special cycling shoes.
Performance
Expressohas up to 30 levels of resistance for you to choose from to keep giving yourself new and exciting challenges. There is a feature that allows you to take a ride simulating an outdoor cycle in virtual fashion.
Expresso's flywheel is run by magnetic currents that provide a smooth and quiet yet powerful riding experience. The resistance can be adjusted effortlessly on the display screen by use of the grade keys on it.
Peloton's 30-pound flywheel also operated by magnetic resistance has up to 24 levels of resistance and this can be adjusted by use of a knob.
To really challenge yourself, Expresso have built-in a ghost rider option that allows you to compete with a previous version of yourself which helps you get better incrementally.
While the Peloton offers 24 levels of resistance, the Expresso bumps this up to 30 levels giving riders a wider range of resistance.
Expresso vs Peloton – A Comparison Overview
[amazon box="B073XWCH6P" template="horizontal" ]
This bike rides on a magnetic resistance mechanism to push 30 levels of adjustable resistance. To make resistance adjustments, use the grade keys built-in to the display screen.
It requires little to no maintenance because it is built of laser-cut steel frame with military grade electronics and a tried and tested indestructible drivetrain.
The pedals on the Expresso bike are multifunctional and can be used with a regular gym shoe which is held in place by toe-caged clips. Special cycling shoes or SPDs can be used as well if you flip the pedal over to the clip-in mechanism.
On demand classes are available at the Studio SWEAT program filled with trainers who motivate and guide your training exercise daily. These classes are upgraded and added to weekly.
The large 26.5-inch screen will take you to breathtaking scenic places around the world and provide road racing, studio cycling and HIIT gaming programs that you have access to at all times provided you have an active subscription
Bike simulates the challenge and motion that you would experience if you were riding outdoors. The resistance is automatic as well an it adjusts based on the level set on the screen.
Pros
Durable steel frame build
Compact and transportable
Magnetic resistance with 30 adjustable levels
5-inch screen
Handlebars with motion sensors
Pedals are compatible with SPD and regular sports shoes
Cons
Limited Functions with the Expresso Fit subscriptions
No other apps are compatible other than Expresso Fit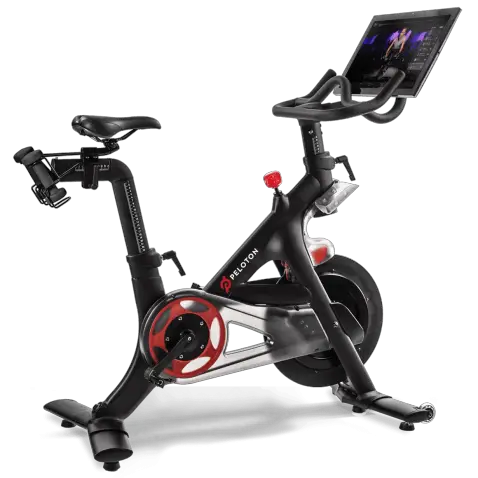 This bike has a sleek steel frame and it carries a 32-pound flywheel. This wheel runs on magnetic resistance with 100 levels to adjust to.
This adjustment is done manually or through the touchscreen but because of the wide range, it may be hard to feel a difference or even quickly adjust your settings mid training.
Handlebars are soft but a little too thin though they do give a comfortable cushioning with their stacked design.
The pedals on this bike may be problematic and present an extra cost to anyone who does not already own a pair of cycling shoes because they use the clip-in mechanism. This is ideal because with a securely locked in footing, you can then pull up in the cycling motion much easier which is great for glutes and hamstrings.
Unfortunately, the Peloton bike is fixed and does not move meaning there is no chance to incline or decline the bike for a more exciting cycling experience.
Pros
Ergonomic handlebars
Light in weight
Comfortable seat
Engaging App with live classes
Can sync with Bluetooth
Cons
Adjustment knob not accurate
No incline or decline
Adjustments done manually
Doesn't give you weights
Needs new training shoes with 3 cleats or Replace pedals
Need to buy a heart rate monitor which has a problem pairing
Verdict: So, which is better Expresso or Peloton?
The Expressobike beats the Peloton in some areas like design versatility and resistance training. These bikes are suitable for all cycling trainees because they have flexible pedals and can provide a greater range of challenge. This makes them ideal for both beginner and pro cyclists.