Beyond, performance and looks also comes durability. Fuji and Specialized bikes are two bikes that are similar in one way but also differ in more than one way. To help clear the air, here's a detailed Fuji vs specialized bikes review for you.
For over a century, Fuji has been in the business of making bikes. Not just any bikes but high quality, durable ones. It is true that years come with experience. It is, therefore, safe to say that Fuji is a bike you definitely want to try just to see for yourself if this is true.
Specialized bikes may not have been around that long enough but definitely long enough for everyone to notice. A specialized bike is nothing less than what its title hints, special.
Beyond the looks, the first thing I ask about and test for is how a bike performs. What are it's good qualities and what are the downsides to owning it? This is what you will get to learn today in this Fuji vs Specialize bikes review.
| | | |
| --- | --- | --- |
| Model | Fuji road bike | Specialized road bike |
| Frame material | Carbon fiber | Aluminum |
| Brakes | Caliper brakes | Caliper brakes |
| Gears | 11 speed | 12 speed |
| | | |
Fuji vs Specialized road bikes comparison
Frame material
With a frame and fork made out of Carbon fiber Fuji bikes are very stiff and light in weight. This thanks to a molding system that ascertains that the bike frame comes out even and that it doesn't come out with wrinkles. Fuji road bikes are made to encourage a straight posture. When you choose a Fuji bike be sure which type of suspension you want. Some Fuji bikes come with fixed suspension and other Fuji bikes come with free suspension.
Specialized bikes, on the other hand, have frames made out of Aluminum material. It may be slightly heavier than carbon material frames but are equally strong. This bike lets you ride smoothly past traffic and comes with a superb handling system that allows easy control.
Brakes
Road bikes are designed to be incredibly light. Their shape is made more to use wind to achieve even higher speeds. This is why these bikes need good brakes. Brakes that do not hesitate, but ones that are triggered in a single stroke.
Both the Fuji and Specialized road bikes come with Caliper brakes. The brakes on both bikes are installed both on the front and rear wheels. Of all brake types available on different road bikes, caliper brakes are the most effective. While a rim brake may be limited by type of terrain, for example, caliper brakes work well on both smooth and rough surfaces and in fair or harsh weather.
Tires
Tires are another vital feature on each road bike. Contrary to what many casual road bikers think, there's more to tires than just the type of rubber. Tires come in different densities, sizes, designs, and tread. For road bikes, you need to find tires with enough tread to withstand rough off-road surfaces and also on smooth paved surfaces.
The tires should look thin or narrow and provide the rider enough balance through different terrain. Fuji road bikes fit 700x28c size tires. Specialized road bikes fit 700cx23c tire sizes. Going by these numbers you'll notice that Fuji bike tires are slightly wider which plays a huge role in you having a fulfilled ride.
Gears
When it comes quality brakes, the Fuji road race bike has not been left behind. It comes installed with an 11-speed gear that is sure to get you to the finish line within the shortest time possible. The key to a great experience is a good gear with all the options to support you despite the challenges at hand. This gear has enough power to have you covering great distances without feeling drained or tired.
Specialized road bikes are installed with 12-speed gears. Which is good enough for a road bike to maneuver through hills and slopes without getting damaged or breaking down.
Fuji vs Specialized road bike reviews
Fuji road bike review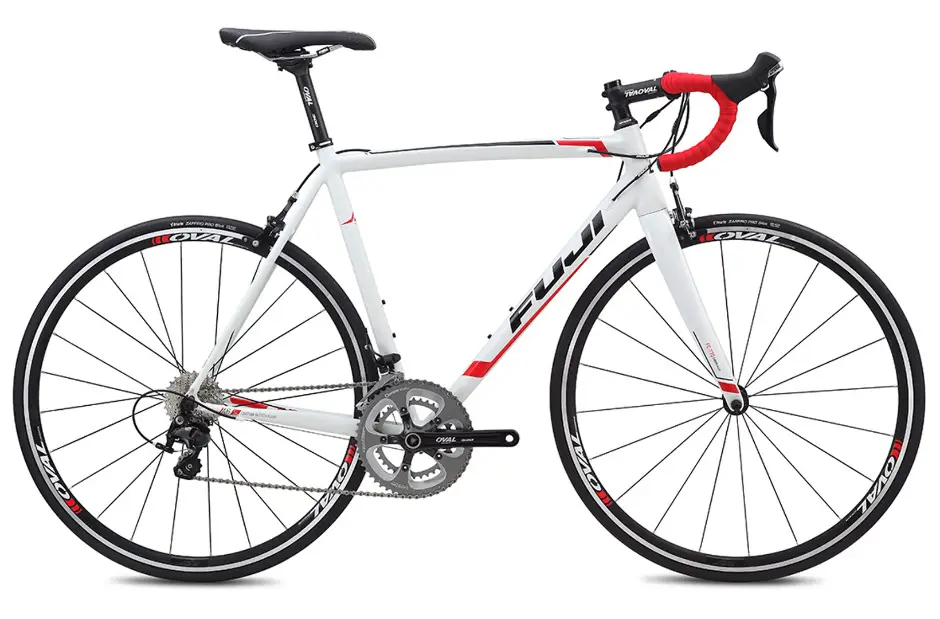 To give this bike a neat appearance, you'll notice that there are no cables loosely hanging around as is the case with most Road bikes. Fuji road bikes have had their cable carefully tucked inside the carbon frame. These bikes are available in a wide array of colors. If you do lots of off-road riding ventures it is advisable to use full mudguards and guess what there are provisions made for that here. For those who are looking for a bike they can use for their frequent commutes, this is a good quality bike that will keep you happy for a very long time.
Pros
Has a frame made of Carbon fiber material
Comes in an 11-speed gear
Looks neat and is great for daily commuting
Con
This bike has limitations that make it less suitable for experienced road racers
 
Specialized road bike review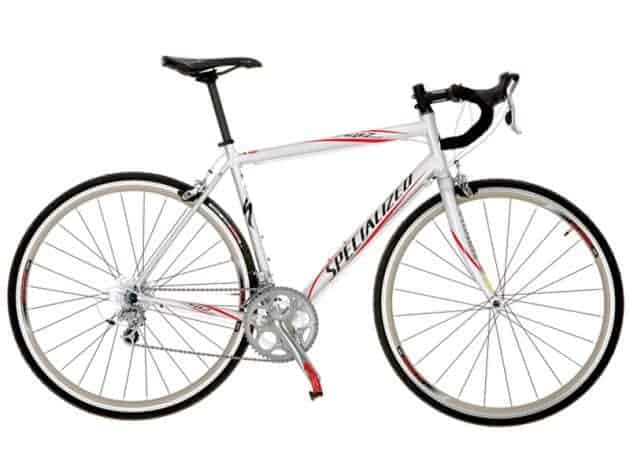 What I really love about this bike is that it can be used by beginner road racers as well as it can be used by pro road racers. It has all the features to fulfill your needs whether you are using the specialized bike for commuting, for casual uses or for off-road racing. It has a frame made of extremely tough Aluminum material which is tough enough to resist impact and the pressure that comes with aggressive riding.
When riding this bike I noticed that the Specialized road bike's handlebars are positioned much higher than other road bikes. This is meant to discourage fatigue and encourage a healthy, comfortable, upright posture.
Pros
Tough and durable Aluminum frame
12-speed gear
Highly efficient caliper brakes
Con
This bike may be much heavier than other road bikes
 
Final verdict
For serious road racers, a good quality bike means having durable quality parts. This Fuji vs Specialized road bike review has proven that these two bikes are both high-quality bikes. I find myself favoring the Specialized road bike more because of how it is built and how I feel when riding it. It has undergone significant improvements in its geometry. It has more speeds and a better positioning to enhance the rider's comfort. By far the best road bike I have come across this year.