A good mountain bike makes your riding experience enjoyable even in bumpy terrains. This Genesis vs Mongoose review highlights the best features to have on a rough-terrain mountain bike.
As an extreme trail-rider, I remember how tough it was to get a good trail bike. I often faced the issue of the frame snapping when subjecting the bike to rough riding. Then there was the bike's inability to handle bumpy surfaces which made the riding uncomfortable. I ended up with muscle pain from taking all the bumpy jabs the bike threw at me. I decided it is time for an upgrade and went online to hunt for a good mountain bike. Since I was getting a bike for my son as well, I decided to buy from two different brands. I got a Genesis GS29 and a Mongoose Blackcomb.
Difference between Genesis and Mongoose-How do they compare?
| | | |
| --- | --- | --- |
| | Genesis GS29 Bike | Mongoose Blackcomb Bike |
| Frame | Aluminum | Alloy |
| Drivetrain | 21-speed | 24-speed |
| Wheels | 29 inches | 26 inches |
| | | |
Genesis vs Mongoose- An In-depth Comparison
Material
Mountain bikes must have a strong frame for nimble performance off-road. Frame material dictates what kind of performance it will give. Genesis bike features an aluminum body which is strong and very lightweight. Handling the bike is easy especially with most of the weight shed off.
A mongoose bike features an alloy frame. Bike companies go for metal alloy when they want to shed bike weight and achieve a stronger frame. I can say the Mongoose has a tougher frame compared to the Genesis bike.
Speed
The more gears you have on a mountain bike, the higher the speed capacity. Increased gear options also make it easy to maneuver any rugged terrain. Low and high gears allow you to vary the pedaling intensity. This makes it possible to maneuver through difficult trails up mountains or down bumpy roads.
Genesis GS29 bike features a 21-speed drivetrain. You have adequate low and high gears to vary pedaling intensity. If you are cycling for fitness, a Genesis bike would be great for working your major muscles.
Mongoose Blackcomb bike comes with a 24-speed drivetrain. It offers more shifting options compared to the Genesis bike. A mongoose bike has a lightweight frame as well. If you want to speed through the forest and still feel your muscles getting worked, this is the bike for you.
Wheel Size
Wheel diameter affects the performance of a bike. Genesis bike features 29inch wheels which are a favorite of cross-country bikers and trail riders. 29inch wheels have more surface contact and reduced rolling resistance. A bike with 29inch wheels feels more stable to handle and picks up speed fast.
Mongoose opted for the conventional 26inch wheels. To a trail rider, 26inch wheels are more of a relic. Though they provide nimble handling off-road, you will work your legs more compared to 29inch wheels.
Genesis GS29 review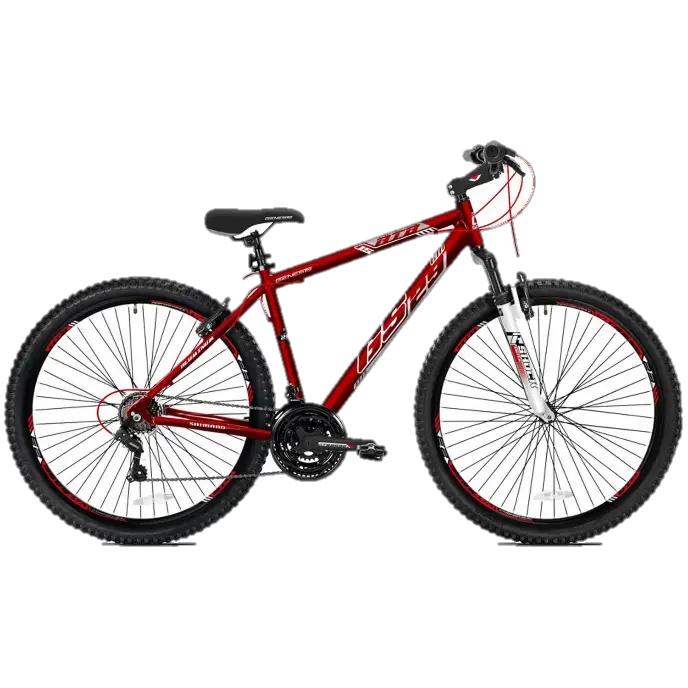 Genesis GS29 mountain bike is for the trail-bike rider who wants to explore new territories. This bike comes with an aluminum frame which makes it light and easy to handle. The crossbar and drop tube have a diagonal design. this keeps the handlebar raised allowing you to ride in an upright position.
You will also love the comfortable saddle. It is wide to accommodate your weight and also padded to absorb shock. The front wheel has suspension forks which absorb shock as well and give you more control of the handlebar. You will not feel any bump as you steer the bike through rocky paths.
Genesis GS29 bike comes in a Satin red color and all black wheels. The rims have red and black accents while the saddle and handlebar are all-black. The brake and gear cables are all red which camouflages into the frame.
A big highlight of the Genesis GS29 bike is the 29inch wheels. The bike company opted to go with the current trends and make your riding experience the best. Pedaling feels easier and handling is better because the wheel has more surface on the ground.
Pros
Strong durable frame
Large wheels for trail riding
Front suspension
Cons
 
Mongoose Blackcomb review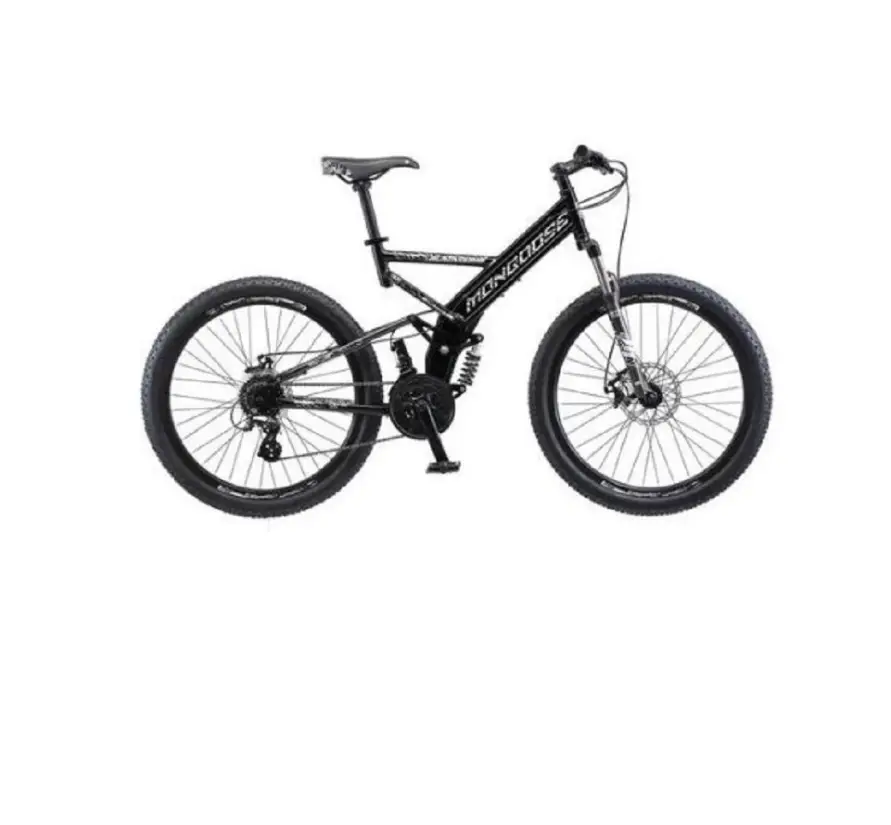 The Mongoose Blackcomb is a mean machine built for the wilderness. This bike features an I-beam alloy frame with front and rear suspensions. The MTB suspension forks are powerful and absorb most of the shock faced when the bike hits bumps. You do not feel the bumpy or jagged surfaces as you ride. This mountain bike is ideal for long-distance riding like in cross-country races.
A Shimano 24-speed drivetrain unlocks the opportunity to push your bike to the limits. The easy gears allow you to tear through jagged terrains without breaking a sweat. The harder gears allow you to move faster and get those muscles working.
This bike features front and rear disc brakes. You feel confident handling the bike at any speed because of the reliable brakes. The EF500 shifters are quite nimble and shift smoothly as you pedal along.
Pros
Strong and durable frame
Front and rear suspension
Thick high-performance tires
Cons
Does not include 29inch wheels
 
Conclusion
This Genesis vs Mongoose review was a tough one for me. There are features I like on the Genesis that I cannot find on the Mongoose. The Mongoose bike also has premium features that put it ahead of the Genesis. As a final decision, I will go with the Mongoose bike because of the full suspension setup. If you are an avid cross-country or rough terrain rider, you know the importance of quality bike suspension. It makes bike handling easier and you experience less fatigue. You do not suffer muscle pain as well.
FAQ
Would you motorize a Genesis vs Mongoose bike?
Genesis bikes, like the Kent V2100, are easier to motorize. The frame has ample space to fit a battery. The down tube also has enough room to fit an electric motor.
Which is cheaper between a Genesis vs Mongoose mountain bike?
Both brands price their products with the consumer in mind. Buying from chain stores is cheaper but the bike will not have the same quality.
Does wheel size affect a bike's speed?
A bike with larger wheels covers more distance than one with smaller wheels. Big wheeled bikes also need less pedaling to gain speed.
Do I need wheel suspension on my bike?
Wheel suspension is great if you will be riding on rocky surfaces. Front and rear suspension are ideal for mountain trail biking.