Mountain bikes are for those people serious about dirt roads and cross-country adventures. In this giant Talon vs. Cannondale trail review, we look at two mountain bikes ideal for going for trails.
After losing my job two years ago – where I was clocking over 80 hours a week – I decided that I needed a change. I needed a new hobby because depression was slowly creeping in. I thought of joining martial arts classes but got bored along the way. Later, I found some friends ready for adventure and I joined them for trails in the mountainside. Biking was the right hobby for me to keep my mind off work. Choosing a mountain bike can be a challenge for a beginner. With so many models available, consumers are spoilt for choice. We have prepared this review to guide you through the process.
What are the key differences between Giant Talon 3 vs. Cannondale trail 6? How do they compare
| | | |
| --- | --- | --- |
| Model | Giant Talon 3 | Cannondale Trail 6 |
| Gear system | 3X8 Shimano | 2X9 Shimano |
| Suspension | SR Suntour XCL HLO 100mm | Suntour XCT suspension |
| Tire size | 27.5" | 27.5" and 29" |
| | | |
Giant Talon vs. Cannondale trail – A Quick Summary
Suspension
The Giant Talon 3 comes with SR Suntour suspension with the ability to adjust it from the handle bar. You also get a lockout button. The suspension absorbs vibrations during bumpy rides. The Cannondale Trail is equipped with Suntour XCT suspension. You also get the opportunity to fine tune the suspension and stiffen it through a control button on the handlebars.
Tire Size
The Cannondale trail 6 has more options when it comes to bike size. You can have chosen either the 27.5-inch tires or 29ers. The Giant Talon 3 comes only in 27.5 inch tires. The downside is that they are non-tubeless. The Cannondale C2 Alloy frame causes the bike to be lightweight and ideal for long distance travels.
Gear system
The Giant Talon 3 offers more gears than the Cannondale. You have a Shimano 3X8 while the Cannondale operates on a lightweight Shimano 2X9 system. The Giant Talon 3 will offer you more options when you are going for cross-country tours.
Giant Talon 3 Review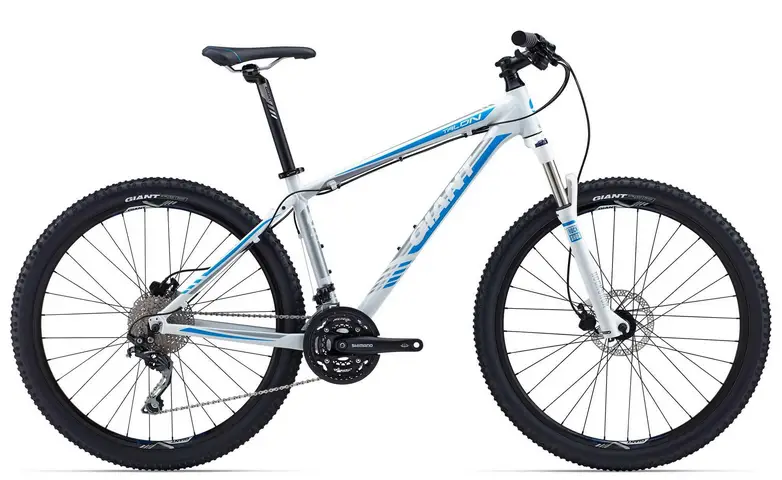 This an entry-level bike designed in a study ALUXX aluminium frame. This makes the bike lightweight while still offering the power to hold your weight. Very similar to the grand talon 2, the talon 3 has a 24-speed 3X8 drive chain while the talon 2 features 2X9. The braking is through Shimano hydraulic disc brakes – 160mm rear and 180mm front. The brakes offer the rider with stopping power during steep descents and slippery rides.
What makes a mountain bike stand out is the suspension. The Giant Talon 3 comes with SR Suntour 100mm suspension fork. This gives the rider a smooth ride while navigating rough terrain. In addition, you get a preload to adjust and hydraulic lockout to fine-tune the suspension.
Pros
Durable frame
Quality suspension for rocky rides
Available for all rider sizes
Cons
 
Cannondale Trail 6 Review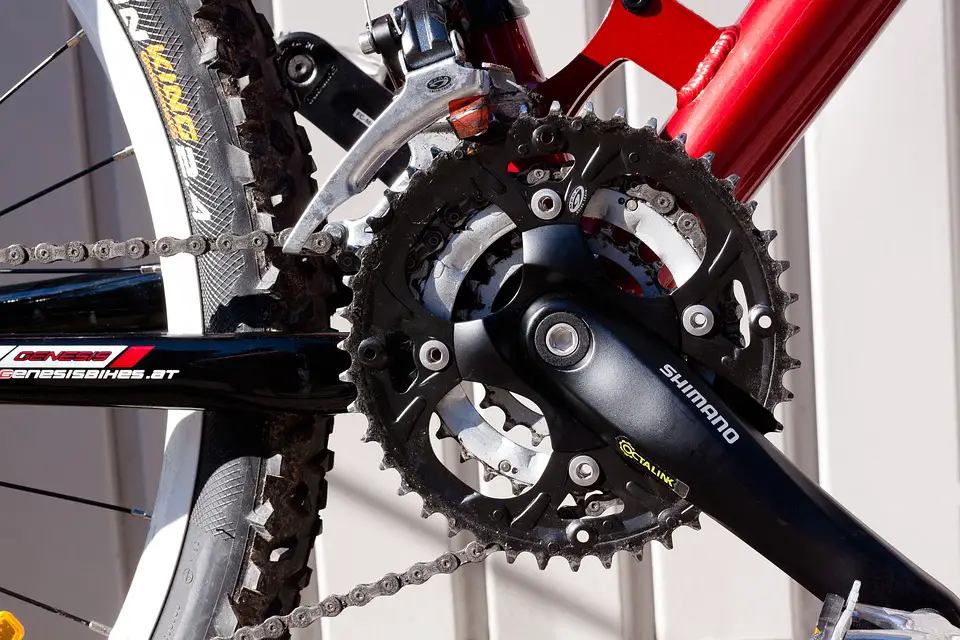 The Cannondale comes in a durable C2 Alloy frame. This makes it ideal for rough terrain due to its ability to absorb vibrations. You can either ride the bike in large 27.5 or 29-inch wheels. Braking is through hydraulic Shimano MT200 front and rear disc brakes.
The manufacturers of the Cannondale have taken the time to give the bike functional suspension. The bike comes in a Suntour XCT suspension. You can adjust the suspension through the mounted lockout switch on the handlebars.
Performance for the Cannondale is delivered through a Shimano 2X9 gear system. Changing gears is swift which makes the bike ideal for handling steep hills. The gear system being lightweight takes off some weight from the bike. The gears are aided by rear Shimano Acera shadow derailleurs while the front it uses MicroShift.
Pros
Hydraulic braking system
Suspension lockout feature
Lightweight frame
Cons
Front derailleurs not the best
 
Conclusion
It is hard choosing a winner in this Giant Talon vs. Cannondale Trail, but we have to choose one. The Giant Talon 3 has suspension stands out. It also has an added advantage of adjusting it from the handlebars. The gear system is swift, fast, and ideal for mountain bike rides. However, the Cannondale Trail 6 is an excellent entry level bike for those making their first purchase.
FAQs
What is the difference between a mountain bike and hybrid bike?
A mountain bike is primarily used for off-road purposes while the hybrid is a cross-breed between a road bike and a mountain bike. The mountain bike has a heavier frame and wider tires to handle rocky and difficult terrain.
Which is faster – mountain bike or hybrid bike?
The mountain bike takes the lead when it comes to off-road terrain due to its low gears and suspension. But, when it comes to daily commute it slows you down due to the additional weight from the frame, tires and suspension.
Which is faster – road bike or mountain bike?
Road bikes are designed for flat, tarmacked roads. They come in thin tires, lightweight frame and aerodynamic design; mountain bikes will slow you do to their added weight from the suspension, frame and tires.
How long should I cycle workout?
If you want to make the most from your workout program begin with a short 30-minute ride then change to another 45-minute ride; finally, do a 60 to 120 minutes ride. You should attempt this every week for maximum results.
What is the maximum speed for mountain bikes?
It will depend on the experience of the rider and the terrain being used. If you are going for a rocky trail then expect to reach average speeds of 3 mph while if you riding on tarmacked roads the speed should average 15 mph. This puts the average speed at 7 mph.
While I see a reduction in thigh fat when I cycle?
While you may not notice a reduction in thigh fat, what you will notice is that your thighs become more toned. With time your muscle legs become more stronger and firmer.