If you are looking for a mountain bike that suits all ages, you have come to the right place. In this Huffy vs Ozone review, we look at two mountain bikes that pack features that may appeal to all age brackets.
I have been saving to get a mountain bike for my son. I also wanted to get one for myself so we could always ride together. The problem was that I could not afford two bikes at once. I did not want to shop for a cheap mountain bike because they are not durable. My neighbor's store-bought mountain bike never lasted a year. My son kept insisting on getting a bike sooner so I yield. I decide to get a mountain bike that we could both ride. We would take turns until I saved enough to get my own bike as well. My I was to choose between a Huffy Escalate and an Ozone 500. I had heard about Huffy bikes so I decided to compare it to a cheaper but still quality bike.
Differences between Huffy and Ozone- How do they compare?
| | | |
| --- | --- | --- |
| | Huffy Escalate Mountain Bike | Ozone 500 Mountain Bike |
| Frame | Aluminum | Aluminum |
| Wheel Size | 24†| 29†|
| Weight | 39.6 lbs. | 41 lbs. |
| | | |
Huffy vs Ozone- A Detailed Comparison
Material
Modern mountain bikes feature a frame crafted from quality and lightweight material. With the extra pounds off, it becomes easier to steer and maneuver the bike through rough terrains.
Huffy Escalate mountain bike comes in a hardtail aluminum frame. It is lightweight and has more rolling momentum compared to steel. Out in the wild, you will need a lightweight frame to handle the bike up difficult terrains.
Ozone 500 bike also features a sturdy aluminum frame. Most of the bike's components are high quality as well. It features alloy rims and steel forks. It weighs a bit more than the Huffy but that is a small price to pay if you want quality craftsmanship.
Wheel Size
Bigger wheels pick momentum fast with minimal pedaling. Smaller wheels have nimble performance in situations where you have to act quickly. Finding the right wheel size depends on whether you prefer speed or agility (or both) in your mountain bike.
Huffy Escalate mountain bike comes with 24-inch wheels. These are way below the industry standard 26 inchers. Only a teenager between 13 to 19 would enjoy riding this mountain bike. It is quicker in tight situations and feels extra light because of the tiny wheels. An adult would have to work their legs off to get the same performance from the 24-inch wheels.
Ozone 500 bike outdoes itself by going for 29 inch wheels. 29 inchers replaced 26inch wheels before the 27.5 inchers came into the market. Thanks to the big wheels, Ozone 500 mountain bike tops high speeds in the shortest time possible. 29 inch wheels also roll over rough terrains easily with minimal scathing. You do not have to avoid rocks or ruts because the bigger wheels absorb all the shock.
Suspension
Frame suspension come in handy when you want to test your bike's grit in rougher terrains. Ozone 500 men's bike lacks suspension frames which limits it from tearing through rougher patches. The big 29 inch wheels can cushion some of the shock but you are bound to feel the sting of bumps at some point.
Huffy escalate mountain bike features front suspension hence the name hardtail. With most of the shock absorbed by the front suspension, it keeps the steering steady even in rocky or bumpy patches. This bike lacks rear suspension and no springs on the seat post. While you keep the steering steady you still suffer a bumpy ride at the back.
– A Comparison Overview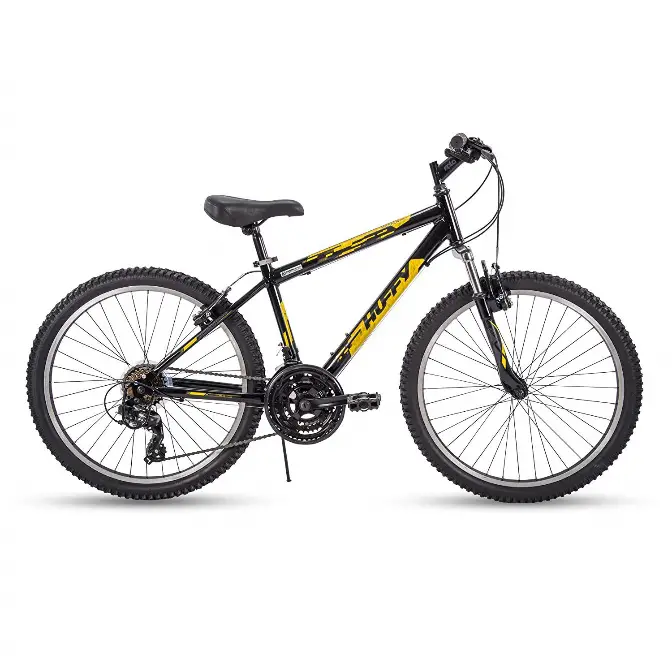 The Huffy Escalate mountain bike features an aluminum frame and quality bicycle components. The lightweight frame with front suspension has nimble performance over rough surfaces. You do not feel the bump of the terrain and your arms do not get tired from hitting rocks.
This mountain bike features a Shimano 21-speed drivetrain. More gears under its hood means less effort required to get through obstacles. Lower gears help you maintain a steady pace while going up slopes. On flat surfaces, you can test the peak performance of this bike by shifting to the highest gear. A 21-speed bike is also great for working your core muscles if you are riding for fitness.
26 inch knobby tires give the bike extra grit in wet or dirt paths. ATB resin pedals have an ergonomic design and are durable. This bike also features Krayton grips which add to the stability of the bike when steering.
Pros
Strong and lightweight frame
Front suspension forks
Firm and grippy handles
Cons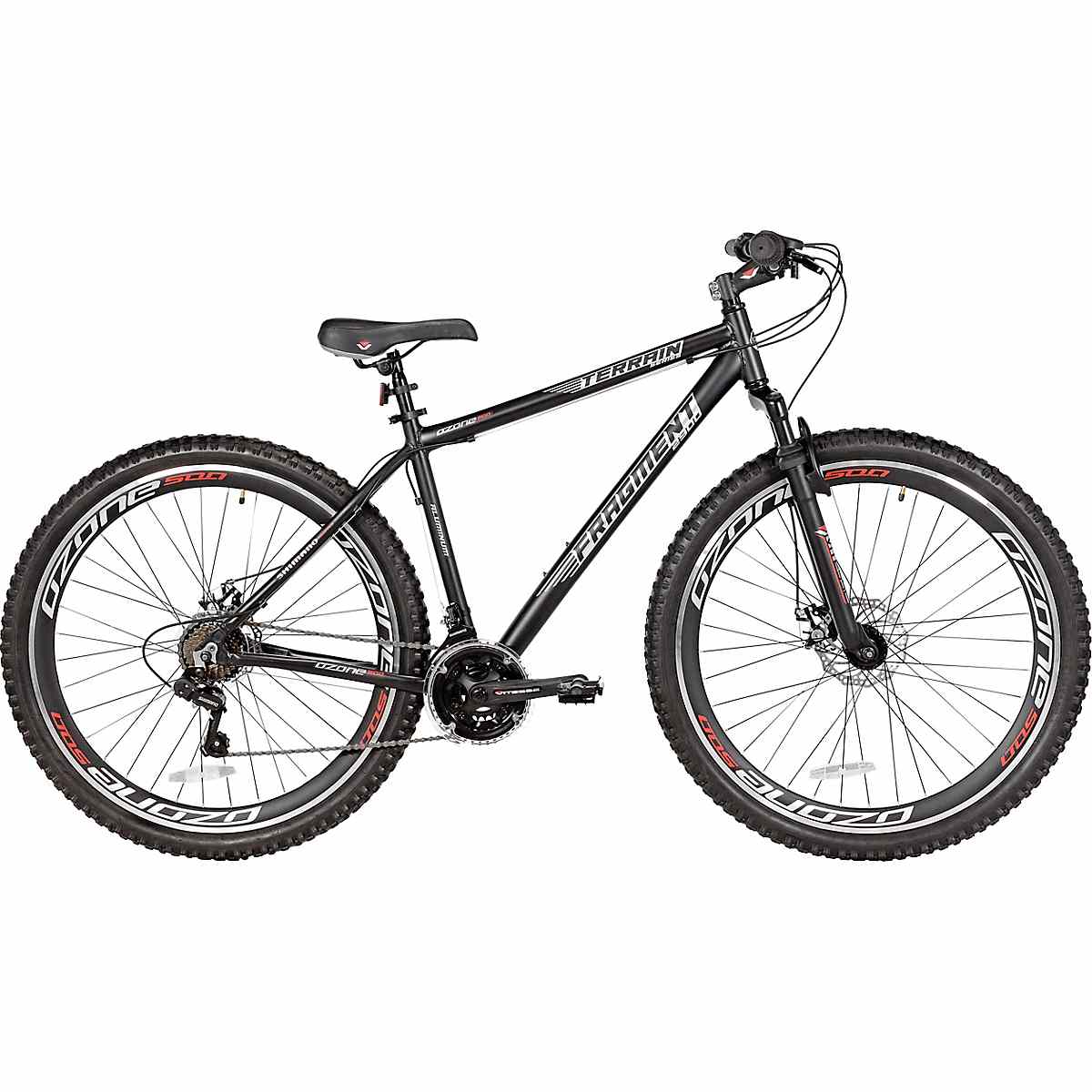 Ozone 500 mountain bike features an aluminum frame that is tough and lightweight. The frame size suits anyone from the age of 14 years and above. The frame design ensures the saddle stays lower for both feet to be on the ground. The saddle is adjustable if need be to accommodate your full height.
This bike comes with a riser handlebar and lowered saddle. It ensures you ride in an upright position protecting your back and arms from fatigue. A Shimano 21 speed drivetrain gives more gear variety to conquer mountains and tear through tough terrains. The handlebar features twist shifters making it easy to switch gears and keep your eyes on the road.
Ozone 500 trail bike comes with 29inch wheels. For an avid rider, this is great shock absorption as well as handling. You do not have to put in much effort to see the bike go faster. Large tires cushion against bumps which makes up for the lack of suspension forks.
Pros
Strong and lightweight frame
Large high performance tires
Quality components
Cons
Lacks front and rear suspension
Conclusion
The Huffy Escalate would have easily taken the crown in this Huffy vs Ozone review. The downside of the huffy is that it only suits teenagers and not adults. Ozone 500 trail bike suits anyone from 14 years and above. This bike features a large wheels and an ergonomic frame ideal for mountain biking. The Ozone 500 is the winner in this review.
FAQ
Are Huffy mountain bikes good?
Huffy produces mountain bikes for moderate riding. The bike company does not manufacture trail bikes for more professional riding.
Is Ozone a good brand?
The Ozone brand of bikes are under the company name Academy Sports and Outdoors. Given this is a chain store, their bikes are great for novice riders.
Huffy vs Ozone, which is the best mountain bike?
You can buy both bikes at department stores. Their quality will not match that of top-tier brands sold by bike shops. Some component change and performance tuning may be necessary to boost the performance of your Huffy or Ozone bike.
Is Dynacraft and Ozone the same brand?
Ozone and Dynacraft are two separate bike brands. Ozone and Dynacraft outsource distribution of their products to major stores like Academy Sports + Outdoor.