Scooters made our childhood fun and enjoyable. In this Huffy Vs Razor scooter review, we compare two scooters that can introduce your child to the same fun.
My kids have always wanted me to get them scooters. Every kid in the neighborhood had one and they felt left out. I yielded and decided to get them two scooters from a big chain store in town. With a couple of rides, my kids started complaining about problems with their scooters. One scooter developed misaligned wheels while the other had a broken fender brake. I got these fixed but more issues kept showing up. I realized the problem was the material and build quality of the scooters. When I went back to the scooter market, I opted for premium brands with quality scooters. I settled on a Huffy Star Wars Scooter and a Razor A-Kick scooter for my kids.
Differences between Huffy and Razor Scooter- How do they compare?
| | | |
| --- | --- | --- |
| | Huffy Star Wars Scooter | Razor A Kick Scooter |
| Frame | Aluminum | Aluminum |
| Design | Foldable | Foldable |
| Weight | 5 lbs. | 6 lbs. |
| | | |
Huffy vs Razor Scooter – A Detailed Comparison
Material
Kick scooters prepare kids to learn how to ride bikes when they grow up. As they will be practicing how to balance on a two-wheeled cycle, they need to be confident on the build quality of the scooter itself. The best kick scooter features a tough yet lightweight material to ensure your kid is having fun at all times.
The Huffy Star Wars scooter comes in an aluminum frame which makes the scooter lightweight. The frame features quality graphics that any adventurous kid will love. This aluminum frame also features a non-slip deck. This helps the rider steady their feet while pushing the scooter.
Razor Scooter also boasts of what they call an aircraft-grade aluminum frame. This makes the frame very strong and highly resistant to fatigue. The deck is slightly rough which adds friction and grip.
Design
Modern scooters have a foldable design to make them easy to carry and store away. Huffy Star Wars Scooter features this self-folding design which your kid will love. When he is not out riding, he can store away his scooter without taking a lot of space.
Razor A-Kick Scooter features a patented design known as T-tube. This makes it easy to fold the scooter and transport or store it.
Weight
If you are buying a scooter for kids, you also have to consider the weight of the scooter. Most scooters do not weight more than 10 lbs. unless they have special features like electric-powering. Huffy Star Wars Scooter is the lightest of the two by weighing only 5 lbs. Razor A-Kick scooter weighs 6 lbs. Not much of a weight difference as neither of my kids complain of their scooter feeling heavy to carry.
Huffy vs Razor Scooter – A Comparison Overview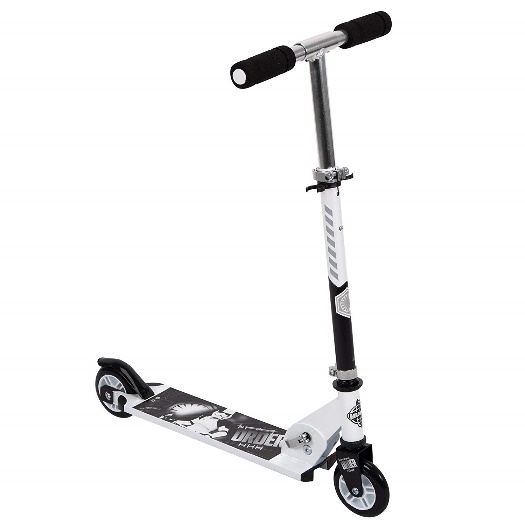 Huffy Star Wars scooter is ideal for kids who want to spend more time outdoors. It is a perfect substitute for video games or spending hours binge-watching cartoons. This scooter comes with all the top-notch features to add thrill to your child's outdoor experience.
Huffy Star Wars scooter features an aluminum frame for durability. The aluminum deck is rough for increased friction between foot and scooter. Your kid will not worry about slipping when kicking to go faster.
Another feature that makes this scooter appealing to kids is the quality HD graphics. Huffy Star Wars scooter comes with graphics of favorite Star Wars characters. Whether your kid loves Chewbacca, Darth Vader or the Storm-troopers, he will love how vivid these characters look on his scooter.
Huffy Star Wars scooter comes with a rear fender that acts as the break. If your kid wants to stop his scooter, he only needs to apply pressure on the fender and the scooter starts slowing down. More pressure stops the scooter instantly.
This scooter has an extendable T-bar to ensure the handles are within reach. The scooter handles have soft padding that absorbs sweat and improves grip.
Pros
Strong and lightweight frame
Slip-resistant deck
Extendable T-bar
Cons
Not for long-distance travel

Razor A-Kick scooter can be an ideal birthday or Christmas present for your child. It features aircraft-grade aluminum making it tough and resistant to damage. The T-tube extends upwards to accommodate your child's height. The handlebar grips have soft padding to improve the grip on the scooter.
This scooter also boasts of a patented T-tube and deck design. The handlebar grips fold downwards while the T-tube folds at the deck. It makes the scooter compact enough to fit into tiny spaces for storage. On the T-tube is a quick release lever for securing the T-tube in place while riding.
Razor A-Kick scooter comes with special wheels that contain ABEC 5 bearings. This ensures the wheels roll smoothly no matter how frequently your kid rides. One other feature to love in this scooter is the unique rear fender design. It facilitates stopping or slowing down with minimal hitches.
Pros
High-quality aluminum frame
Compact and easy to store
Unique and quality fender brake
Cons
Conclusion
As I conclude this Huffy Vs Razor scooter review, I am happy that my kids enjoy their scooters. I noticed that both kids seem to favor the Huffy Star Wars scooter more. Though it does not feature panted folding and braking mechanism, it is the high-quality graphics that worn my kids' hearts.
FAQ
Which Razor Scooter is best?
Razor makes premium scooters utilizing quality and lightweight materials. An ideal Razor scooter would feature quality metal used in constructing aircraft. It also weighs 6 to 9 pounds for both kids and adult scooters.
Which is the best Stunt Scooter?
Pro scooters feature a lightweight built for easy control. They also boast of unique features like internal compression for shock absorption.
Which is the best Razor Scooter for a 5-year-old?
The Razor A3 is one of the best scooters for kids under the age of 6years. It features an easy-to-use rear braking system that makes controlling of the scooter easy.
Huffy vs Razor kick scooter, which is better?
Razor tends to manufacture scooters that improve control, especially for a child. They also use quality materials for performance and durability.