Are you a casual bike rider who enjoys the leisure and comfort of cycling? Turn heads by investing in a high-quality classic cruiser bike ideal to cater to your needs. This Huffy vs. Sixthreezero cruiser bike review will assist you in finding which cruiser bike is most suitable for you.
You may be wondering what makes cruiser bikes so special. A cruiser bike always draws attention to you when riding, in a good way. Apart from its cool and sleek style, this bicycle commits to the rider's enjoyment. It speeds through traffic, races down hilly terrain, and is capable of winning street races. If you are looking to live life at your own pace with a bike that offers comfort, elegance, and top performance, consider purchasing huffy or Sixthreezero cruiser bikes.
The following huffy vs. Sixthreezero comparison review provides a detailed discussion about what these two bikes have to offer.
What are the differences between Huffy and Sixthreezero cruiser bikes
| | | |
| --- | --- | --- |
| Model | Huffy Panama Jack cruiser bike | Sixthreezero in the Barrel cruiser bike |
| Frame material | 26-inch Gloss Black Perfect Fit aluminum frame | 18-inch extended ergonomic steel frame |
| Grips | Soft cork-style grips | Synthetic leather grips |
| Saddle | Thickly padded with a classic double spring set-up | Cushy single-spring seat |
| Drivetrain | 6-speed | 3-speed |
| | | |
Huffy vs. Sixthreezero cruiser bikes- How do they compare to one another?
Frame material
Huffy cruiser bikes feature a Perfect Fit frame design with a 26†aluminum frame for easier handling and high-speed performance. The bike's lightweight frame blends well with its sunset graphics and wood-look panel accents, offering a trendy and comfortable ride. The geometry of the bike ensures you are seated back with a low center of gravity and full leg extension to guarantee stability and versatility as you ride.
Sixthreezero cruiser bikes have an innovative step-thru design system with an 18†extended, ergonomic, and matte black steel frame. This design allows you to mount various accessories to your bike while providing a low, upright and forward pedal pushing position enabling you to place your feet on the ground while sitting on the saddle. With its ergonomic frame, you comfortably ride the bike in an upright position, thus reducing unnecessary pressure.
Grips
The Huffy cruiser bikes have soft and foamy grips for ultimate steering and braking control. Their adjustable, high, and swept back handlebars as well as soft cork-style grips contribute to its sleek and stylish appearance. The long handlebars aid in maintaining proper riding posture while the soft cork-style grips help in alleviating wrist and back tension while riding. The handlebars also have a removable cooler, depending on the model you purchase.
The Sixthreezero cruiser bike consists of black leather grips with long and curved handlebars which conform to the natural contour of the rider. The synthetic leather grips have a stylish stitch and are long-lasting, slip-resistant and comfortable.
Brakes and tires
All the men's bikes in Huffy cruiser bike range consist of wide 26†tires with color-coordinated fenders, rims, and wheels. Their 26*2.1†balloon tires have a unique tread design for more traction and comfortable grip to cycle on beach trails as well as gravel and gentle trails. Huffy cruiser bikes also feature easy-to-use KT coaster brakes which provide potent steering and braking control.
The Sixthreezero cruiser bikes have high-end components such as the Shimano internal 3-speed gear hub and the reliable Nexus shifter for increased traction and control when riding on different terrains. Its balloon tires and pedal-backward coaster brakes absorb road vibrations and ensure smooth stopping power.
Huffy Panama Jack classic cruiser bike vs. Sixthreezero In the Barrel cruiser bike- A comparison review
Huffy Panama Jack Overview and Key features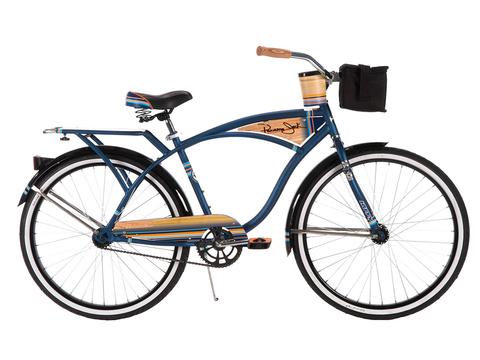 If you are looking for a bike with high-performance components at an affordable price, the Huffy Panama Jack 26†cruiser bike is the ideal bike for you. With its cushy and double spring saddle, soft cork-style handlebars and grips as well as its wide tires and practical brake set, this bike returns us to the basics of cycling.
Available in a wide range of attractive colors, the Panama Jack features color-coordinated fenders, a rear rack, and a cut holder. It also comes with some extras such as a phone holder or a bottle opener.
What we like
Sleek and stylish design
Affordable price
Cushy saddle for a relaxed ride
Wide range of sizes and colors available
Easy to accessorize as it has several extra accessories and mounts
What we do not like
Difficult to climb hilly terrains due to fixed gears
 
Sixthreezero In The Barrel Overview and Key features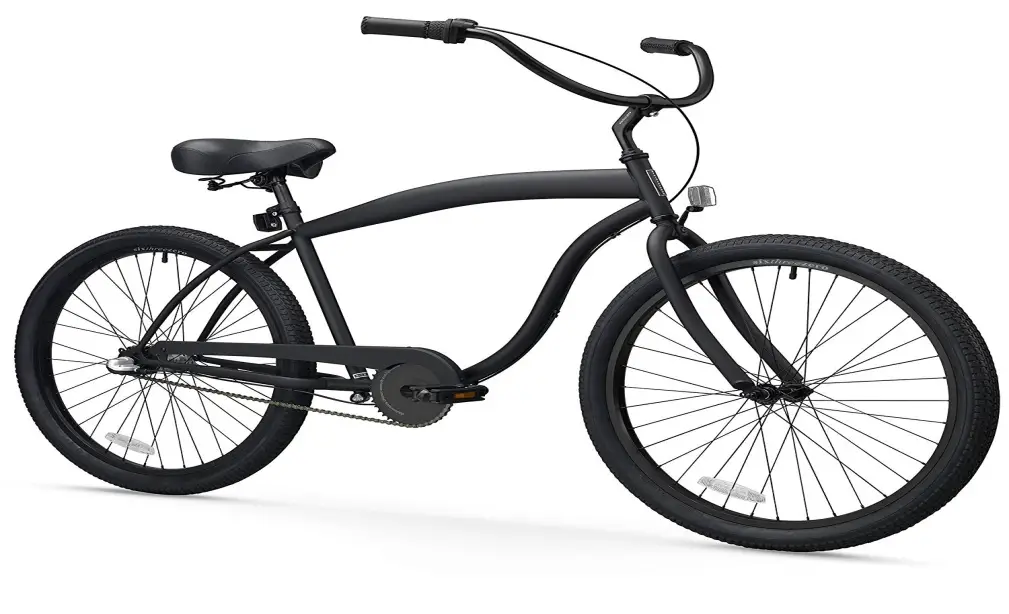 With the Sixthreezero In the Barrel cruiser bike, elegance and comfort meet with high-quality aesthetics. Not only does the bike look cool but also it offers a comfortable and smooth ride. Its 3-speed Shimano gear hub and pedal forward design ensure you ride for longer distances with ease.
The bike comes with an 18†steel frame which is perfect for taller riders and combines durability and style. This cruiser bike features a leather saddle as well as uniquely stitched leather grips for adequate maneuverability.
What we like
3-speed Shimano gear hub
Comfortable and trendy leather saddle and grips
User-friendly gear shifters
Available in multiple beach-oriented colors
Ergonomic frame
What we do not like
Does not come fender mounts
Paint on the bike chips easily
 
Frequently Asked Questions
What is the use of a cruiser bike?
A cruiser bike, also known as motobike or a beach cruiser, usually has wide balloon tires, a body geometry that maintains an upright riding position and a single speed drivetrain. These bikes are popular among riders who cycle for leisure on paved roads and the occasional gravel road.
Do cruiser bikes have gears?
Traditionally, a cruiser bike is an affordable single speed bike. Nowadays, there are many cruiser bikes in different drivetrain ranges. It is vital for cruiser bikes to have gears for purposes of adaptability to diverse terrains and the safety of the rider. With modern gear systems readily available in the market at pocket-friendly prices, you can install the gear hub on your cruiser bike with ease.