Buying a new bike for a child can be a challenge. In this Hyper Havoc Vs Mongoose Ledge, we help you determine whether the bike you choose matches your son's height.
I frequently take my son to ride his bike in the park. He loved the first bike I bought him until he outgrew it and could not ride anymore. I bought him a second bike and he outgrew that one as well. I realized I was doing it wrong. As I bought new bikes bike, I was not factoring in his height and the fact that he is constantly growing. Being wiser, I decided to buy him a bike that accommodates his height as he grows. There were two options for me on the market. A Mongoose Ledge and Hyper Havoc mountain bike.
Differences between Hyper Havoc and Mongoose Ledge- How do they compare?
| | | |
| --- | --- | --- |
| | Hyper Havoc Boys Bike | Mongoose Ledge Boys Bike |
| Frame | Aluminum | Aluminum |
| Size | 26 inches | 20 inches |
| Weight | 40 lbs. | 30 lbs. |
| | | |
Hyper Havoc Vs Mongoose Ledge – In-depth Comparison
Material
A bike with a strong durable frame will serve your child for years. The Hyper havoc boys bike comes in an aluminum frame which is lightweight and durable. The frame size is 26 inches and has a rugged design. It is the perfect gift for a 12 to 15-year-old who loves to explore nature trails and the mountains.
Mongoose Ledge boys bike has a 20-inch aluminum frame. It is strong, lightweight, and features front and rear suspension. This bike suits a 7 to 9-year-old who loves riding around the estate or taking their bike to the park. Since boys will always be boys, the full suspension frame will absorb all the shock from the many stunts your boy will be performing. This bike is also shaped like a classic BMX which your son will love.
Weight
A good bike for your son is one that he can easily handle on his own. The bike must not feel too heavy for your son's growing arms to bear. The Mongoose Ledge bike wins on this occasion for being the lightest. With a 20-inch frame, it only weighs 30 lbs. This featherweight frame is perfect for a 9-year-old who wants to perform wheelies and backspins with his friends.
A 10-year-old would find the Hyper Havoc boys bike to be quite heavy. It weighs about 40 lbs. which is understandable because of its rugged body. A 15-year-old would not mind the weight as he performs bar spins or wheelies. The full suspension frame also makes things feel lighter than they actually are.
Handlebar design
The best handlebar design allows your child to remain upright while riding. A riser handlebar facilitates this upright riding position. Your son is also able to reach the handlebar while sitting on the saddle. Riser handlebars are also great when your child wants to perform stunts.
The Hyper Havoc and Mongoose ledge bike feature riser handlebars. Both bikes come with a unique frame that slants diagonally. This leaves the handlebar area raised while the saddle sits lower. It promotes the upright riding position ensuring your child's back is safe from injuries.
Hyper Havoc Vs Mongoose Ledge – A Comparison Overview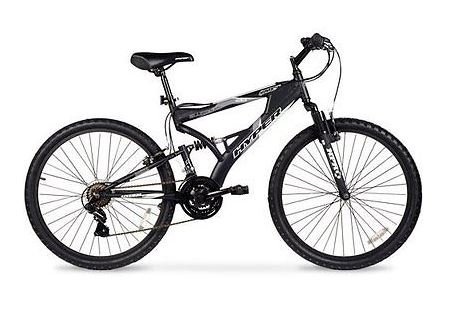 Hyper Havoc bike suits the big boys who love to explore during their free time. This bike boasts of an aluminum frame which is lightweight and durable. The frame comes with front and rear suspension forks for shock absorption. This allows your child to enjoy his bike whether he is riding on pavement or a rocky path. The front fork suspension improves handlebar stability as well.
This bike features a step-thru frame design. It makes getting on and off the bike easy even for a 9-year-old who is feeling ambitious. The rear suspension is right under the saddle absorbing all the shock from riding. It makes the saddle comfortable to sit on as your boy pedals through rocky paths.
Hyper Havoc boys bike features a 21-speed drivetrain. If your boy is old enough to experiment with gears, this is the bike for him. Each gear adds a level of intensity that will be beneficial to your boy's health. As he pedals through every gear, he is working his major muscles. He will be happy for conquering all the obstacles nature throws at him thanks to the nimble gear system.
Pros
Strong and durable frame
Step-thru design
Front and rear suspension
Cons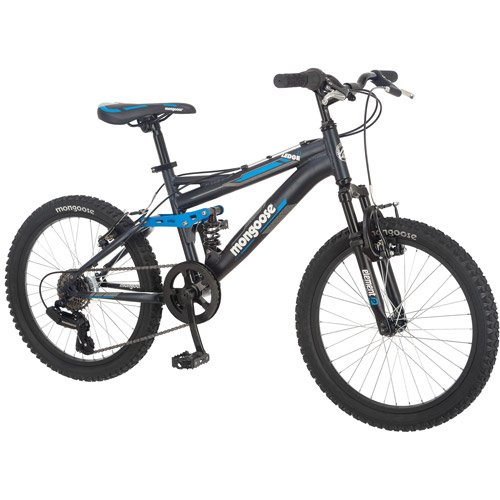 Mongoose Ledge boys bike brings back the memories of your childhood riding. It features that classic BMX design that is popular with young boys. This bike boasts of a high-quality aluminum frame which is tough on durable. The frame also comes with front and rear suspensions for shock absorption.
This bike suits the young boy with an adventurous spirit. Whether he is doing wheelies or pedaling up a pebbled path, he will love how light the bike is to handle. The 26-inch wheels pick up speed fast and addles to the nimbleness of the bike.
The riser handlebar ensures your child rides in an upright position. This is not only good for his back health, but it also facilitates bar spins or any other stunts your boy wants to try. On the rear wheel is a 7-speed drivetrain that suits any boy 12 years or younger. He has enough gears to practice with before graduating to the large 21-speed drivetrain.
Pros
Tough and durable frame
Classic BMX design
Riser handlebar
Cons
Conclusion
I will wind up this Hyper Havoc vs Mongoose Ledge review by declaring my winner. The Hyper Havoc boys bike takes home the prize for being highly versatile. It comes with all the features available on the Mongoose BMX bike. Given its large frame, my boy will not outgrow this bike anytime soon.
FAQ
Would you buy a Hyper Havoc or Mongoose Ledge fat bike?
Mongoose makes better Fat bikes than Havoc. The Mongoose Ledge 2.1 is one such bike which features a full suspension frame, large wheels, and twist shifters.
Hyper Havoc or Mongoose Ledge at a Chain Store?
if you are buying from a chain store, Mongoose is a highly preferred brand.
Hyper Havoc vs Mongoose Ledge, which is better for the money?
Mongoose are ideal for their sturdy and stylish frames. Their frames consist of alloy and magnesium which is lighter.
What is the right Mountain bike size for kids?
Mountain bikes have frame sizes that cater to kids of different heights. A 2-year-old would be comfortable on a 12inch bike. A 12-year-old finds a 24-inch bike more comfortable. Consider your child's height before buying a bike.