Mountain bike riding is a fun sport that connects you with nature as you keep fit. This Hyper Havoc vs Mongoose review looks at two bikes with similar features but different performance.
As a frequent mountain biker, I had a hard time finding a bike that has a smooth ride through rough terrains. A lot of the trail bikes I found online did not feature the quality components I wanted. Most had very uncomfortable saddles or the frame wobbled when engaging tough obstacles. I have owned mountain bikes with faulty gears. I had to work extra hard to shift and get to the speed I wanted. I finally gave up and decide to get an upgrade. My fellow rider friend was also looking for a new bike. We decided to get two different bikes with near similar features. I got a Hyper havoc mountain bike while my friend went for the Mongoose R2780 bike.
Difference between the Hyper Havoc and Mongoose bikes- How they compare
| | | |
| --- | --- | --- |
| | Hyper Havoc Mountain Bike | Mongoose R2780 Bike |
| Frame | Aluminum | Aluminum |
| Drivetrain | 21 inch (twist) | 21 inch (twist) |
| Wheel Size | 26 inches | 29 Inches |
| | | |
Hyper Havoc vs Mongoose- A Thorough Comparison
Material
Modern mountain bikes feature aluminum frames for improved performance. The Hyper Havoc mountain bike has an aluminum alloy frame. It is super light and rust-proof. Though aluminum is light, I found the bike to be a bit heavy. It weighs a whopping 50 pounds. That does not worry me since the bike suits rough riding.
The Mongoose R2780 also boasts of an aluminum frame designed for rugged terrains. There is a huge difference in weight here with the Mongoose weighing 44 pounds. It is lighter and handles better in rough trails.
Drivetrain
Both bikes feature a 21-inch drivetrain with twist shifters. This levels the ground for gear performance. As we rode through trails, my buddy on the R2780 picked up speed faster than I did. The 6 lbs. weight difference definitely made a difference in speed performance. Another factor that was at play was the wheel diameter of both bikes.
Wheel Size
Wheel diameter is a major factor when it comes to speed performance. The Hyper Havoc mountain bike comes with 26inch rubber tires. 26inch tires improve bike handling because they are lighter and very agile. They have a faster acceleration which is ideal if you are maneuvering through tight turns.
Mongoose mountain bike comes with 29-inch rubber wheels. Bigger wheels tend to have greater advantages on mountain bikes. They provide a smoother ride, especially in rugged trails. 29inch wheels also have a lower COG. This makes the bike steadier once you get used to the big wheels.
Hyper Havoc vs Mongoose comparison overview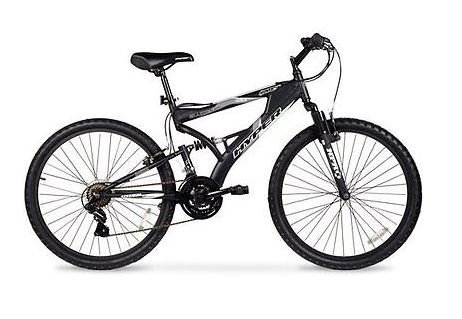 True to its name, the Hyper Havoc bike does wreak havoc in the wild. It features a strong aluminum frame that is strong for better handling. The bike also includes full suspension forks which are great for rugged terrains. The bike suspensions cushion the shock from bumps and potholes. No matter how rugged the terrain is, you always have full control of the bike.
A 21-speed drivetrain allows you to vary your riding speeds. Riding up a mountain, no matter how rocky the path is, is pure fun. The tougher gears are great for working your muscles and picking up speed. As you cruise down the hill at full speeds, the suspension forks absorb all the shock making the experience thrilling.
A standard riser handlebar ensures you ride in an upright position which is comfortable. The saddle has padding and sits above the rear suspension. This setup provides the smoothest ride whether you are on a rough trail or pebbled path.
Pros
Front and rear suspension
Strong and lightweight frame
21-speed drivetrain
Cons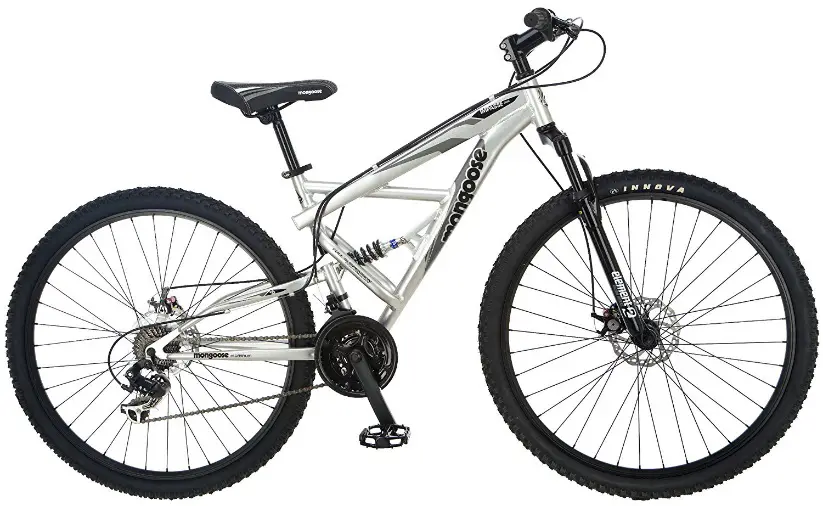 Mongoose R2780 bike packs all the necessary features to conquer harsh trail riding. This bike boasts of an aluminum frame which is lightweight and very durable. The bike weighs only 44 pounds making it easy to maneuver through tight spots without feeling the weight of the bike.
Mongoose R2780 comes with 29inch high-performance tires. Big tires are great for riders who spend a lot of time in the wild. 29inch tires don't demand a lot pedaling. Large tires also make the bike steadier once you pick up momentum. Since the tires cover a larger surface area, you are also getting more traction on the road.
A bike designed for harsh riding must include a quality suspension system. This bike features front and rear suspension for a smooth ride through bumpy surfaces. Coupled with a padded saddle and riser handlebar, you will enjoy riding this bike on any road.
Pros
Strong and lightweight frame
Front and rear suspension
29inch wheels
Cons
Conclusion
My Hyper Havoc vs Mongoose review must end with a winner. Though both bikes have the same features and near equal performance, my money is on the Hyper Havoc. I choose the Havoc because it is a lot cheaper and still has most of the features you will find on the Mongoose R2780. It has a strong and light frame, full front and rear suspension, and a riser handlebar. All these features give the bike nimble performance in the wild.
FAQ
How tall must you be to ride a mountain bike?
Mountain bikes come in different sizes to suit different heights. If you are 5'6†to 5'10†you can ride a 17†or 18†mountain bike. Taller people, 6'1†to 6'4â€, will be comfortable on a 21†or 22†bike.
How high should a mountain bike handlebar be?
Ensure the handlebar is high enough to ensure you ride in an upright position for comfort. The handlebar height should be level with the saddle bar or higher. If the saddle is higher than the handlebar, it forces you to hunch over while riding. This can be uncomfortable.
Does weight matter on mountain bikes?
Lighter bikes can scale up mountains faster than heavy bikes. Heavy bikes can go down a slope faster than light bikes.
Can I get abs from cycling?
Cycling helps you burn calories which encourages weight loss. As you ride, you are contracting your abdominal muscles to maintain a stable position while pedaling. The frequent contraction tones your abdominal muscles.