Mountain biking is an extreme sport that requires a high-performance trail bike. This Hyper vs Mongoose review compares two premium trail bikes and how they compete against each other.
Taking my trail bike to the mountains is an experience I always cherish. There is no greater feeling than being away from the city and it is just you and nature. My love for mountain bike riding is how challenging it gets. You have to carefully wiggle your way through tight edges with full control of your bike. Sometimes you have to jump from a cliff hoping there is no jagged edge below to puncture your tires. The experience used to be harrowing with the cheap trail bikes I owned. Besides ruining my bike, I also suffered neck, back, and leg fatigue. All this changed when I got a Hyper Shocker and Mongoose ledge mountain bike.
Hyper and Mongoose Trail Bikes-How do they compare
| | | |
| --- | --- | --- |
| | Hyper Shocker Mountain Bike | Mongoose Ledge Mountain Bike |
| Frame | Steel | Aluminum |
| Suspension | Full Suspension Forks | Full Suspension forks |
| Wheel Size | 26†| 27.5†|
| | | |
Hyper vs Mongoose- A Detailed Review
Frame
A good mountain bike has a sturdy frame that can withstand harsh riding conditions. Hyper Shocker mountain bike comes in a solid steel frame. This frame is tough and very durable. If you will be frequently riding your Hyper shocker, do take care of the frame to prevent rusting.
Mongoose Ledge mountain bike boasts of an aluminum frame. This sheds a few kilos from the frame making it lighter than the Hyper Shocker. An aluminum frame is ideal for the pro mountain biker who wants a lightweight bike that can hop over rocks and squeeze through compact edges.
Suspension Forks
If you will be riding through rocky slopes or pulling dare-devil stunts on mountain edges, you will need suspension forks. Suspension forks absorb the shock from bumps making the rockiest path silky smooth. This ability to absorb riding shocks ensures your saddle feels comfortable at all times. You also have full control of the handlebar no matter the riding situation.
Hyper Shocker trail bike boasts of full suspension forks. As the bike absorbs impact shock, it protects your steel frame from damage. It also helps you maintain control of your bike. You do not have to ride while standing all the time because the bumpy ride is killing your posterior.
Mongoose ledge mountain bike also comes with front and rear suspension. This coupled with the aluminum frame makes the smoothest riding experience. This is the bike to get if you want to prove your mettle in the wild terrains.
Shifting Mechanism
Modern bikes have a shifting system that incorporates twist shifters. They help keep your eyes focused on the road without having to look down every time you want to shift. The Hyper Shocker trail bike features twist shifters that work an 18-speed cogset. The Hyper shocker will get you through any obstacle or challenge you set for yourself.
Mongoose Ledger mountain bike features twist shifters as well. This works a 21-speed cogset which offers more gears options. The Mongoose Ledger mountain can scale up steep mountains or bolt across a flat surface faster than the Hyper Shocker.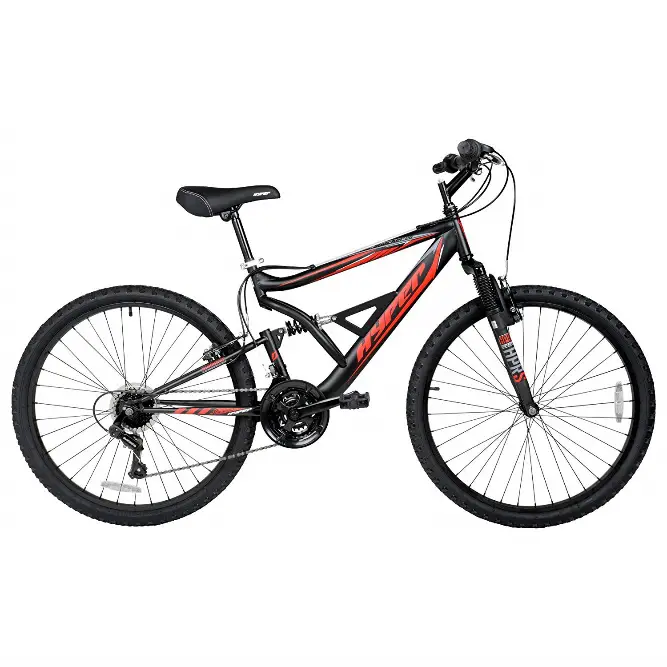 Mountain bike riding is not for the faint-hearted. This is why you need a high-performance bike like a Hyper Shocker trail to make you unbeatable out in the wild. This bike comes with a steel frame which is strong enough to take the beating of harsh terrain riding. The frame has front and rear suspensions to smoothen out bumpy rides and provide more control of the bike.
This bike features 26-inch rims which offer more control of your bike. They are smaller and make your bike feel lighter when riding. Bikes with 26-inch rims also fit riders of all sizes. Since smaller tires are less cushiony, you tend to feel the sting of riding over bumps. Luckily the Hyper Shocker features a dual suspension frame which cancels out the discomfort.
An 18-speed cogset gives you the freedom to maneuver any wild terrain you need. When it gets tough riding up, just shift downward for a comfortable riding experience. When on a flat surface, test the speed limit of this bike by shifting to the highest gear.
Pros
Strong durable frame
Dual suspension frame
High-performance wheels
Cons

Mongoose Ledge mountain bike boasts of an aluminum full-suspension frame. Aluminum is lighter and stiffer than steel. This bike is more resilient to the harshest riding experience you can subject it to. Front and rear suspensions absorb impact shock making your ride over rough surfaces a smooth one.
This bike comes with a 21-speed cogset operated by Shimano twist shifter. The ability to shift down to the lowest gear makes the steepest of climbs a breeze. When you want to work your leg muscles harder, shift up to the highest gear and feel your Mongoose Ledge pick up speed.
This bike comes with 27.5-inch tires for high performance. The tires provide the same top-notch experience of 26-inch wheels only that you do less work. The wheels feel lighter and have a fast reaction time which is ideal for twitchy trails. Acceleration is a breeze and you have full control of your bike at any speed.
Pros
Tough and lightweight frame
Dual suspension forks
Larger high-performance tires.
Cons
Conclusion
The winner in this Hyper vs Mongoose review is the Hyper Shocker trail bike. The Hyper Shocker features a steel frame which is not as stiff as aluminum. Steel can take repeated beatings from harsh riding compared to aluminum. So the Hyper Shocker is likely to last longer than the Mongoose ledge.
FAQ
Is Hyper better than Mongoose?
Hyper bikes are better than Mongoose if you are looking for a high-performance trail back. If you are commuting around the city, Mongoose bikes are better.
Hyper or Mongoose Hybrid bike?
Hyper and Mongoose hybrid feature common components for city and trail riding. Huffy makes bikes for casual city/trail riders which makes their bikes cheaper. Mongoose hybrid bikes suit professional riders and come with innovative features. They tend to be more expensive.
Are Mongoose BMX bikes good?
Mongoose bikes are cheap because the bike maker uses inexpensive materials. For a BMX bike, buying from Mongoose would not be a good idea.
Does Mongoose make BMX bikes with Gear Shifts?
Mongoose does not make BMX bike with shift features. This option is available as a custom request.