Who said girls cannot handle the roughness of mountain bike riding? In this Dynacraft vs Mongoose mountain bike review, I explain the main features you need to conquer the rough wilderness on a bike.
I love riding in the wild. Nothing beats the feeling of the breeze brushing through my skin as I work my bike through rocky paths. I enjoyed every moment until I started experiencing back pain. When the pain worsened, I realized it was because of the rough patches I was riding on. My mountain bike was not equipped with the right features for shock absorption. I ended up feeling all the rough and bumpy surfaces which took a toll on my spinal health. I decided to look for a bike that is well-equipped to handle the harsh terrains. My quest led me to two bike brands; a Dynacraft and Mongoose female bikes both with 26-inch frames.
Dynacraft and Mongoose differences- How do they compare?
| | | |
| --- | --- | --- |
| | Dynacraft 26†Bike | Mongoose 26†Bike |
| Frame | Steel | Steel |
| Drivetrain | 21-speed | 21-speed |
| Tires | Off-road | All Terrain |
| | | |
Dynacraft vs Mongoose- Detailed Comparison
Material
To ride through rocky bumpy paths, you need a bike with a strong frame. Dynacraft women's bike solves this problem by spotting a high-grade steel frame. Still is a tough durable metal that can take on the full weight of the rider.
Mongoose women's bike also comes with a 26inch all-steel frame. It is a tie between the two bikes for having a quality durable frame. The only difference here is that Dynacraft comes in a 37 lbs. frame while the Mongoose weighs 40 lbs. This would be a deal-breaker for the rider who wants a lighter bike that handles well off-road.
Frame Color
Dynacraft have a reputation for choosing feminine colors on their women's bike. The Dynacraft 26-inch bike comes in all pink. A way of letting you know that it is okay to be rough and girly. Underneath that girly coat is a mean machine that packs all the features to handle rocky areas.
Mongoose bike goes with laid back colors. The Mongoose 26-inch female bike features a matte black frame. The bike company was more for the idea of blending in with the environment rather than stand out. This mean rough terrain look echoes the bike's performance in the harsh wilderness.
Speed
Dynacraft women bike features a 21-speed drivetrain. If you are a lady who is crazy about speed, you will love the performance of this bike. The bike also comes with front and rear V brakes which are reliable when you want to slow down or stop completely.
Mongoose female mountain bike features a 21-speed drivetrain as well. This bike has front and rear linear pull brakes. This gives you full control of the bike at any speed. The 21-speed drivetrain gives you more options, especially when cycling through tough obstacles.
Dynacraft women 26†bike review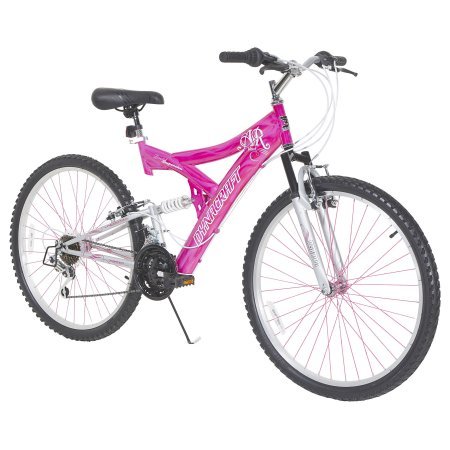 Dynacraft women 26-inch bike is ideal for the lady who wants to feel one with nature. This bike features a steel frame which is strong to support your weight and handle any harsh riding experience. The wheels are pure alloy and propelled by quality resin pedals. Whatever rough treatment you through at this bike, it will handle it.
The highlight of the Dynacraft 26-inch bike is the dual suspension feature. Dual suspension helps protect the bike from wear and tear. This feature also protects the rider from the injuries of harsh riding. When I got this bike my back pain reduced. A bike with dual suspension features is good for downhill riding as well.
One other feature worth noting is the thick 26 by 2.125-inch tires. Thick tires help absorb shock when riding through rough paths. The allow rims ensure the wheels remain durable even with constant harsh treatment. You also get a padded seat reinforced by the rear suspension for comfort.
Pros
Strong and durable frame
Dual suspension for shock absorption
High-performance wheels
Cons
Limited pedal performance
 
Mongoose women 26†bike review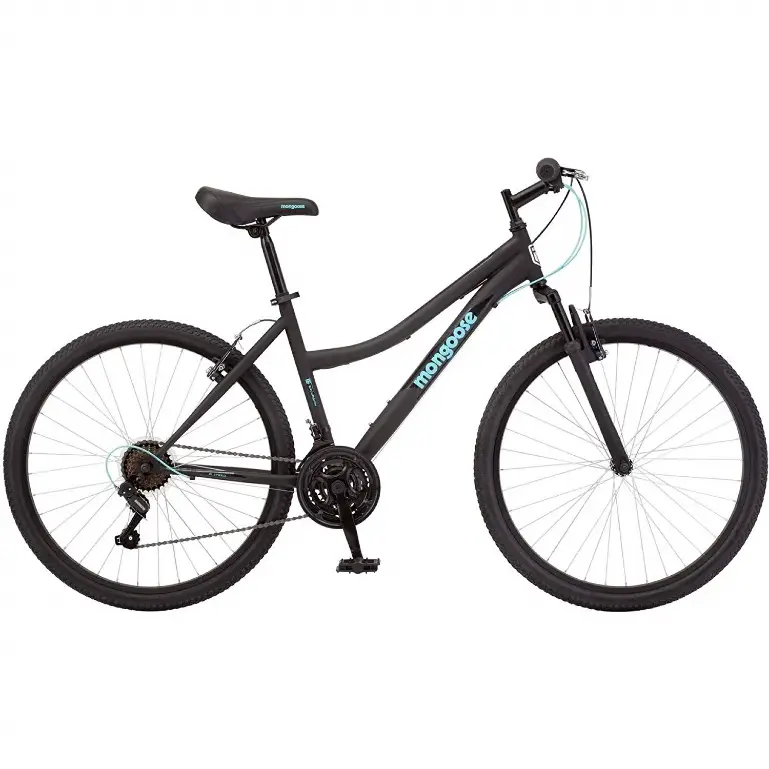 Mongoose 26inch mountain bike boasts of a high-grade durable steel frame. A strong frame makes this bike ideal for both city and off-road riding. The bike features a carbon black color which blends in with your environment.
This bike comes with Mongoose all-terrain knobby tires. The thick tires absorb shock to protect the integrity of the bike. You also do not feel the bumpy terrains thanks to the all-terrain tires. This bike also features a 21-speed Shimano drivetrain.
Another highlight of this mountain bike is the step-thru design. it makes getting on and off the bike easy especially after a long day of riding. The shifter and brake wires hide within the bike frame for a cleaner look. If you have been looking for a perfect all-terrain bike that helps you exercise and keep fit, a Mongoose bike would do you great.
Pros
Tough durable frame
Durable all-terrain tires
Step-thru design
Cons
 
Conclusion
As we conclude this Dynacraft vs Mongoose review, my ultimate winner is the Dynacraft mountain bike. I love the Mongoose step-thru design which is easy to get off when my legs are super tired. I also Mongoose choice of all-terrain tires allowing me to ride anywhere. When it comes to comfort, I go with the Dynacraft bike because of the dual suspension feature. This bike has an ability to absorb shock from bumpy rides which ensures my back stays protected. I can also ride long distances thanks to the dual suspension.
FAQ
What size is ideal for a women mountain bike?
Always go for a bike size that suits your height in feet and inches. Anyone between 4 feet 10 inches and 5 feet two inches can ride a 13-inch or 14-inch bike. Women who are 6 feet 6 inches or 6 feet 6 inches can ride bikes with frame sizes 23 inches and higher.
What is the difference between men and women mountain bike?
Women mountain bikes have a shorter frame distance. They also tend to have lighter frames.
Where are Mongoose bikes made?
Mongoose bikes are a product of a company called Pacific Cycle. The company outsources productions to Asia.
Which brand is better between Dynacraft and Mongoose?
Both brands make quality bikes for all ages. To enjoy the quality of the bikes, ensure you shop both brands from affiliated bike shops.
Does Dynacraft make Kids bikes?
Dynacraft makes quality kid bikes since the 70s. One of their great kid bikes is the Magna Major BMX street bike for boys.