Whoever said you have to break your bank account to purchase a high-end mountain bike did not know about Hyper and Mongoose bicycles. Both mountain bike brands are notoriously known for their affordability and versatile performance. Read about their differences and similarities in this comprehensive Hyper vs. Mongoose review.
As an entry-level mountain biker, I feel overwhelmed anytime I search the internet for a quality performing mountain bike. Luckily, I found two affordable mountain bike brands sold in my local bike store that feature high-quality components for an unforgettable mountain biking experience. By reading this Hyper vs. Mongoose review, you too will be able to easily decipher which bike brand best caters to your cycling needs.
What are the differences between Hyper and Mongoose bikes
| | | |
| --- | --- | --- |
| Model | Hyper Havoc full suspension Mountain bike | Mongoose R2780 Impasse Dual full suspension mountain bike |
| Frame material | Aluminum dual full suspension frame | Aluminum full suspension frame |
| Saddle | Padded gel MTB saddle seat | MTB saddle |
| Grips | Standard handlebars with comfortable grips | MTB riser bars with rubber grips |
| Drivetrain | 21-speed | 21-speed |
| | | |
Hyper vs. Mongoose mountain bikes – How do they compare to one another?
Brakes
When riding at top speed in rough terrains, you need assurance that the bike will stop fast and efficiently. Hyper mountain bikes have front and rear Shimano pull brakes to provide reliable stopping power, without compromising your safety.
Mongoose mountain bikes have alloy front and rear disc brakes which are fully responsive despite the weather or the terrain. A dual disc brake system gives a rider more stopping power with minimal effort, which comes in handy during those emergency moments.
Wheels
Hyper mountain bikes feature 26*1.95-inch generic wheels which are easily accessible from any local; bike store, in case of repairs. The wheel also has relatively light alloy rims as well as knobby treads for more grip and versatile performance when riding.
Mongoose mountain bikes contain 29*2.1†wheelset with high-grade alloy rims, offering the rider more traction and increased bump absorption while riding. These wheels give the bike its versatile performance as they provide the bike with more momentum and stability.
Gear hub
A useful gear hub allows a rider to shift gears and achieve top speeds smoothly, without over-revving. Gears also increase climbing traction as you climb steep hills.
The Hyper mountain bike has the Shimano 21-speed drivetrain which is complemented by a 3-piece crank and a comfortable Shimano twist shifter for exceptional performance. The bike also has Shimano rear derailleur for smooth and silent rolling, especially when tackling aggressively rough terrains.
Mongoose mountain bikes feature full dual suspension. The bike has front and rear 21-speed Shimano derailleur topped with SRAM MRX twist shifters which allow the rider to shift gears for a smooth rolling ride. This systematic combination is especially useful as you ride at top speeds as well as downhill rolling.
Hyper vs. Mongoose mountain bikes – A comparison review
26†Hyper Havoc Full Suspension mountain bike Overview and Key features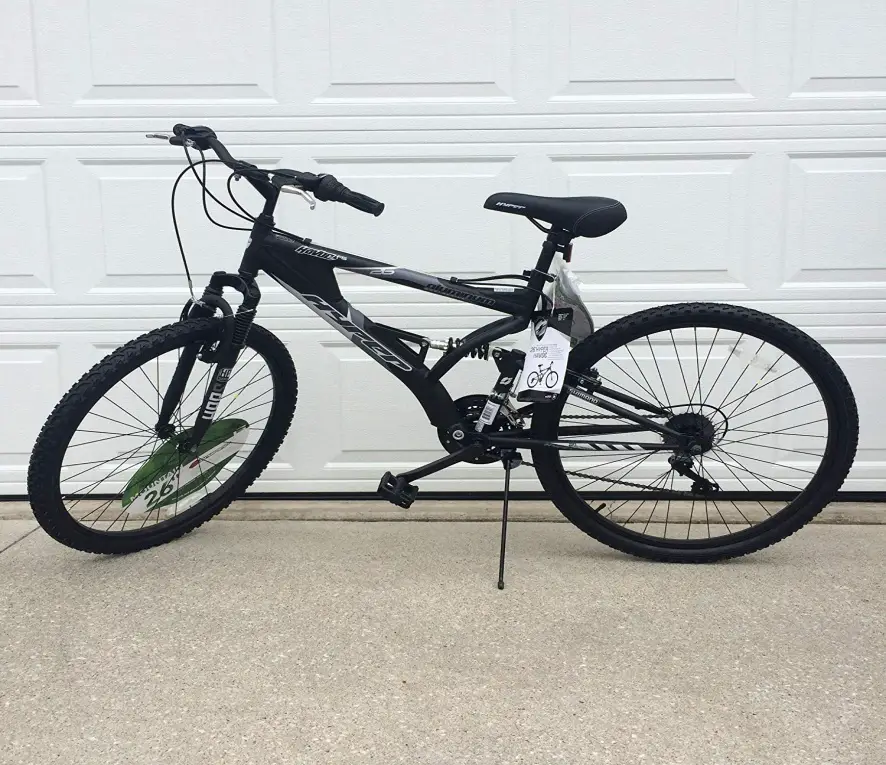 If you are looking for the best and most affordable mountain bike, the Hyper Havoc mountain bike is the ideal choice. With its outstanding performance, this bike provides you with a smooth and stable ride as you hit that rough and hilly terrain.
From its lightweight and sturdy aluminum frame and a full suspension fork to its padded gel MTB saddle, the Havoc offers its riders the perfect combination of durability and comfort. The bike also has high-quality 21-speed Shimano components, front and rear Shimano pull brakes as well as 26†tires, guaranteeing you unforgettable outdoor fun.
What we like
Full suspension fork provides shock absorption and smooth rolling
Light and durable aluminum frame with attractive designs
Nimble tires
What we do not like
 
Mongoose R2780 Impasse Dual Full suspension mountain bike Overview and Key features


Entry-level mountain bikers have a perfect bicycle to venture into mountain biking with the Mongoose Impasse Dual Full Suspension mountain bike. This bike is one of the best 29†mountain bikes which come with an affordable price tag. It offers quality level components found in expensive mountain bikes while maintaining an attractive price tag.
The bike features a lightweight and durable 18-inch aluminum frame with full dual suspension, ideal for riding over harsh terrains with confidence and maximum riding performance. It also has 21-speed Shimano gears with SRAM MRX twist shifters as well as front and rear alloy disc brakes for maximum stopping power with minimal force. With its alloy 29†wheels and quick release feature on the front wheel, this bike maximizes comfort, performance, and resilience.
What we like
Robust and light aluminum dual full suspension frame
Available in two colors: black and silver
Efficient 21-speed Shimano gear system with SRAM twist shifters
Large 29-inch wheels with high-grade alloy rims for versatile performance and increased traction
Dual disc braking system
Durable alloy pedals
What we do not like
Suspension may become unstable at top speed
No water bottle holder
 
Frequently Asked Questions
Do mountain bikes come assembled?
Delivery of most bikes is done with the bicycle partially assembled. The bikes often come with a set of instructions for easier DIY assembling. If the assembling procedure is challenging, you may visit your local bike store for professional services.
How do I know the best mountain bike fit for my height and weight?
Usually, bicycle manufactures and local bicycle stores have a size chart where you can easily find a bike that fits your size. You may also opt to take the bicycle for a ride if it is within your reach.
Is a road bike faster than a mountain bike?
Road bikes are much lighter than mountain bikes, meaning they can cover more distance with lesser effort. Their narrow and slick tires with knobby treads as well as aerodynamic riding position reduce resistance while riding, allowing the rider to roll at fast speeds.