RECOMMENDED GEAR:
There are several products that are a must-have for every avid cyclist. I actually use or have used and tested all the products I recommend below.
Here are my top essential product recommendations that you can add to your cart:
Best Bike Pumps
Topeak Mountain DA Mini Bike Pump- Best Overall
I've used many bike pumps and this is one of the best. It works despite being substantially smaller compared to other large pumps. 
It works well to restore road tires to usable riding pressure despite being best suited for high-volume tires. Additionally, because it has two strokes, it inflates tires quite quickly. No one wants to spend an eternity getting the tire inflated.
Another thing that I love about this pump is that it has an integrated gauge, so you're never in the dark about how much air is in your tire. All those "Oh damn, I left my floor pump at home"  moments are done with this pump!
Pros 
Fills high-volume tires quickly

Easy to use

Easily portable because of the size

Affordable
Cons
I recommend using gloves because of heat from friction inside the tube (but honestly this isn't that much of a deal-breaker)
CHECK LATEST PRICE
2. Vibrelli Bike Floor Pump- Best Budget Option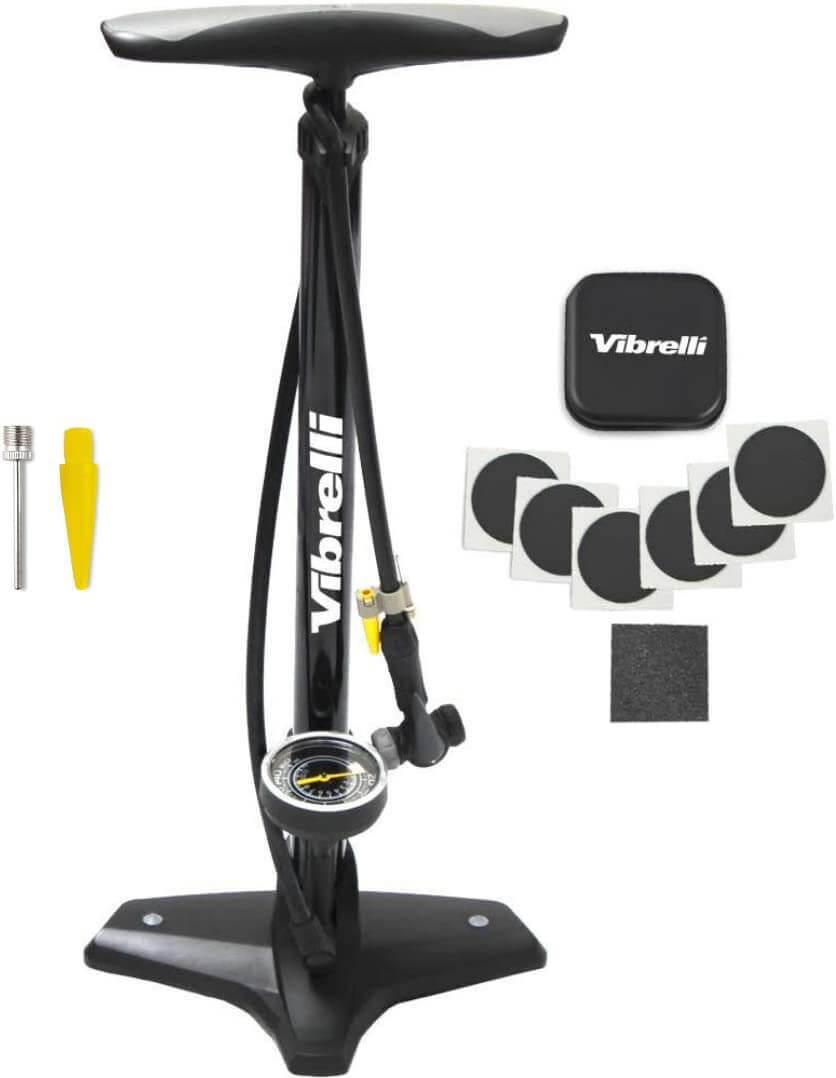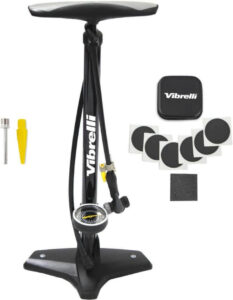 The Vibrelli is a practical travel companion because it is a few inches shorter than the typical floor pump, standing at 2 feet tall. Additionally, because it weighs only 2.75 pounds, it won't exceed airline weight restrictions for checked baggage. 
The graduations on the dial run all the way up to 160 psi. This pump is perfect for use with road and thin gravel tires. Although the Vibrelli can fill fat tires, it is not a high-volume pump, so filling mountain bike tires will leave you dog-tired. 
Despite having a steel shaft, the base and handle are plastic. It isn't a deal breaker, but it does indicate that the pump isn't as durable as other models. But at this cost, it offers a ton of value.
Pros
Precise gauge

Good for travel 

Excellent quality
Cons
Not recommended for heavy-volume tires
CHECK LATEST PRICE
Best Bike Gloves
1. GORE WEAR C5 Thermo Gloves- Best Overall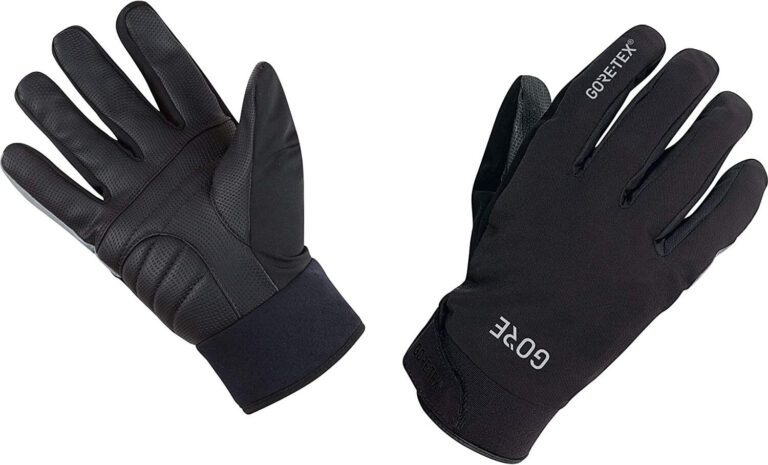 Gore's C5 Gore-Tex Thermo Gloves offer a high level of wet-weather protection thanks to DWR-treated fabric and a permeable waterproof membrane, as well as ample insulation to keep the body warm.
The synthetic leather palms have additional foam cushioning at pressure spots and maintain their grip effectively in wet weather.
Pros
Gender-neutral (great for everyone!)

Good for chilly/ wet weather (warm)

Breathable

Windproof and waterproof
Cons
Not touch-screen friendly
CHECK LATEST PRICE
2. GIRO DND Men's Cycling Gloves- Best Budget-Friendly Option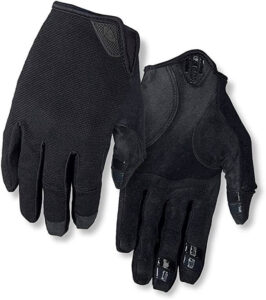 These gloves are made of highly absorbent microfiber wiping surface,  and breathable mesh which easily fits your hand. The flex zones at the knuckles give the glove a more natural feel that improves comfort and control.
With no extra material or seams, the silicone fingertip print, AX Suede microfiber palm, and super-fit three-panel palm allow your hand to move freely for improved control.
Thanks to the silver fiber touchscreen technology, you can also use your smartphone while using these gloves. These gloves are great. Even with the low price, when you wear them you won't feel "cheap" (awesome value).
Pros
Extremely warm

Affordable

Comfy

Durable
Cons
Tight fit. They might not be what you're looking for.
CHECK LATEST PRICE
Best Cycling Caps
1. Castelli Pro Cycling Cap- Best Overall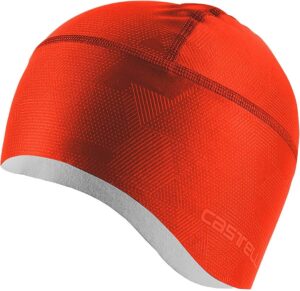 The Castelli cycling cap is a classic, stylish cap made from premium materials that are strong and lightweight. 
It's cozy and close-fitting with its elastic band at the rear. It provides good protection from the sun, wind, and rain. I personally recommend this cap because of its quality.
Pros
Comfortable, lightweight ad high-quality.

It provides great protection from extreme weather conditions.

Snug-fit.

Killer looks.
Cons
Due to its close fit, the cap may not be suitable for all head sizes.
CHECK LATEST PRICE
2. Giro Peloton Cycling Cap- Best Budget Option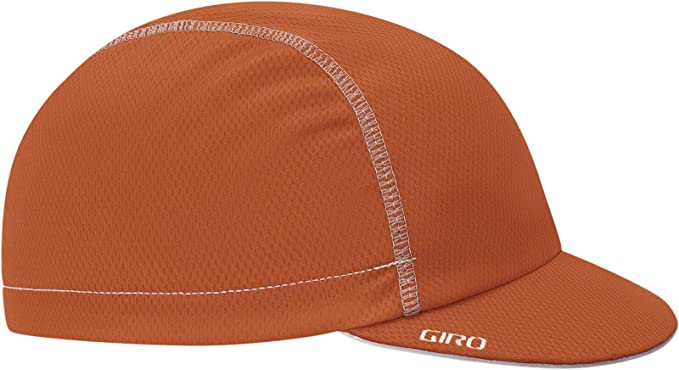 This cycling cap offers a ton of value for the price. It is made of 50% Nanobon and  50% Polyester. When layered under a helmet, the thin seams lessen pressure making you feel comfortable.
Also, it offers insulation when it's cold or windy and some shade when sunny. Overall, a good-quality cap!
Pros
Comfortable

Good size

Keeps sweat out of your eyes

Made of quality material
Cons
CHECK LATEST PRICE
Best Water Bottles
Owala Freesip Insulated Water Bottle- Best Overall
When you're out cycling, you need to hydrate. I can't overemphasize its importance. I love the Owala Freesip water bottle. It is insulated and is made of stainless steel. It has a lockable push-button cap and a FreeSip spout.
The protective push-to-open cap ensures the spout is always clean. The double-wall insulation stands out as one of the best qualities of this bottle. It keeps beverages cold for up to 24 hours.
If you want to quench your thirst while out cycling, add this bottle to your cart.
Pros
Easy to drink (that's what it's for and it does its job perfectly)

Doesn't leak

You can easily clean it

Killer looks (not as important but it has a great design)
Cons
Actually, I don't know any. It lives up to its promise!
CHECK LATEST PRICE
Aquafit 1 Gallon Water Bottle-  Best For Pro Cyclists
Ever drunk water and don't know how much you've drank through the day or through a race? Well, I have! And Aquafit solves this issue.
I recommend it for athletes because it helps you track your water intake. It has time marks on the side so you can see how much water you use each day and remain on track with your exercise and health objectives.
It has a 1-gallon capacity but it's still portable and light. With this bottle, you don't have to worry about refills!
Pros
Strong

Helps you track your intake

Doesn't leak
Cons
May be too large to carry around
CHECK LATEST PRICE
Best Cycling Shoes
Fizik Tempo Overcurve R5 Unisex Shoe- Best Overall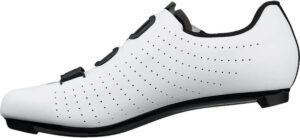 If you want to have a better cycling experience, always wear the best shoes. And certainly, Fizik Tempo shoes are one of the best. I consider them one of the best purchases I've made in a while.
They look fantastic, are light, and fit well. They are super comfortable. The cleats are simple to adjust and work flawlessly. When tightening, the knob is micro-adjusted to get them just perfect. This shoe is all you need to start breaking your personal records! (just kidding you still have to put in the work).
Pros
Great fit: even for those with wide feet

Comfy

They look great

High quality
Cons
CHECK LATEST PRICE
Ultiant Unisex Cycling Shoe- Best Budget Option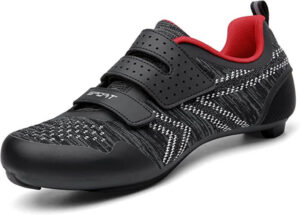 This is another cycling shoe I own (you've got to have many I guess; at least that's what I tell myself). This shoe has a knitted upper that is smooth and supple. This eases the strain of riding on your feet. 
The shoe soles feature strong and wear-resistant properties to best accommodate your riding demands. Two hook-and-loop straps that are adjustable let you choose the optimal riding posture for your feet based on how it makes you feel. 
Note that the cleats in the gift package are only appropriate for Look Delta systems, so please make sure they fit your bike pedal.
Pros
Comfortable

Look fantastic

Affordable
Cons
CHECK LATEST PRICE