How strong should a mountain bike be to conquer the wild terrains? I answer that question by comparing the Nishiki vs Diamondback mountain bikes.
I have been riding up and down mountains for close to six years now. In this period, I have had the privilege to own a couple of trail bikes. I faced a lot of performance issues with the previous bikes I owned. In some bikes, the gears won't engage as required. In other bikes, I had to work twice as hard to get the bike to perform. I will also mention the poor quality components that came with the bike. In some bike, I had to do a complete makeover to get a decent experience from them. As I hanged around fellow bikers, I got to try out a few modern bikes. My two favorites are the Nishiki Colorado Bike and the Diamondback Hardtail bike. I went out and got both models and my riding improved since then.
Difference between Nishiki and Diamondback-How do they compare?
| | | |
| --- | --- | --- |
| | Nishiki Colorado Bike | Diamondback Hardtail Bike |
| Frame | Aluminum | Aluminum Alloy |
| Drivetrain | 11 Speed | 8 speed |
| Weight | 35 lbs. | 46 lbs. |
| | | |
Nishiki vs Diamondback-Detailed Comparison
Material
One trend in mountain bikes is the use of lighter materials to make the bike easier to handle. The Nishiki Colorado bike features an aluminum frame. This frame is heat-treated then butted to produce a lightweight yet tough bike frame. This bike also features the classic mountain bike geometry that riders love.
Diamondback hardtail bike also has a unique aluminum alloy frame. The bike's frame was hand-built with precision using only superior material. This bike features a hardtail frame with front suspension forks. Compared to the Nishiki Colorado, the Diamondback bike is a lot heavier. It still handles well on and off road.
Drivetrain
The best mountain bike has a drivetrain with several cogs to handle different riding situations. Nishiki Colorado bike features an 11-speed drivetrain. You have more gears at your disposal to get you through any difficult obstacle in the wilderness. An 11-speed drivetrain gives better performance as well.
Diamondback Hardtail bike comes with an 8-speed drivetrain. Though it has fewer gears, it still has reliable performance. Having an 8-speed drivetrain means you have less confusion of which gears to exchange. From experience with the 11-speed, I rarely engage all the gears when cycling.
Weight
A lighter bike frame is easier to handle especially for mountain or trail riding. The Nishiki Colorado bike is super light with a total weight of 35 lbs. This is the standard weight for mountain bikes built to handle rugged terrains. Diamondback comes in heavy weighing a whopping 46 lbs. This excess weight owes to the rugged features the bike comes with. As soon as you get over the weight issue, you will enjoy the bike's toughness in the wild.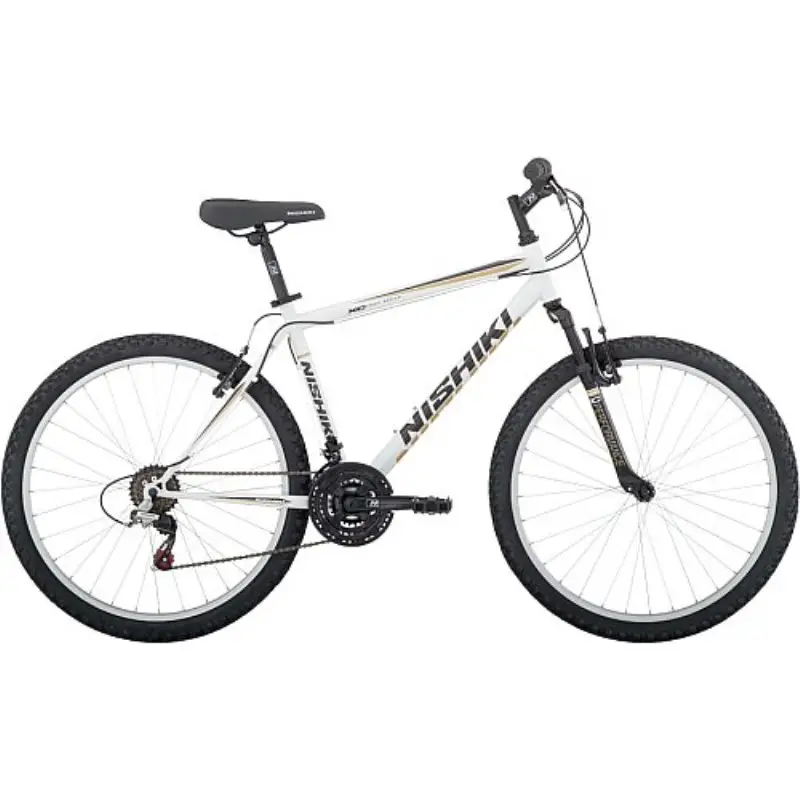 Nishiki mountain bikes have a credible performance on rugged terrains. The Nishiki Colorado men's bike features an aluminum frame which is light and durable. It feels great to maneuver the bike through rocky paths and still have control of your bike.
The wheels are a standard 27.5 inches which is a sweet spot for avid trail bikers. These wheels provide the rolling clearance of 29inch wheels with the nimble performance of 26inch wheels. Not only can you go faster but you also have full control of your bike at any speed.
The seat is a classic mountain bike saddle with padding for extra comfort. This seat features a strong alloy seat post with a sanded finish for aesthetics. TEKTRO disc brakes help you stop or slow down at will. You always have full control of your bike even when speeding downhill.
Pros
Tough and durable frame
Hi-tech reliable brake
Quality high-performance wheels
Cons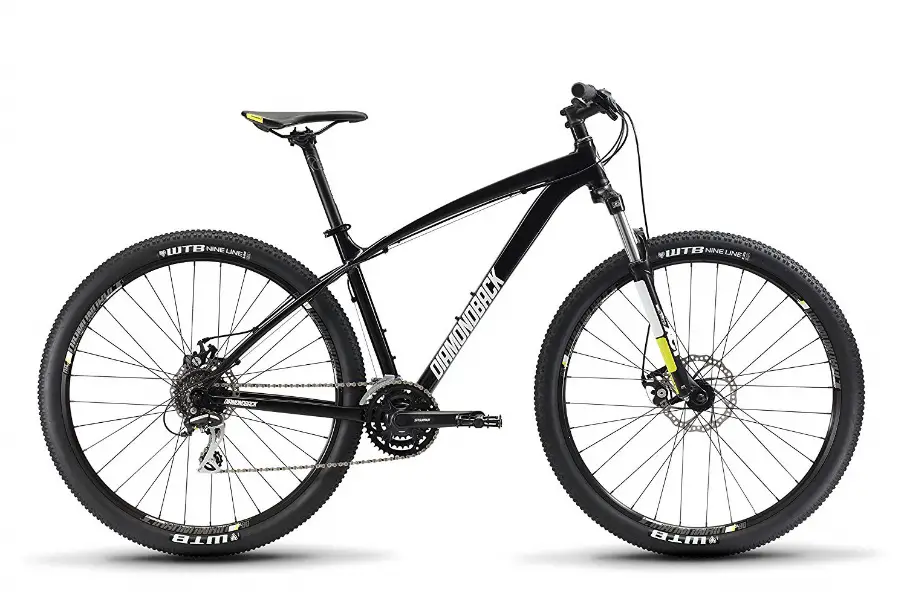 Diamond Hardtail bike boasts of a 6061-T6 aluminum alloy frame. This bike has a hardtail design meaning only the front forks have suspension. The Suntour front suspension forks give you control even when riding through bumpy areas. The bike absorbs shock from bumps leaving you to enjoy the riding experience.
This bike comes with an 8-speed Shimano drivetrain. This quality and durable drivetrain is a staple for old school mountain bikers. You have enough gears to get you through a tough situation or if you want to cruise at top speeds.
Diamond Hardtail features 29-inch overdrive wheels. You will enjoy pedaling through rocky stretches at top speeds and not get tired. Bigger wheels have better clearance and momentum once the bike picks up speed.
Pros
High-quality durable frame
Big high-performance wheels
Front suspension for comfort
Cons
Some components need replacing
Conclusion
My winner for this Nishiki vs Diamondback review is the Diamondback hardtail bike. Two things stand out for me on this bike. First is the front wheel suspension which is necessary if you are riding in the wild. The front wheel absorbs most of the shock making it easy to keep control of the bike. I also love the 29inch rims that come with the bike. Bigger wheels need less pedaling to go fast. Though the Diamondback bike is heavier, it feels smoother to handle. You do not feel the bike's weight while riding it.
FAQ
Does Nishiki make good bikes?
Nishiki was a bike brand manufactured in China and distributed by Raleigh USA. Today the brand is owned by Dicks, a chain store that sells sporting goods.
Nishiki vs Diamondback mountain bikes, which is better?
When buying mountain bikes, consider the components used in making the bike. Diamondback uses components from quality brands like Shimano.
What are some honest reviews about Nishiki?
Nishiki bikes are famous for their lightweight and durable fames. The bikes also suit people with a small to medium height.
Are larger wheels better on a bike?
Though bigger wheels need a little effort to get them going, they have more momentum when they pick up speed. Smaller wheels are great when you need reliable handling. Consider 27.5-inch wheels which provide the best of both worlds.
Is suspension necessary on a mountain bike?
Suspension makes a mountain bike comfortable on rocky terrains. A bike with front and rear suspension will provide the best riding experience.