What are the best features to look for in a mountain bike? In our Nishiki vs Schwinn review, we explore the main features of these two mountain bikes and determine which bike is the winner.
I have always loved mountain biking. When I was shopping for my first mountain bike, I got a bit confused by the variety. I had saved up for a mountain bike but now I was not sure what kind of features I was looking for. My dad bought me a couple of bikes as a child. They felt good to ride in the first days before they started falling apart. I then realized that a quality bike must have a premium frame and features. I wanted a bike that supports a comfortable riding position and features quality pedals. The frame has to be lightweight and durable for speed and longevity. My online search narrowed down to the Nishiki and Schwinn mountain bikes.
Differences between Nishiki vs Schwinn- How do they compare?
| | | |
| --- | --- | --- |
| | Nishiki Mountain Bike | Schwinn Mountain Bike |
| Frame | Steel | Aluminum |
| Derailleur | 7-Speed | 21-Speed |
| Frame Size | 14â€, 16â€, 18â€, 20â€, 22†| 17†|
| | | |
Nishiki vs Schwinn- A Detailed Comparison
Material
Nishiki mountain bike features a steel frame. It may feel heavy while handling but that's a small price to pay for a premium frame. The steel frame is heat treated and molded into a classic mountain bike geometry. This bike is perfect for conquering rough terrains.
Schwinn mountain bike comes in an aluminum frame. This is way lighter compared to steel. I found this bike easier to handle especially when crossing narrow forest paths at top speed. The Schwinn bike definitely wins here for being lightweight.
Frame Size
Nishiki bike takes home the prize for having a larger variety of frame sizes. While Schwinn mountain bike only comes in a 17inch frame, Nishiki has 5 various frames to choose from. You can buy the Nishiki bike in frame sizes of 14â€. 16â€, 18â€, 20â€, and 22â€. If you are a family that loves to ride together, I would recommend you go with a Nishiki on this one.
Drivetrain
How much speed would you want on your bike? A Nishiki mountain bike suits the rider who is more keen on exploring nature while riding. It comes in a 7-speed drivetrain which is enough for varying speed levels. You can clear a hilly course and speed through flat grounds with fewer problems.
If you want to feel the full potential of a mountain bike, then get a Schwinn trail bike. it has a 21-speed Shimano drivetrain. It offers more speed compared to the Nishiki bike. The Schwinn bike comes with Shimano EZ-Fire shifters that allow you to make smooth gear changes while riding. While the Nishiki bike concurs hills, the Schwinn bike concurs mountains.
Nishiki bike review


Nishiki is one of those brands that have perfected the art of bike assembly. They handpicked raw materials to craft an affordable high-performance bike. This premium mountain bike from Nishiki boasts of a high-tensile heat treated steel frame. The mountain geometry ensures this bike is able to go up mountains and come back down with no fuss.
You can buy this bike in 5 different sizes for the whole family. The 7-speed drivetrain is Shimano quality. The front and rear derailleurs are Shimano as well. The brake levers are aluminum with alloy linear pulls. You will also love the sporty saddle reinforced with a steel seat post.
This bike features resin pedals which are durable compared to plastic. The tires are 26 inches thick which ideal for absorbing shock when riding through a bumpy track. At a bargain price, the Nishiki bike offers a performance that rivals pro-mountain bikes with a higher price tag. You can also get the feminine version of this bike.
Pros
Strong steel frame
Quality and durable components
Great size variety
Cons
 
Schwinn bike review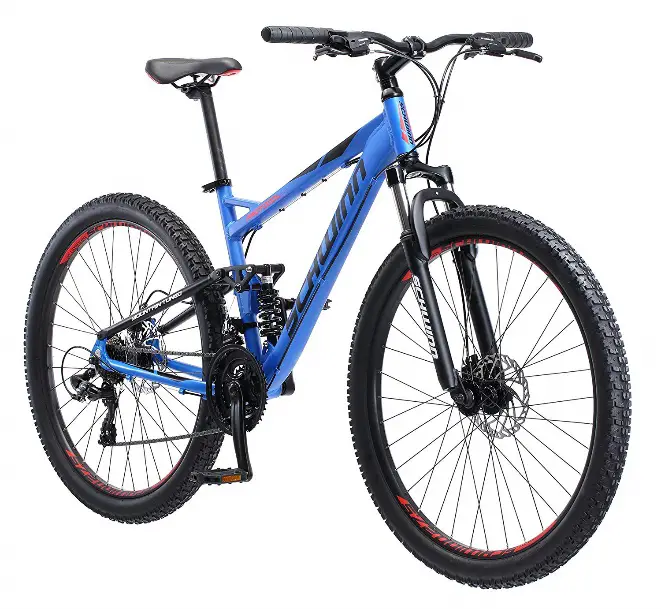 Schwinn has stood the test of time as a producer of quality bikes. This Schwinn mountain bike is a testimony of the ingenuity and dedication used to design it. It features an aluminum frame which is lighter than steel. The Shimano drivetrain is a whopping 21-speed which allows you to push this bikes performance to the fullest.
An aluminum dual suspension frame absorbs impact shock for a smooth ride through rough terrains. The ability to absorb shock prevents frame and component damage as well. Your Schwinn bike will last you years of riding.
Schwinn mountain bike also boasts of double alloy rims. They are light, strong, and very durable. These strong rims support 2.25-inch mountain tires which are ready to tear through bumpy terrains. In case you cycles in rougher terrains, 29 inch Schwinn wheels ensure you do less work pedaling. The quality alloy forks have fixtures to install fenders for those rainy muddy days.
A Schwinn mountain bike is ideal for the biker who is serious about fitness. The 21-speed Shimano drivetrain challenges you to work your leg muscles.
Pros
Strong lightweight frame
More speed levels
Durable components
Cons
 
Conclusion
As we wind up this Nishiki vs Schwinn review, I must say my money is on the Schwinn bike. It cost more than the Nishiki bike which is understandable. Schwinn bike comes in a lighter frame which is better to handle. The bike is not too heavy to wear you down as you push up mountains. This bike also comes with a 21-speed drivetrain which is ideal for riders who are also into fitness.
FAQ
How much weight can a mountain bike carry?
A mountain bike should be able to as much as 300 lbs. in weight. A strong frame and premium components also determine how much weight a bike can carry.
Do mountain bikes require inner tubes?
Inner tubes make the wheel lighter compared to tubeless wheels. Though inner tube tires tend to puncture, they are easy to replace compared to tubeless.
Do aluminum bikes rust?
Aluminum metal is not prone to rust compared to steel or titanium. Since aluminum is a light metal, aluminum bikes have thick frame tubes for strength and durability.
Can I ride my mountain bike in the rain?
Riding in the rain is okay as long as you do not slide your tires. A bike constructed with rust-proof material is also safe to ride in the rain.