Boys like to play and explore with their bikes. In this Nishiki vs Trek review, we highlight the top features to look for in a good boy's bike.
My son is a real adrenaline junkie. He will take his bike through thickets and rocks any chance he gets. He loves to perform stunts with his bike to impress his friends. I noticed that the bikes I bought him did not last very long. He kept breaking the frame or bending a wheel. I lost count of the number of times I took his bike for repairs. I had no option but to get him something stronger for his crazy riding style. I soon learned that steel bikes are ideal for boys who love rough riding. My worry was that a steel frame would be too heavy for my son. Turns out it is not after he test rode a Trek MT 200 vs a Nishiki Pueblo.
Differences between Nishiki and Trek boys bike-How do they compare?
| | | |
| --- | --- | --- |
| | Trek MT 200 | Nishiki Pueblo |
| Material | Hi-Ten Steel | Hi-Ten Steel |
| Frame Design | Step-Thru | Step-Thru |
| Drivetrain | 7-speed | 7-speed |
| | | |
Nishiki vs Trek- A Detailed Comparison
Material
Both the Trek MT 200 and Nishiki Pueblo feature a quality high-tensile frame. Trek MT 200 boasts of the bike maker's iconic dialed frame fit. This design ensures that the bike fits your child's stand over height. The frame design ensures your child is in a proper riding position. He will be confident about the stability and control of his Trek MT 200.
Nishiki Pueblo bike comes in a heat-treated high tensile steel. The frame features a mountain geometry that balances the distance between handlebar and saddle. The stand-over height is perfect for a boy who is at least 10 years old.
Frame Design
Trek MT 200 features a step-thru design. Getting on and off the bike is the easiest thing a 10-year-old can do. The saddle is adjustable to ensure your child reaches the pedals and handlebar. Trek used the Dialed design on the gear system, bar & stem, as well as brake levers.
Nishiki boys Pueblo bike features a step-thru frame design as well. The oversized downtube spaces out the pedal and tire. Your boy can perform wheelies and bar spins with ease.
Drivetrain
As young boys grow older, they love to experiment with speed. A 7-speed drivetrain on the Trek and Nishiki bike is just what they need. It gives them room to test the experience of being on an adult mountain bike. Your child gets accustomed to shifting gears at an early age.
A 7-speed drivetrain needs quality shifters to engage the cogs. On the Trek MT 200 are quality Shimano Revo shifters. You only need to twist the shifter to engage a different gear. Nishiki Pueblo has the exact set of shifters from Shimano.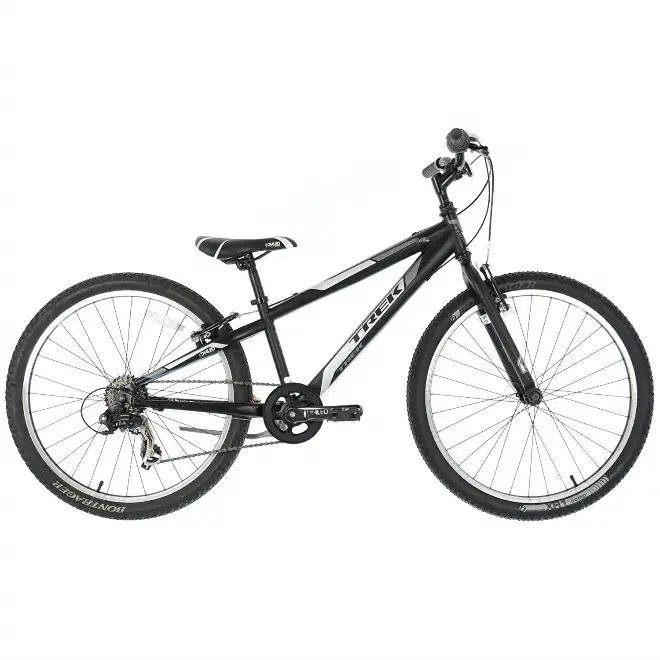 Trek MT 200 is a great bike to gift to a young boy who loves adventure. This bike comes in a high tensile steel frame with a dialed frame for great handling and comfort. The bike wheels boast of alloy front and rear hubs with 24-inch tires.
Whether your son loves to speed around the neighborhood or explore the forest nearby, this bike will serve him. A 7-speed drivetrain adds to his ability to ride through obstacles. Shimano Revo shifters make changing gears a breeze. This bike also features quality components. This ensures the bike's great performance of the bike as well as its longevity.
A Trek MT 200 is a great bike your kid will grow to love. It comes with a riser handlebar that encourages an upright riding position. The saddle is very comfortable and is adjustable to vary the stand-over height. Thanks to the step-thru frame design, you can start your kid on this bike even when they are 8 years old.
Pros
Strong durable frame
Step-thru design
Quality components
Cons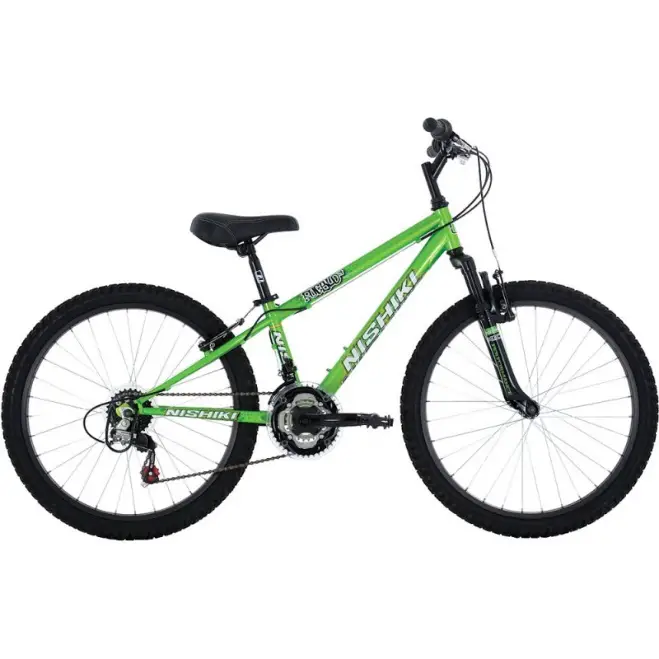 The Nishiki Pueblo bike is best enjoyed in the wilderness. This bike boasts of a steel frame that is tough to withstand rough riding. This frame is very durable and will last your son years of riding and mad fun.
Nishiki Pueblo bike comes with 24-inch rims and tires. The standard rim size for a professional mountain bike is 26 inches. 26-inch wheels improve control and stability of a mountain bike. 24-inch wheels are the kid-version of 26inch wheels. This means that your boy will always ride with confidence because he has full control of his bike.
Shimano Revo shifters make changing gears a walk in the park. A 7-speed drivetrain introduces your son to the complexity of mastering gears to vary the speed of his bike. This gear variation also helps your child ride through rough surfaces without breaking a sweat. The large rims ensure your child pedals less to go really fast.
Pros
Tough and durable frame
Shimano Revo twist shifters
Adjustable handlebar and saddle
Cons
Some components are poor quality
Conclusion
After letting my son test the Nishiki vs Trek bikes, one thing was clear for me. Picking a winner would be difficult because both bikes are the same product with different names. It all came down to the price tag being the determining factor. The Nishiki Pueblo bike took the prize for being cheaper for the same specs offered by the Trek MT 200. There is also great color variety in the Nishiki.
FAQ
How does Nishiki compare to other bike brands?
Nishiki make their bikes to suit the consumers budget. A high price tag will get you a Nishiki bike with premium components from brands like SRAM and Shimano.
How reliable are the new Nishiki bikes?
The older version of Nishiki bike have stronger frames and quality components. After the Nishiki brand got sold to Dicks Sporting Goods, the quality is not the same.
What bike size is right for my child?
A child aged 5 to 8 years will fit on a 16inch bike. children aged 6 to 10years will comfortably ride bikes ranging from 18 to 20 inches. Any child who is 9 years and above can ride a 24inch bike.
At what age should I buy a bike for my child?
Children can start riding bikes as early as 5 years. Start your kid on a balance bike to build their confidence for riding a bike.
Is a Steel bike heavy for my child?
Children aged 9 years and above can handle 33 lbs. steel frame bike. Let your child test-ride a bike first before buying it for them.