"I wish I'd waited a little longer."
How many times have you said these words to yourself? How many times have you made a purchase and ended up regretting your mistake as soon as the item is shipped to your door after you take it for its first test-drive, or after you see exactly what you thought you needed but couldn't see it until you completed the purchase of what you now know you didn't need?
I know I have. I have had so many of the 'Oh Sh*t!' and 'Oh Snap!' moments, and I've punished myself more than enough for my mistakes.
While I've had to live with some of these mistakes, I've had to sell one or two of these items, given away more items than I would have liked, but as you can imagine, I have a few items I cannot let go. The biggest lesson in all my mistakes, however, remains to be the fact that I do not want you or anyone else to make the mistakes I have made.
Can you imagine how hurtful it must feel about buying a bike only to find that you cannot have the best riding experience on the trails as you'd expected? Buying a bike that is supposedly the best only to find that there are better and maybe even cheaper options on the market?
Well, we all know that good bikes do not come cheap. So, whether you are planning to buy a bicycle for commutes or mountain cycling, or one for exhilarating adventures on the trails, or if you are getting a bike for your little one, you want to make sure that you know that the bike you've settled on could only be the best.
Today, we'll help you make the right choice. To do that, my focus is on one brand of bicycles, the Ozone 500 brand. As a biking enthusiast or someone who has recently learned developed a keen interest in biking, you've probably seen some Ozone bikes around. But is the brand and their bikes any good? Are they worth the hype?
Ozone 500 Bikes?
I have tried a few ozone bikes, and I have two in the garage, but we all know that what is good for me might not be that good for you.
So, to help you make the right decision, we'll take a deep dive into some of the Ozone bikes regarded as the best on the market. If you have been saving to get your son or yourself a road or a mountain bike, this review would be a good guide for you.
Comparison Table
| | | | | |
| --- | --- | --- | --- | --- |
| Bikes | Best For | Frame | Wheels | Brakes |
| | Best Urban Road Bike | Aluminum | 700C x 38c | Front Alloy Disc Brakes/ Rear V brakes |
| | Best High-Speed Mountain Bike | Steel | 26″ x 1.95″ wheels | Front & Rear V brakes |
| | Best Ozone 500 Road Bike | Steel | 700c x 25″ | Front & Rear Side Pull bikes |
| | Best bike for steep inclines and declines | Aluminum frame | 29" | Rear and front disc brakes |
| | Best Ozone 500 Mountain Bike | Aluminum | 29" x 2.3" tires | Disc brakes at front and rear |
| | Best Hardtail Mountain Bike | Aluminum frame | 29" | Disc brakes at front and rear |
Ozone Bikes Reviews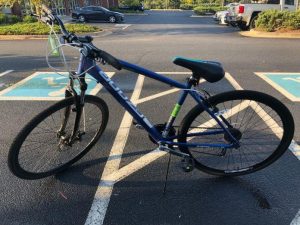 If you are looking for a good urban road bike to take around the neighborhood and the nice hidden spots that help you clear your head, then the Ozone 500 Urban Voyager might be a good option for you.
One of these urban voyager bikes is the Ozone 500 Adults' Urban Voyager 700c Bicycles, and it comes with all the bells and whistles.
Crafted with a high-quality and lightweight aluminum frame, this urban voyager bike by ozone could easily be the best investment you make, especially if you are looking for a simple, urban bike to explore the cityscapes with.
An ideal fit for adults thanks to its 275lbs maximum weight capacity, the bike is fitted with Shimano Rapid Fire shifters that come with rear and front derailleurs for the fastest shifting speeds.
Then it also comes with a reliable front shock fork, which ensures smoother rides on just about any terrain. You can also look forward to the most reliable, powerful, and safe stoppages thanks to the rear V-brakes and the front alloy disc brakes. The 700x38c wheels ensure the smoothest rides.
Pros
Smooth riding experience
The gears work elegantly
Good value for money
Cons
The seat might be a little uncomfortable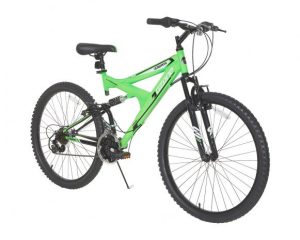 A look at the Ozone 500 Men's 26" Ultra Shock Force, 21-Sped mountain bicycle reveals that this could easily be the best investment you make for yourself. With options for kids and adults, this mountain bike offers everything you are looking for.
The dual suspension system that features a shock fork ensures better control and the smoothest rides. The frame is made of steel, which means more durability and power to handle the rough mountainous terrains, as well as road cycling.
Its rear and front V brakes promise the most reliable stoppage power, and with the alloy-rimmed 26"x1.95" wheels, the bike promises the smoothest possible rides. You might also like the quick-release seat, which enhances the bike's comfort. The rising handlebars further enhance the bike's comfort levels and its maneuverability.
The versatility of this bike is further enhanced by its Index, 21-speed derailleur, which has a Shimano drip shift, hence the smoothest shifting.
The frame size is 18 inches, it weighs 39.2lbs, it comes with a padded saddle, and the suspension forks are quite shock absorbent.
Pros
Inexpensive
Smooth riding
Suspension forks are shock absorbent
Takes on roads and rough terrains easily
Cons
A few complaints of the bike's parts falling off too soon after purchase
Assembly is rather complex
The seat is uncomfortable on long rides
It's not durable
Loose pedals a safety hazard
Ozone 500 HT700 Review (Ozone 500 HT700 700c 21-Speed Bike) -Best Ozone 500 Road Bike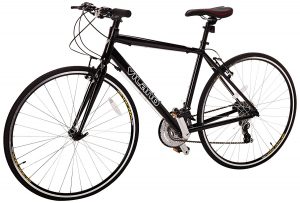 This is a 21-speed road bike that's ideal for commuting. It features a durable steel frame and also a steel fork, all build for durability. The wheels are 700cx25" and working with the Shimano 21-speed TZ30 derailleur; the bike promises the smoothest rides and easy shifting.
The handlebars are comfortable and road-specific, and it also comes with an integrated kickstand, which is a big win in my book.
The bike is 36lbs, and it's ideal for men and boys over 16 years.
Pros
The bike is affordable
It rides well
Sturdy steel build
The stem shifters work well
Good wheels
Cons
The braking could be better
It calls for a lot of repair and parts replacement in its lifetime, and it would be advisable that you only buy this bike if you plan on rebuilding or upgrading it to be better.
The men's Ozone 500 TZ 29 is a 21-speed bike made to provide the smoothest, most stable rides, thanks to its strong, but the lightweight aluminum frame, as well as its dual suspension system. The 21-speed shifter means that you will be able to easily navigate the steep inclines and descents, and with the side-pull brakes, stopping will be a lot easy.
It has a dual suspension system for good shock-absorption, and thanks to the rear and front disc brakes made with high-quality alloy brake levers, this bike will offer super smooth control and cycling experiences on different terrains.
The aluminum rims further enhance the low-weight, high-strength properties of this road bike. It has a maximum weight capacity of 300lbs.
Pros
Nice and sturdy build
It offers an excellent riding experience
Durable and lightweight aluminum construction
Cons
View Price on Amazon
Ozone 500 Bike Review – Best Ozone 500 Mountain Bike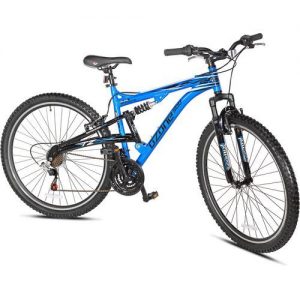 The Ozone 500 mountain bike is an affordable mountain bike fitted with a durable, but lightweight and sturdy aluminum frame. Its components are made of high-quality materials, and it also sports steel suspension forks and alloy rims.
The bike has big wheels, which is a great feature when it comes to mountain bikes because it means that you can build momentum fast, even with the most minimal amount of pedaling; compared to the smaller and nimble wheels which allow you to act quickly in tight spots.
The Ozone 500 wheels are 29" thick, a replacement for the thinner 26-inch and the 27.5-inch wheels. These 29-inch wheels will roll over some of the roughest terrains with ease and minimal scathing, which also means that you won't have to worry about avoiding ruts or rocks because these wheels will absorb all the shock.
The other feature that makes this Ozone mountain bike one of the good options on the market is its advanced suspension system. The frame's suspension system is reliable and makes the best match for you if you wish to test the grit of your 2-wheeled friend on grit and other rough terrains.
Since this bike lacks the suspension frames, it means that the bike will run smoothly on the roughest terrains, as the big 29-inch wheel offers more than enough shock absorption.
Thanks to the frame size and the design of this Ozone bike, it is an ideal fit for anyone over 14 years. The frame is also designed to ensure that the saddle stays low to keep your feet on the ground, and you might also like the bike's adjustable saddle.
The adjustable saddle means that the bike can accommodate your full height comfortably. And with the riser handle plus that lowered saddle, you get to ride in an upright position, protecting your arms and back from fatigue.
You might also like the bike's 21-speed Shimano drivetrain, which offers more gearing power and variety, hence ease of riding on some of the toughest terrains. The twist shifters on the handlebar mean easy shifting of gears, and you get to keep your eyes peeled on the road ahead.
Pros
The large wheels will cushion you from the extra bumpy rides, and the size of the wheels make up for the absence of suspension forks on the frame.
It's sturdy but lightweight
High-quality components
Good riding experience on rough-patched terrains
Cons
No front/ rear suspension system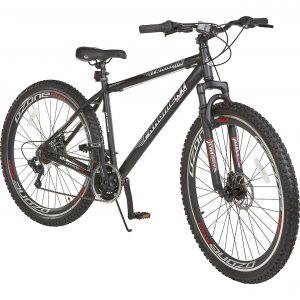 This Ozone Fragment 2900 will be a good option for you if you are looking for a reliable hardtail mountaineering bike.
This bike is designed to give you an extra level of confidence, allowing you to take on trails with ease. It's quite affordable, and it allows for easier cruises on trails thanks to the durable aluminum frame.
It also sports knobby and sturdy tires, which are mounted on the bike's alloy rims, hence easy rides along some of your favorite paths and routes.
Its rear and front disc brakes have been outfitted with alloy brake levers for even more powerful stopping. Then you have the front and the rear derailleurs by Shimano to offer even smoother rides and more reliable performances.
This mountain bike has a 29-inch and steel-bead black wall made of nylon, and wobbly ties with 29" alloy rims that have steel spokes, all designed to boost the power of this hardtail mountain bike. It also comes with a steel-TIG-welded fork for more shock-absorbing power.
Comfort in riding this bike comes from the 24-inch wide and sturdy steel riser handlebars, as well as the nylon-covered seat, which has an alloy seat binder, a sturdy steel post, and an integrated steel clamp. It also comes with a mount for your water bottle.
Pros
Super-affordable
Ideal bike for beginners
The disc brakes are reliable
It has a sturdy, lightweight aluminum frame
Major parts made of steel which is strong
Cons
The front forks have a short travel
Parts are not very durable
FAQs
Is Ozone 500 A Good Bike Brand?
The range of Ozone 500 bikes is durable and well-crafted to handle a wide range of terrains. The brand is a good option for you if you are looking for the most affordable beginner-level bikes on the market. The bikes and the parts will not last forever, though.
Most of the Ozone 500 bikes have a 21-speed drivetrain, good stability, and they are ideal for most roads and terrains.
Where Can I Buy Zone Bike Parts?
I recommend getting parts for your Ozone bike from Amazon because this giant online retailer has pretty much everything you might want.
Check out https://www.amazon.com/bike-components-and-parts
What Size Bike Do I Need?
Generally, the sizing of bikes will differ depending on your height, inseam height, type of bike, and your overall preferences. Your height is, however, the most important consideration.
Conclusion
Ozone 500 bikes might not be the most popular bikes on the market, but it is a good brand with a nice product category. But unlike some of the high-end brands, you may be thinking about saving the big bucks for, Ozone bikes are quite affordable, and I think the brand makes some of the cheapest bikes, which also means that brand would be a great option for you if you are looking for affordable beginner bikes.