Comfort is a key element of ride quality. What one rider considers minor, acceptable discomfort may be unacceptable to another. This Raleigh vs. Trek review examines two bikes to help you determine which one suits you best.
I stopped riding because I couldn't find a bike I felt comfortable on. Now I'm considering taking it up again. I need a comfortable bike I can confidently take out for long rides without returning home with back, neck and arm aches.
What are the differences between Raleigh and Trek? How do they compare?
| | | |
| --- | --- | --- |
| Model | Raleigh Detour 2 | Trek Crockett 5 Disc |
| Brakes | Promax Alloy V-Brake | TRP Spyre mechanical disc |
| Stem | Alloy Quill | Bontrager Elite, 31.8mm, 7 degree, with light mounts |
| Seat Post | Alloy Micro Adjust 27.2x300mm | Bontrager, 2-bolt head, 27.2mm, 8mm offset |
| | | |
Raleigh vs. Trek – A Detailed Comparison
Handlebars
The Raleigh comes with Steel 50mm Rise x 630mm flat bars while the Trek has Bontrager Comp VR-C, 31.8mm drop bars. Advantages of drop bars are that they give you a wider variety of hand positions as you ride. You can place your hands on the bars, on the hoods, and in the drops. Drop bars are also more aerodynamic, helping to save you pedaling energy. Your crouched position on a bike with drop bars helps to cut through the wind. The downside of drop bars is that they make changing cables a lot more difficult than in flat bar bikes. When you need to access your brake or shifter cables for replacement, the bar tape must be removed and replaced.
Rack and Fender-Readiness
The Raleigh is made with a rack and fender- ready aluminum fork. This means it has eyelets which you can use to attach a rack or fenders. A rack is a frame or any added device used to carry luggage. This material makes it strong enough to hold the weight of luggage while still keeping the overall weight of the bike low. Fenders are extra parts of the bike which frame the wheel. Their function is to prevent rocks, sand or mud from being flung into the air when the bike is moving.
The Trek does not come rack and fender-ready.
Shifters
The Raleigh has Shimano Rapid Fire Plus 8 Speed trigger shifters. These offer 24 gear options. The Trek comes with SRAM Rival 1 shifters which give 11 gear options. A wider range of gears to choose from in different situations is something many riders appreciate.
Wheels
Raleighs are fitted with large Weinmann QR17 Double Wall rims and narrow Arisun Metro Cruiser, 700x40c tires. The tires have the added advantage of Puncture Protection. This allows efficient commuting and city riding, over long distances.
Trek's bike has Bontrager Affinity Tubeless Ready disc rims and Bontrager CX3 Team Issue, 120tpi, aramid bead, 700x32c tires. This combination gives puncture resistance, increased cushioning and better grip. These resultant features make the Trek more suited for off-road riding.
Raleigh Review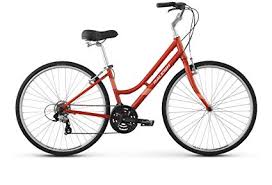 The Raleigh Detour 2 is a comfort bike. It is made with comfort and functionality as top user priorities. It has a company specific Raleigh Comfort saddle and Raleigh Comfort grips. You can ride this bike in an upright position which is preferred for riders who are keener on comfort than speed. It also comes with Raleigh PC Urban no-slip pedals with traction tape. This tape increases friction between your shoe and the pedal to avoid slipping.
Pros
Lightweight
Sturdy
Easy to assemble
Cons
Heavy comfort seat
Problematic gear shifting
 
Trek Review


Trek's Crockett 5 Disc bike is a cyclocross bike built to compete. It is has a 300 Series Alpha Aluminum frame. This metal makes it light enough to carry over barriers which are characteristic of cyclocross competitions, and strong enough to brave the varied terrains. The Stranglehold Dropout allows you to dial in your geometry or convert to single speed with relative ease. Cabling on this bike is done internally. The primary benefit of this is cosmetic though internally routed cables are less likely to suffer damage when the bike is in use. Front and rear thru-axles give you increased precision in handling and more efficient braking.
Pros
Easy handling
Internal cable routing
Front and rear thru-axles
Cons
 
Final Thoughts
Comfort is an important part of ride quality. What some riders consider inconsequential discomforts while riding are considered totally intolerable by others. The Raleigh Detour 2 carries the day because it allows you to ride relatively long distances in comfort. Its Comfort saddle has extra padding to prevent numbness which is common after riding for long distances. Flat handlebars allow you to ride in an upright position which is more comfortable than with a drop bar bike. The Trek bike is ideal for cyclocross racing. The Trek's tubeless ready rims and carbon fork confirm that it is designed for speed and the varied terrains of cyclocross competitions. This Raleigh vs. Trek comparison confirms that it offers the target market more features than required.
FAQ
What does Raleigh mean?
Raleigh was originally a boy's name used in Old English times. It means "roe deer's meadow". In later years, it has also been used as a girl's name. It is pronounced as RAH- lee.
What is a grifter bike?
The grifter model of Raleigh bikes was a children's model made and marketed by the Raleigh Bicycle Company of Nottingham, England in the late seventies and early eighties.
Can I ride my mountain bike on the road?
Mountain bikes do well on a wide range of surfaces. If you are going to take your mountain bike on paved roads, be ready for some slightly more difficult pedaling and a decrease in speed.
Does Trek own Bontrager?
Trek Bicycle Corporation is a manufacturer of bicycles and cycling products with its headquarters in Waterloo, Wisconsin, USA. It operates under brand names Trek, Villiger Bikes, Electra Bicycle Company, Bontrager, Diamant Bikes, LeMond Racing Cycles and Gary Fisher.
How do I maintain my bike?
There are lots of processes which are considered maintenance. Some you can do yourself and others require a professional and specific tools. The top 5 basic maintenance processes are 1. Keeping the bike clean, 2. Keeping tires inflated, 3. Replacing worn out brake pads, 4. Silencing squeaky brakes by cleaning dirty wheel rims and tightening sagging brakes.