Rarely do you see different specialty bikes compared or talked about in the same breath. Today we become pioneers by having a Roadmaster vs Caprice detailed conversation. We pit a mountain bike against a town bike, want to see who wins? Read on to find out.
In my years as an avid rider, I have come across all types of people, whether in traffic, on the pavements or at the park. Some people do not bother to move or give way, others stare for a short while and get back to their business, others dare to walk over and talk to me.
I get all types of questions, some are plain awkward and others make sense. Questions like, how do I keep my bum from getting sore, how to ride without experiencing fatigue or which the best bike is for off-road trails and so on. I try my best to answer as politely as I can having had lots of practice as most of these questions are repeated.
But one question caught me off guard recently. 'What is the difference between a town bike and a mountain bike'? Save for the obvious, there's not much I could come up with for an answer. And so I got to researching. Here's a detailed Roadmaster vs Caprice review and more on what I now know about mountain bikes and town bikes.
What are the main differences between the Roadmaster mountain bike and the Caprice town bike?
| | | |
| --- | --- | --- |
| Model | Roadmaster Mountain bike | Caprice Town bike |
| Frame material | Steel | Steel |
| Gears | 18 speed | 3 speed |
| wheels | 26 Inch | 16 Inch |
| Brakes | Linear pull brakes | V brakes |
| | | |
Roadmaster vs Caprice what are the differences in detail?
Frame material
The Roadmaster Mountain bike frame is made of a straight steel and helps to securely hold the bike together. The caprice town bike comes designed in a classic shape featuring two steel tubes running from the handlebar slanting downwards to the rear making up the frame.
Steel is a good choice for both of these bikes because it is strong and durable. Plus while the mountain bike is designed for endurance, the town bike is made more for cruising around for short rides. These are both outdoor purposes that require strong frames.
Gears
The Roadmaster mountain bike has an 18-speed gear that has a wide array of options to keep you going irrespective of harsh weather, rough terrain, and long distances.
The Caprice town bike comes with a 3-speed gear which if you ask me is more than enough for this bike. Many bring out this bike, during light showers or sunny weather, when they want to ride on paved roads and only go for short rides. This eliminates the need for many gears.
Wheels
Mountain biking requires thicker and larger wheels. Why? Well, you need all the support you can get on such challenging trails, right? This is why the Roadmaster mountain bike comes fitted with strong 26 Inch wheels.
The caprice beauty, on the other hand, is fitted with 16-inch wheels. They are easy to roll on flat surfaces like asphalt or paved roads and are durable giving you years of service even with daily use.
Brakes
The Roadmaster mountain bike comes fully equipped with linear pull brakes and the Caprice town bike comes fitted with V brakes. Linear pull brakes work pretty much the same as V brakes, in fact, they are the same. They work by grabbing on to the rim each time you engage the hand brake levers.
This type of brakes are very effective for both town bikes and mountain bikes. They are durable and are preferred for bikes that aren't meant to go at insanely high speeds.
Roadmaster vs Caprice bike reviews
Roadmaster mountain bike reviews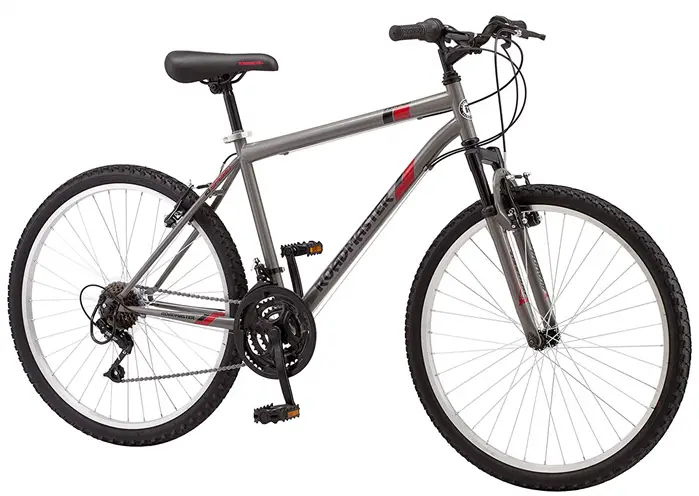 A bike that has proven to have all the strength needed to tough out all challenges and conditions that are characteristic of off-road trails. With a frame made of strong steel, high-quality gears and durable large wheels with alloy rims, what more could you ask for on a mountain bike?
Such a bike is meant for the fearless, daring off-road rider, eager to know what lies beyond and to test just how far their bikes can go. With sturdy wheels, 18-speed gear, linear pull brakes and the looks to back, it will be ages before you get used to having this bike.
Pros
Strong and durable steel frame
18-speed gear
Con
Linear pull brakes may limit this bike to off-road riding only during sunny weather as they do not work well during rainy weather when the trails are muddy.
 
Caprice Town bike review


The first time I saw this bike I thought I was part of a classic movie. But turns out Caprice town bikes are quite common especially in towns and posh neighborhoods. The classic design and vibrant color patterns are deliberately meant to appeal to the female audience, a trick that has worked surprisingly well. This bike has a wide, comfortable saddle and a low curved frame for easy access. A town bike that can last for decades needing minimal service thanks to its high-quality frame and parts.
Pros
Strong and durable steel frame
Unique classic design and geometry
Con
Owing to its feminine looks, this bike is reserved more for women than men
 
Final say
Being an off-road fanatic, I am inclined to choose the Roadmaster mountain bike as my best choice. A superb bike for all riders, beginner or experienced. This Roadmaster vs Caprice review goes to show that classic bikes have so much more to give to the laid bike riders and are certainly are here to stay.
Frequently Asked Questions
Is the Caprice town bike better for commuting as well as general use?
The Caprice town bike is made to move you from one place to another as a casual yet necessary means of transportation. Seen in most towns in countries all over the world, town bikes are built not for speed but for short distance rides and commutes, whether to work, to the farmers market, park or shop for instance.
What are the major differences between the caprice town bike and the trek road bike?
Some notable differences that you'll see on the Trek road bikes are that they are much faster, have thinner tires and more gear options compared to the Caprice town bike. Also, the Trek road bike is designed to weigh lighter than the Caprice town bike.
How fast is the caprice town bike in comparison to the Roadmaster mountain bike?
Assuming both bikes are on level ground, the Caprice town bike has an average speed of 9.6 miles per hour while The Roadmaster bike can cover an average speed of 25 miles per hour.
Is the caprice town bike a good fitness bike?
Bike riding, whether recreational or competitive, can effectively help you keep fit and lose excess weight. Riding engages all the muscles of your body and it is this kind of activity that helps burn calories. This makes any bike including Caprice a good fitness bike.
Are mountain bikes gender unspecific?
All mountain bikes are designed the same. However, you will notice that they have allowances that enable female riders to adjust in order to fit. For example, a female rider can move the seat higher and closer to the handlebars making it easier to accelerate and gain better access to the brakes with their smaller hands.