The Roadmaster and Electra are two bike brands known for their masterpiece motorbikes. With so many options available, it can be tricky to arrive at just one bike. So to help you out with this, here is a detailed Roadmaster vs Electra glide review.
One common thing I couldn't help noticing is that everyone always seems to be in a hurry to head somewhere. Seeing as most cities were built with roads for cars no one can get too far with all the traffic especially during peak hours.
As a result, people have thought out new ways to commute more efficiently by turning away from cars. One of the most effective means and a favorite for me is by motorbike. I must admit that more often than not motorbikes have come to my rescue more times than I can count.
I have arrived on time to meetings I know I wouldn't have had the chance to make it to on time if I was using any other means. So without any further ado, here's a closer look at two of my favorite bikes, the Roadmaster vs Electra Glide.
What are the main differences and similarities between the Electra Glide and the Indian Roadmaster?
| | | |
| --- | --- | --- |
| Model | Indian Roadmaster | Electra Glide |
| Engine capacity | 1811cc v-twin engine | 1690cc v-twin engine |
| Gears | 6 speed | 6 speed |
| Brake type | Dual disc-front, disc-rear | Twin discs-front disc brake- rear |
| | | |
Roadmaster vs Electra Glide motorbike-How do these two compare?
Engine capacity
A motorbike with lower engine capacity consumes less fuel but falls short in regard to how powerful it is. The Indian Roadmaster is a cruiser bike that comes with an 1811cc v-twin engine to take you much further and faster than other lower capacity motorbikes.
The Electra glide alternatively has 1690cc V-twin engine capacity. At a slightly lower capacity than its counterpart above, this bike may be better for those guys who want to save up on some fuel and who do not need too much power on a bike to move around.
Gears
Are you that experienced rider looking for a powerful, fast machine to cruise around cities with? How about the Indian Roadmaster motorbike or the Electra Glide? With up to 6 speeds, you will be snaking through traffic and swishing past buildings and trees in mind-blowing speeds or in elegant slower cruising speeds.
What makes these two bikes stand far apart from other bikes you see in the market is that they have effective transmissions. A simple shift of the lever will move shifting forks found in the transmission to engage the selected speed, all in a fraction of a second.
Brake type
There are two types of brakes that you can find on a motorbike. Drum brakes or disc brakes. Older-fashioned bikes use drum brakes while modern bikes use disc brakes. Disc brakes are more improved versions of drum brakes and are considered way more effective. The only shortcoming about disc brakes is that owing to consistent braking, the brake pads quickly tear and wear off.
Because of this, you may have to get the brake pads replaced frequently for the brakes to operate normally. Both The Indian Roadmaster and the Electra glide come fitted with dual disc brakes on the front wheel and single disc brakes on the rear wheel for enhanced stopping and slowing power irrespective of how smooth or rough the terrain is.
Roadmaster vs Electra glide quick reviews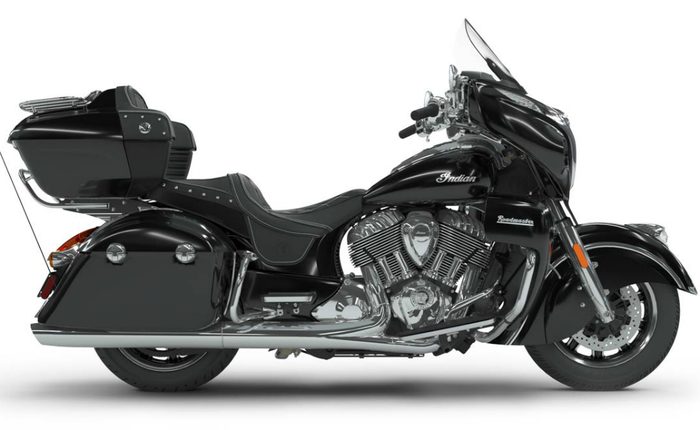 If you are looking for luxurious yet powerful machine that's easy on the eye but a beast on the road, then look no further, the Indian Roadmaster is the bike you are looking for. It comes in different glossy colors to attract the right kind of attention. It has a powerful 1811cc engine designed with two cylinders each with four valves for enhanced performance. It has a fuel capacity of 20.8 liters and a mileage of 15Kmpl.
Disc brakes on both wheels mean your braking power will not be limited by weather whether you are riding on a rough road, a paved road, uphill or downhill. Afraid it's too dark to see well outside? Well, no need to worry, this bike has wide coverage LED lights bright enough to not only allow you to see far ahead in the dark but also makes it possible for other road users to see you.
Pros
Heated leather seats for enhanced comfort
Bright LED lights for improved visibility
Con
Disc brake paddings need to be replaced often because they wear quickly.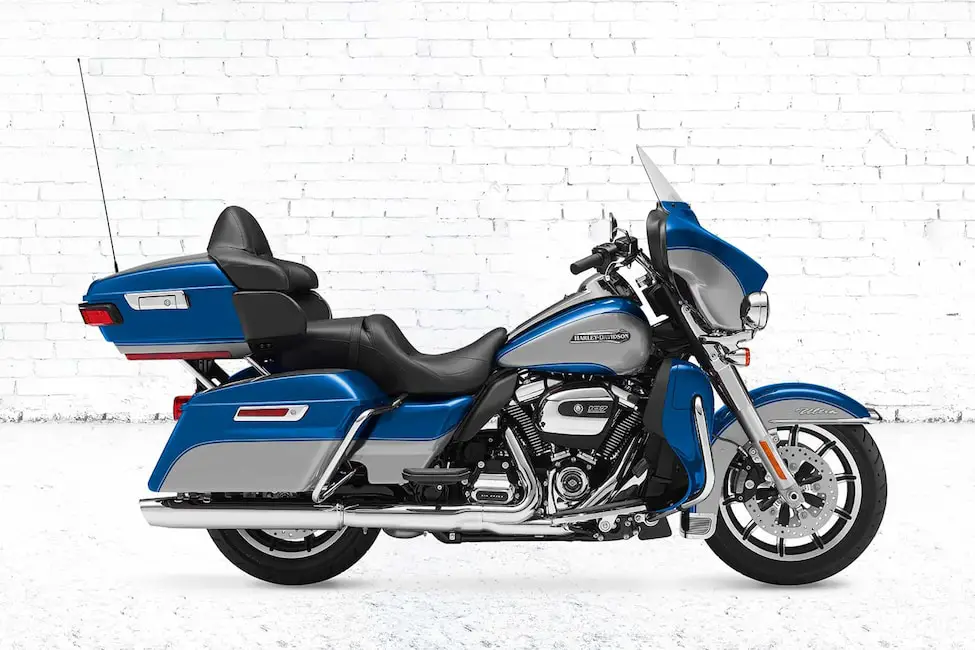 If you didn't know your motorbikes you'd have no idea what the difference is just by looking at the older Harley Davidson Electra Glide and the newer classic version. The focus wasn't so much to change its looks as much as it was on enhancing various internal and external components of the bike.
For example, you will notice that the Harley Davidson Electra Glide classic has bigger headlights, and a higher capacity engine compared to the older motorbike. Other impressive features include two disc brakes on the front wheel and a single disc brake on the rear wheel. What I love more is how digitalized and modern this bike is. It has a better-looking switchgear, Bluetooth, standard clock, inbuilt Satnav, stereo and mp3 link and so much more.
Pros
Easy to ride
Digitalized features and controls
Con
This bike's engine capacity rendering it less powerful than what an experienced rider would be looking for.
Conclusion
Overall, I have come to find that the Harley Davidson Electra glide bike very easy to ride. Its controls are pretty obvious and features less intimidating. After weighing my options, I have decided that the Roadmaster bike is my best bet and my number one choice. This comprehensive Roadmaster vs Electra glide review includes everything you need make an informed decision at the point of purchase.
Frequently Asked Questions
How does the Indian Roadmaster compare to the Honda Goldwing?
The Indian Roadmaster is powered by an 1811cc engine while the Honda Goldwing has an 1833 cc engine. The Indian Roadmaster has a 20 Kilometers per liter in mileage but it is not clear what the mileage is for The Honda Goldwing.
What is the price of an Indian Roadmaster motorbike?
There's no sure way to tell exactly how much the bike would sell for. It all depends on whether the bike is used or brand new, and whether you are buying online or in an actual shop, among other reasons.
How does the Indian Roadmaster differ from the Electra Glide?
The Indian Roadmaster has an average mileage of 34 miles per gallon, 103 miles per hour top speed and self-start/keyless ignition. The Electra glide alternatively has a mileage of 36 miles per gallon, switch ignition, smooth crisp finishing and a top speed of 110 miles per hour.
Where can I get a used Indian Roadmaster motorbike that's in good condition?
There are numerous credible dealers of used and new Roadmaster motorbikes both online and in bike shops. On condition that you are experienced with bikes and are aware of the features, you are looking for there's little chance for you to make an uninformed buy.
How does the Electra Glide and the Indian Roadmaster compare in performance?
It all narrows down to engine capacity, fuel consumption, and speed. Going by the numbers, the Electra Glide has a 1690cc engine, 36mpg in mileage and 110 mph top speed. Alternatively, the Indian Roadmaster has an 1811cc engine, 34mpg in mileage and a top speed of 103 mph. This makes the Electra glide a better performer.