Mountain bikes look very different from other bikes, they have sharper edges and a rough appearance. To help you discern two of the most common mountain bikes in the market, here' a detailed Roadmaster vs Huffy mountain bike review.
Caught between cycling for fun and cycling for fitness, one thing was clear, I loved riding bikes. Why I loved it, is something I haven't quite yet figured out. Sometimes, I just need to get somewhere fast, other times, I just want to breathe some fresh air.
I noticed that my poor eating habits and lack of exercise have started to manifest. My belly is no longer as flat as it used to be. What used to be a washboard mid-section now looks more like pieces of dough stacked on top of each other. Something that my younger siblings are ever quick to point out.
So, in a bid to do better and look better, I decided to take my riding seriously once again. According to research, aggressive riding is a faster way to get me to burn even more calories than ordinary cycling. Only one kind of bike came to mind, Mountain bikes. Good thing I live close to the Canyon Park.
After trying out several bikes, here's a detailed Roadmaster vs Huffy mountain bike detailed review for you.
| | | |
| --- | --- | --- |
| Model | Roadmaster Mountain bike | Huffy Mountain bike |
| Frame material | Steel | Steel |
| Gears | 18 speed | 18 speed |
| Brake | Linear pull | Linear pull |
| Wheel | 26 Inch | 26 Inch |
| | | |
Roadmaster vs Huffy Mountain Bike comparison
Frame material
While some use mountain bikes to enjoy a little bit of adventure in the outskirts of town, others use this bike for around town fitness riding on unpaved roads. Whichever way you choose to use your mountain bike, one thing is going to be paramount; is it going to tough out vigorous riding? Is it durable enough?
Well, I have got the best news, the Roadmaster and Huffy mountain bikes are both made of tough, durable steel frames.
Gears
Is it strong enough to climb the steepest hills, hold my weight and go as fast or as slow as I want it to? Gears work to help you the rider, control the bike to suit your needs and wants at a particular point when riding. Good gears do not hesitate, they instead shift seamlessly.
This is what the Roadmaster and Huffy mountain bikes promise to do for you. Both bikes are equipped with 18-speed gears which is enough power and speed for different surfaces.
Brake
If you are looking for a bike that fits well within your budget, you want a mountain bike with good brakes. Brakes efficient enough to stop the bike upon emergencies. Brakes are to thank for helping you control your pace, especially when riding on muddy slippery trails or trails with coarse sand. What's more, brakes help prevent accidents.
The Roadmaster and Huffy mountain bikes are both designed with linear pull brakes. For mountain riding, these type of brakes have been found to be increasingly effective compared to other brake types.
Wheel
It helps that mountain bike wheels are wide enough, strong enough and that the tires have enough traction. This means that the bike is able to cover more ground with each wheel spin, can resist bending or weakening in the event you hit a rock or a hard surface and doesn't get stuck in the mud.
These two high-performance bikes both come equipped with high quality 26 Inch alloy rim wheels. Now you can focus on your journey without the wondering whether or not the rough trails are too much for your bike to handle.
Roadmaster vs Huffy mountain bike quick review
Roadmaster mountain bike review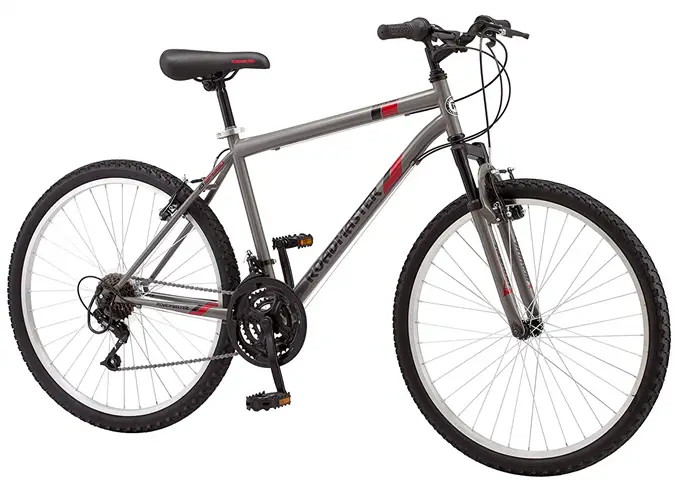 While this bike falls short for pro mountain cyclists, it easily takes first place for casual riders and beginners. It has been built using high-quality and affordable parts. If you want an efficient, durable mountain bike that you won't have to store in your garage after incurring damage barely months after purchasing, the Roadmaster Mountain bike is worth your while.
Designed with a high suspension fork to help with shock absorption, you are guaranteed smooth rides even when riding on dusty, rocky trails.
Pros
Solid steel frame
Quality wheels for all weather riding
Con
I found this bike's saddle to be quite uncomfortable for long rides
 
Huffy mountain bike review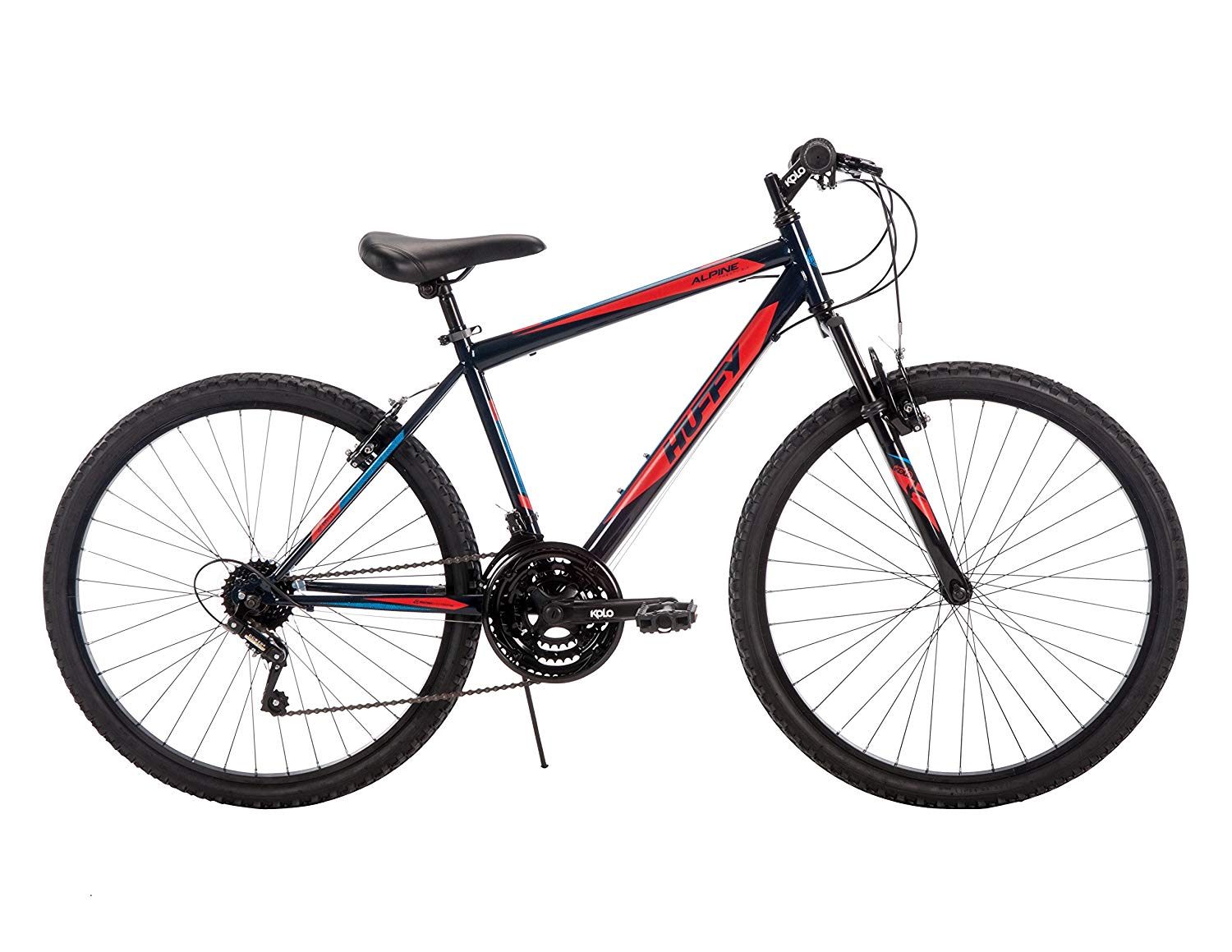 Contrary to popular belief, mountain riders aren't suckers for speed. It is more about how efficient and how comfortable the bike is. Comfort and efficiency is what this Huffy mountain bike promises to offer you. Thanks to its strong steel frame, this bike can accommodate heavy riders. Plus, it has potential to remain intact through mind-blowing stunts that may have other bikes falling apart instantly.
With high-quality gears and shifters, you can rest assured that you're always in control. Mechanical shocks mean bumps are barely noticeable and that you have smooth rides from start to finish.
Pros
Convenient mechanical shock absorbers
Linear pull brakes for optimum control
Con
Beginner riders may find this bike to be slightly unstable
 
Conclusion
It is surprising how two bikes from two different brands can have the exact same qualities. From top to bottom, it is impossible to identify the difference between these two mountain bikes. But as soon as you hop on and ride one, you'll start to see and feel that they are, after all, not the same. It was for me a Roadmaster vs Huffy mountain bike cutthroat race. But when it came down to comfort and endurance, the Huffy mountain bike remains my best choice.
Frequently asked questions
What are the mental and physical qualities you need to have to be a pro mountain bike rider?
Generally, you need to be healthy. You also need balance, confidence, core strength, and basic bike handling skills. This is what it takes to successfully tackle sharp bends, and steep slopes on rough trails to eventually become a pro rider.
Is the Huffy mountain bike good for commuting?
A mountain bike may be slower and harder to pedal on smooth paved roads as opposed to rough roads but they make really good commuter bikes. This is because they have a comfortable upright riding position and low gears.
What essentials do I need to carry when going for a ride on my Roadmaster mountain bike?
This can only be dictated by how long or short the ride will be. For long rides, must have essentials include, chain lube, tire pump, patch kit, water, snacks, and lip balm.
How hard is it to ride my huffy mountain bike off road?
It all depends on the nature of the trail, some trails are flat, others have sharp bends, steep hills and slopes. The more regular the trail is, the easier the ride will be, the more irregular the train is the harder the ride will be.