Save for very little, all Mountain bikes look the same. But how can you tell the difference between one mountain bike and the other? Here's a detailed Roadmaster vs Mongoose Mountain bike demystifying run down just for you;
The outdoors is where I feel the most peaceful. I love how every day brings with it new challenges, no two days are ever really the same. This is a fact that never ceases to intrigue me. Probably explains why I love bikes so much.
As an off-road rider, I want to know that when I get on to a bike, it won't suddenly break down on me. Most mountain bikes are supposed to be strong enough to handle any form of aggressive riding. Something that I have come to find is not so true for most of these bikes. So here's a detailed Roadmaster vs Mongoose Mountain bike review.
What are the major differences between Roadmaster and Mongoose bikes?
| | | |
| --- | --- | --- |
| Model | Roadmaster | Mongoose |
| Frame material | Steel | Aluminum |
| Brakes | Linear pull brakes | Front and rear |
| wheels | 26 inch | 29 Inch |
| Gears | 18 speed | 21 speed |
| | | |
Roadmaster vs Mongoose, How do these two compare?
Frame material
A stable sturdy frame is what a good mountain bike should be made of. This is the main part of the bike expected to bear the most weight and at the same time hold all other parts of the bike together. The Roadmaster mountain bike has a strong steel frame that is able to withstand anything.
It is expected that mountain riding comes with an unlimited number of wrecks from landing on to rocky ground, impact from falling. This bike is ready to take any challenge head-on. This is why the Mongoose mountain bike's frame is made of durable Aluminum material.
Gear
Gears are your surest bet to staying in control throughout. With unpredictable weather and rough terrain, it is impossible to tell what challenges lay ahead. The Roadmaster Mountain bike comes with an 18-speed gear and twist shifters that facilitate seamless changing of gears.
The Mongoose mountain bike alternatively comes fitted with a 21-speed gear. This means more options and hence better control over a wide array of surfaces.
Wheels
Beginner riders tend to need more balance and control when riding on off-road trails. More than anything, wheels are the most fundamental part of a mountain bike. This is why the Roadmaster mountain bike is fitted with 26 Inch wheels.
The Mongoose mountain bike is built with enough space to fit 29 Inch wheels. Bigger wheels mean better support and more ground coverage which gets you to the finish line much faster.
Brakes
Built to give you even more control, the Roadmaster bike is designed with linear brakes. This type of brakes are favored for their superior effectiveness compared to other brake systems.
The Mongoose mountain bike is fitted with front and rear brakes, which are good but may come with some unattractive limitations. This especially when riding on muddy roads. Here they tend to struggle and may hesitate or fail to properly engage.
Roadmaster vs Mongoose mountain bike short reviews
Roadmaster mountain bike review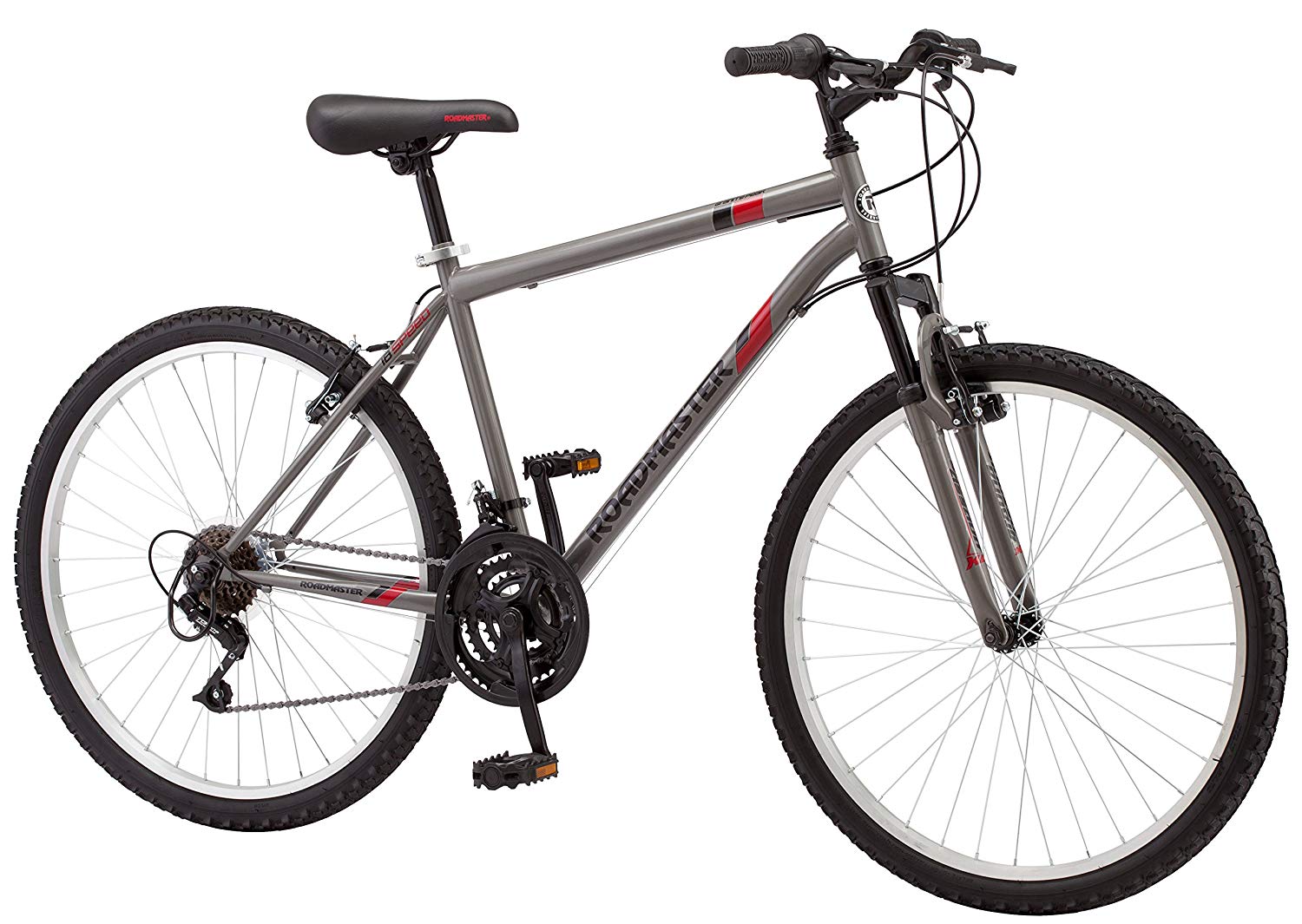 This bike has gone through rigorous computerized stress tests to make sure it has there's little to no chance of it falling short of the required standards. From the outer appearance to its innermost operating systems. I was instantly taken by the Roadmaster mountain bike. It has an efficient 18-speed gear system, linear pull/rim brakes, alloy rims, and a steel frame, to mention but a few features.
This combined with wide 26 inch wheels built with enough traction to grab on to coarse sand with each spin, you are set to make it your way to the finish line in no time.
Pros
Strong steel frame
Smooth rides even on very rough surfaces
Con
Steel frames may prove too heavy especially for new riders
 
Mongoose review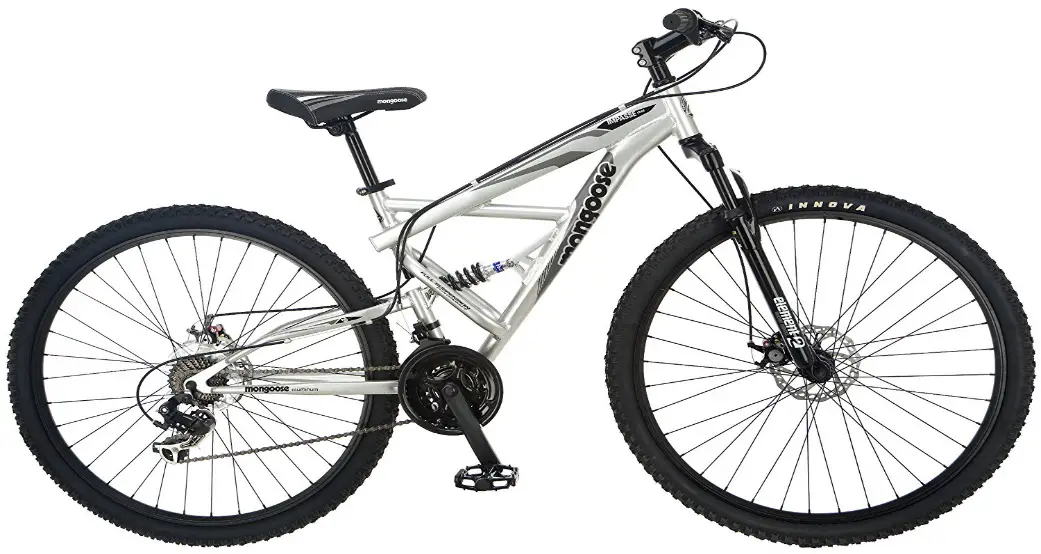 What likens me most to this bike is that safety has been prioritized. The Aluminum frame is light but yet strong enough to stay resistant in case of an accident. Front and rear brakes give you utmost control over your bikes which comes in very handy when going down a steep slope. If you are looking for an affordable bike that has all the necessary qualities to perform. Then the Mongoose mountain bike is what you are looking for.
With a 21 speed gear, this bike has the latest shifters which help to easily engage. Moving from one speed to another has never been so seamless.
Pros
Has a lightweight, durable Aluminum frame
Stable, 29 Inch wheels
Con
This bike's simple systems make it ideal for beginner riders as opposed to experienced riders
 
Conclusion
These two bikes stand out in a long list of mountain bikes. It is very easy to see why the Roadmaster Mountain bike is the best choice for me as is the case for most riders. That's if it's quality parts, smooth ride, powerful gear, and good looks are anything to go by.
The mongoose bike is not too bad. It has some outstanding features that make it a close, viable competitor to the Roadmaster bike. The Mongoose mountain bike has the highest safety features and is reserved more for those riders who haven't yet mastered their skill and are looking for a simple bike to help them along the way.
Frequently Asked Questions
Is the Roadmaster faster than the Mongoose mountain bike?
Mountain bikes are made for endurance. They are made of much heavier frame materials and have significantly more wheel resistance than other bikes. Road bikes, on the other hand, are lighter, and your riding position is more aerodynamic taking you further, faster.
Is the mongoose bike a good quality bike?
The mongoose bike has an aluminum frame. This gives it desirable strength and durability to make this a good quality bike.
Are mountain bikes reliable for short rides or long rides?
Mountain bikes come with different features that make them great off road long distance and short distance bikes. They have thicker tires with more tread than normal tires. They have a flat handlebar and a high saddle to enhance correct posture on rough, bumpy terrain.
What other alternative bikes are there to the Roadmaster?
The Diamondback and Huffy bikes are the main alternatives riders prefer to the Roadmaster bikes. They are favorably priced and just as efficient.
Mongoose vs Trek which one is better?
In regards to durability and ability to maneuver through different terrains, the Trek bike wins. However, if you want a simple bike to do your usual rounds or cruise around in college, the Mongoose bike is not too bad.