Mountain bikes are as strong and versatile as bikes come. The Roadmaster and Schwinn are pack leaders and for a long time have been the go-to bikes for serious off-road riders. Want to know more about these two? Here's a closer look into Roadmaster vs Schwinn mountain bikes.
With a strict budget to stick to, I really wanted a good off-road bike. At least one that is as good as my money could get me. All bike shops I entered, I realized two things, the bike I wanted was either way above my price range or did not meet my minimum requirements.
I am never one to give up or just take one man's word, so I visited as many bike shops as I possibly could. Seeking advice from some close friends also helped me faster narrow down to two of the few bikes that pleased me the most. The Roadmaster and Schwinn Mountain bikes.
Read on to see what I was able to find out about these two bikes in this detailed Roadmaster vs Schwinn road bikes review.
| | | |
| --- | --- | --- |
| Model | Roadmaster | Schwinn |
| Frame material | Steel | Steel |
| Brakes | Linear pull brakes | Disc brake and linear pull brakes |
| Gears | 18 speed | 21 speed |
| Wheel size | 26 Inch, Alloy rims | 26 Inch, Alloy rims |
| | | |
Roadmaster vs Schwinn road bikes quick roundup
Frame material
Steel frames are preferred for mountain bikes for their unparalleled qualities over other frame materials. Steel frames are strong, they are durable and they come at a cheap price. Steel frame may be slightly heavier compared to bike frames made out of different material. But for rough trails, steel is the one material that's well able to withstand all kinds of accidents or aggressive riding.
Both the Roadmaster and Schwinn mountain bikes have frames made out of steel.
Brakes
Sharp bends, rough terrain, steep slopes, and unexpected bumps are all characteristic of off-road riding. This is why it takes the strongest, most reliable brakes, to keep you always in control of your pace. The Roadmaster mountain bike has linear pull brakes on the front and rear wheels.
The Schwinn bike, on the other hand, comes with a unique braking system combination. It has disc brakes installed on the front wheel and linear pull brakes at the rear wheel. This is a good combination that you can rely on especially upon encountering emergencies.
Wheels
Mountain bikes need large sized, thick wheels capable of supporting the rider and the bike at the same time. The Roadmaster and Schwinn mountain bikes come fitted with 26 Inch wheels. These wheels are durable and stable making your ride completely stress free. No matter how far you ride you can depend on these wheels to get you there and back and still remain in superb conditions ready for the next challenge.
Gears
Mountain bikes come with different gears aimed at supporting a wide range of speeds. Each gear means more speed or more power to tackle a challenge. The Roadmaster mountain bike is designed with an 18-speed gear with twist shifters. Twist shifters are preferred mostly because they are easy to work with and facilitate smooth shifting from one gear to another.
When shifting, most gears force the bike to either jerk or slow down before engaging. This is certainly not the case with Schwinn's 21-speed gear. It has high quality, highly effective twist shifters meant to obey each one of your commands.
Roadmaster vs Schwinn in-depth reviews
Roadmaster mountain bike review


Made to fit riders within the heights of 5'2 ft. and 5'10 ft. this bike has most people of average height covered. It is a durable, well, designed mountain bike with all the necessary qualities to complete an unforgettable ride on the cross country trails. The Roadmaster mountain bike is fitted with an adjustable seat that let you find your own comfortable riding position. This means you don't have to strain your back or your shoulders too much especially when going for long rides.
Pros
Durable and strong steel frame
Sturdy and balanced 26 Inch, Alloy wheels.
Con
 
Schwinn mountain bike review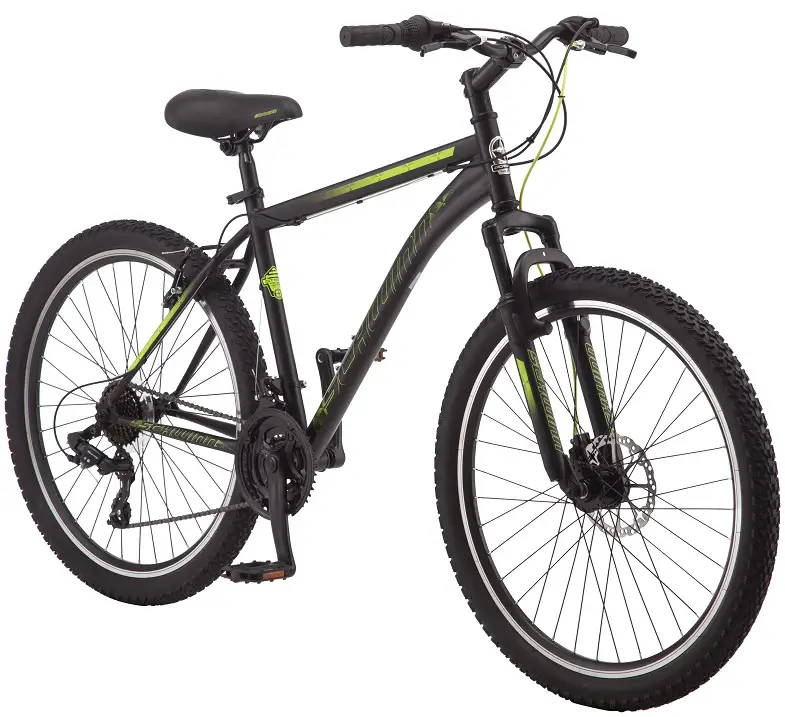 Something I have rarely seen before on a mountain bike is the combination of disc brakes and linear pull brakes on one bike. Well, if they wanted to make a point on how serious they were to make sure that this bike is safe, the point is made. Disc brakes are very effective and remain unscathed when riding on different surfaces and through all types of weather. Linear pull brakes have their own limitations during wet weather but tend to do well during dry weather. These two braking systems combined definitely gives this bike an upper hand over other mountain bikes in the market.
Pros
Highly effective disc brake (front) and linear pull brakes (rear) combination
21-speed gear
Con
 
Last word
With the right mountain bike on your side, there's no place too far or task too difficult for it. The Schwinn mountain bike is one that certainly takes first prize in this Roadmaster vs Schwinn review. It has strong braking systems, convenient suspension and is quite affordable. Certainly a high-performance mountain bike for any outdoor riding enthusiast
Frequently Asked Questions
Is Schwinn a good quality bike?
The Schwinn bike has a high-quality steel frame. With proper maintenance, this frame is very durable and can withstand any form of impact as is often witnessed during mountain bike riding.
Between Schwinn and Huffy which one is better?
The Schwinn and huffy bikes are both good bikes to get especially when you are working on a budget. They are more accessible in bike shops and stores and are easy to assemble.
What about the Roadmaster bike makes it unique?
The Roadmaster has different qualities that make it unique and more attractive to the riders more than other bikes. Some of these desirable features include a steel frame, 26-inch wheels, high-quality 18-speed gear, and linear pull brakes.
How does the Schwinn bike compare to the Trek hybrid bike?
The Trek bike is a bit pricier than the Schwinn bike. This in addition to being sold at selected bike shops with Schwinn bikes being more accessible as they are sold at bike shops and discount stores.
How much does the Schwinn bike sell for?
In general Schwinn bikes are cheaper than most bikes on the market. However, it is up to the bike shops and individual bike owners to determine how much a bike sells for. This means that you can find two Schwinn bikes selling at entirely different prices.