There has never been a shortage of good motorbikes out in the market. From the simplest scooters to the mighty cruiser there's a bike to fit even the pickiest rider's needs. As hard as it is to set one bike apart from the other, here's a thorough Roadmaster vs Street glide review.
Finally being able to buy my own motorbike was a big deal! I am sure it is for many who since childhood have ogled at bikes zooming past so elegantly. I have come to learn that there's more to a bike than it's glistening looks.
Intricate details about each motorbike make it stand out from the rest. With so many options available, it is very easy to get carried away and forget the exact qualities you want in a bike at the point of purchase.
I remain guilty of this, at first, I didn't know much about which features to consider when looking to buy a bike. Today my goal is to help you evade the same mistake, here's a comprehensive Roadmaster vs street glide review.
What are the main differences between the Roadmaster and Street Glide motorbikes?
| | | |
| --- | --- | --- |
| Model | Roadmaster | Street Glide |
| Engine capacity | 1811cc | 1745cc |
| Gears | 6 speed | 6 speed |
| Brake type | Dual disc-front disc- rear | Disc brakes- floating rotors, front. Disc brakes- fixed rotors, rear |
| | | |
Roadmaster vs Street glide- what are the differences?
Engine capacity
Your riding style and level of experience is what determines the type of bike you should go for. If you are only now trying to cultivate your love for bikes, it means you are mildly experienced and should advisably go for a low engine capacity motorbike.
If you are fairly experienced, these two bikes are going to take your breath away. The Indian Roadmaster has a twin-engine whose capacity is 1811cc while the Harley Davidson Street Glide engine capacity clocks at 1746cc.
Gears
Each motorbike comes with a particular set of gears which enable it to shift from one speed to another. There are motorbikes with as few as two gears. These types of bikes are best for beginners who are looking less for speed but more towards perfecting their riding styles. Most motorbikes have two to three gear sets which simply means four to six gears.
Both the Indian Roadmaster and Harley Davidson Street Glide have 6-speed gears each. These bikes can move from a complete stop to a lightning speed in mere seconds all thanks to a wide array of easy to shift gears.
Brake type
Motorbikes often have a set of brakes at the front wheel and single brakes at the rear wheel. When you use your right hand to pull on the lever at the right side of the bike handlebar, you engage the brakes at the front wheel. To engage the rear wheel brake you will be required to step on your right pedal.
The Indian Roadmaster and the Street Glide motorbikes come fitted with dual disc brakes at the front wheel and a one disc brake on the rear wheel. Here you have more control and increased stopping power. This independent of how fast you are going or how coarse the sand is assuming you are riding on a dirt road.
Roadmaster vs street glide reviews
Indian Roadmaster review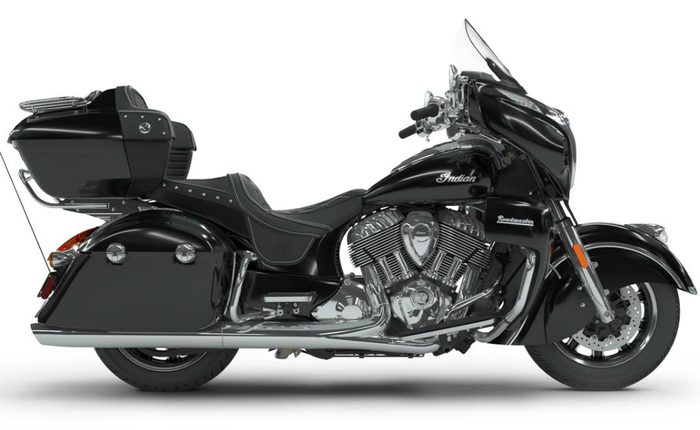 There's a wide range of Indian style motorbikes, but nothing spells modern better than the latest Indian Roadmaster motorbike. A cruiser style motorbike that has heads turning and tongues wagging each time you come out for a ride. This bike has some pretty impressive set of qualities.
Here, you have an adjustable floorboard and visor for enhanced comfort, Bright LED lights which are power savvy and bright enough to give you optimum visibility during the night. You can bid good riddance to guesswork when it comes to tire pressure because this motorbike has tire pressure monitors to tell you whether or not tire pressure is accurate.
Pros
Attractive, modern design
Powerful 1811cc engine
Con
This bike may consume more fuel than other low capacity bikes.
 
Harley Davidson Street Glide review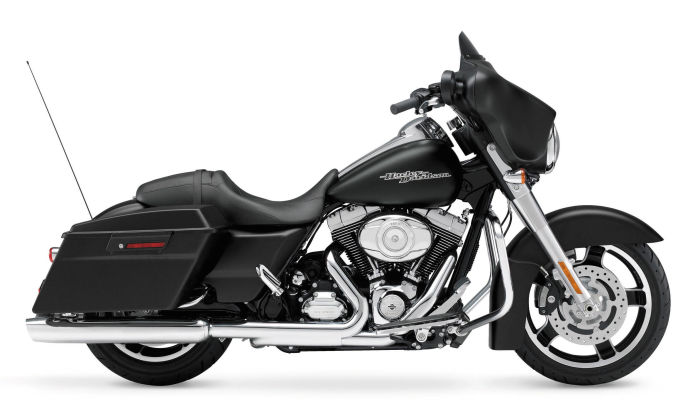 From afar this bike looks like any other cruiser bike, but if you have a good eye, you'll realize that there's nothing ordinary about it. Aside from its monstrous 1745cc engine, there's a whole lot of features to enhance your riding experience. This bike comes in seven different colors to suit every riders color preference.
This powerful bike engine has all the oomph needed to take you miles and miles away without the need to take a minute off midway to let it cool off. Effective disc brakes on both front and rear wheels mean you have all the stopping capacity to keep you always in control. Riding out in the sun for hours can be a tad bit too uncomfortable, this is why the street glide motorbike comes fitted with an air conditioning system and two high-quality speakers to entertain you along the way.
Pros
Powerful 1745cc v twin engine
Effective disc brakes for enhanced control
Con
This bike may be too challenging to ride if you are a beginner
 
Conclusion
I always look forward to riding my bike. Now that I have become better at riding, I have been looking to upgrade. Having tested the Indian Roadmaster and the Street Glide I must say these two bikes are so much fun to ride. I really love the Indian Roadmaster, because of how comfortable it feels to ride and the numerous accommodating features it owns. Riding this bike is something I am sure I will be looking forward to each and every time.
Frequently Asked Questions
Between the Indian Roadmaster and Harley Davidson Street Glide, which one's better?
The Indian Roadmaster comes with a higher capacity engine. This means more power to take you on a long distance journey with few to no stopovers.
Which bike between the Roadmaster and the street glide has a better roar?
The street glide has an exhaust that produces a deep thunderous sound rich enough to awe anyone. Many riders find the Roadmaster sound is a tad bit too loud and sharp.
What is the price of a used Indian Roadmaster motorbike?
There's no sure way of putting a finger on just one price. Different sellers come up with different prices based on any enhancements, the condition of the bike and sentimental value.
How does the street glide bike perform on the road?
Despite having average engine capacity, this bike has strong wheels, highly effective disc brakes, powerful 6-speed gear, and a 6-gallon fuel tank. All these are just but a few of the numerous features that make this bike efficient and easy to handle.
Street glide vs Honda Goldwing, how do these two compare?
The street glide has a powerful 2 cylinder 1868cc while the Honda Goldwing boasts an 1833cc engine with 6 cylinders. The street glide has a 6-speed manual transmission while the Goldwing offers a 7-speed automatic transmission.