If you are new to stationary bike workouts, then this review of Schwinn 170 vs. Peloton will help your decision in selecting one. The best part is you can fit any of these bikes anywhere in your home.
After delivering my second child, I gained a few pounds, which I needed to lose after weaning the baby. I tried joining the gym but lost interest because it was a distance from our home. On our fifth anniversary, my husband shocked me by gifting me a stationary bike. Now I could kill two birds with one stone – I could easily exercise in the living room while watching my baby. I downloaded some few workouts YouTube videos, and this eliminated my need for a trainer. With a stationary bike, I can work out whenever I feel like and at a time I choose.
What are the key differences between Schwinn 170 and Peloton? How they compare
| | | |
| --- | --- | --- |
| Model | Schwinn 170 | Peloton |
| Dimensions | 40.7†X13†X 22.2†| 59â€X 23†X 53†|
| Weight | 76 pounds | 135 pounds |
| Max. weight capacity | 300 pounds | 350 pounds |
| | | |
Schwinn 170 vs. peloton – Quick summary
Weight
The Schwinn 170 comes in a lightweight aluminum frame that weighs 76 pounds compared with the Peloton 135 pounds. This makes the Schwinn an excellent companion for those who are tight on space. The Peloton however, has a sleek design and can handle person's having a weight capacity of up to 350 pounds compared to the Schwinn 300 pounds.
Design
The Schwinn 170 adjustable seat and console are cushioned for extra comfort. You can adjust them to accommodate your size. The pedals are oversized, and this gives you enough room to maneuver. The peloton comes out as a sleek and technological adapt bike. The saddle is padded for extra comfort, and you can adjust it for depth and height. Even when you are sweaty, you can still have a grip on the handles. The Peloton offers a more comfortable bike compared to the Schwinn.
Training programs
Both stationary bikes have training programs with the Schwinn having 29 present ones, but the Peloton goes a notch higher by offering live, interactive training sessions; this lets you rank against others online or on various Peloton sponsored social media accounts.
Peloton Review


The first thing you notice with this bike is how sleek it is. It comes loaded with lots of technological innovations, and this ensures that you can monitor your pulse rate, calories, and distance covered cycling. The flywheel and pedals conveniently fit into your legs and make for comfortable peddling in spite of the speed.
You can adjust the padded saddle height to suit your preferences. The handlebars are designed in such a way that you still maintain your grip even with sweaty hands. Most of the magic happens courtesy of a crisp 22-inch HD touchscreen. The screen even comes with Bluetooth speakers so that you can enjoy your favorite tunes as you workout.
The touchscreen is designed to be sweat proof. It will display all pertinent cycling information, and you can activate privacy settings or set user profiles. You can choose from various pre-recorded workout classes. The screen even displays a person's who have taken the classes and succeeded. By connecting the device to the internet, you can make use of various online instructors.
Pros
Innovative screen with all work out information
Comfortable saddle and handlebars
Sleek design
Much pre-programmed works out plans
Cons
You need to make a substantial initial investment for the bike
 
Schwinn 170 Review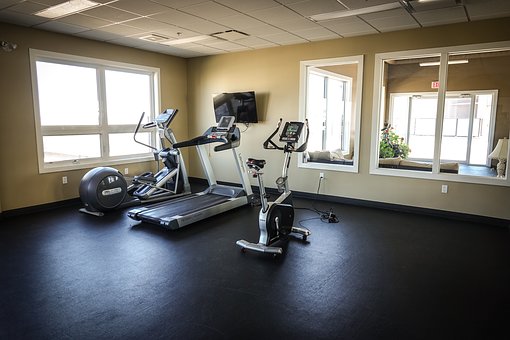 The Schwinn comes with a host of preset work out programs that enable you to customize your work out plan. A total of 29 workout programs and 25 resistance level are available. The workout programs are divided into beginners and advanced. You can also access more workout plans on various Schwinn online apps.
An easy USB port can be used to upload data and charge phones during the workout. The screen is large enough to display crucial data, and you can even set up to five different profiles.
Schwinn 170 has an adjustable padded seat that is comfortable enough for many workouts. You can also adjust the console for a perfect fit. Included in the purchase are heart rate receiver, water bottle holder, inbuilt speakers, transport wheels and a workout fan.
Pros
Comfortable adjustable seat
Large oversized pedals for easy cycling
Easy to operate
Largely adjustable console
Cons
 
Conclusion
In the Schwinn 170 vs. Peloton, we have two contenders with some amazing benefits, but we have a clear winner. The Peloton is the ideal workout bike for beginners and advanced users. The bike stands out due to its innovative touchscreen that is loaded with pre-installed programs – with more available online. The Peloton is sleek and extremely comfortable. The only drawback is that you will need to spend extra. The Schwinn 170 is an awesome stationary bike for those who want to try out the fitness program before they can upgrade to something more costly.
FAQ
Can I burn baby fat with a stationary bike?
The bikes are great for burning fat and calories. With programmed workout plans you can choose a plan that suits your situation; advanced models even come with online instructors.
Which is better, treadmill or stationary bike?
It can be tricky choosing between the two because both are excellent for losing calories, but the treadmill offers better results. With the treadmill, you increase opportunities for maximum weight loss, bone density and cardiovascular.
How many calories does one burn with a stationary bike?
It will depend on many factors like how long you workout and the intensity. It is estimated that a 30 to 60-minute workout will help you burn around 500 calories if you weigh over 155 pounds.
What is the ideal speed for a typical stationary bike workout?
If you are starting out you can begin with 10 to 12 mph and then increase to an average of 15 mph – this is considered average speed. Anything above 15 mph is considered a vigorous workout. You should also aim at working out for 30 to 60 seconds for the best results.
How often should I use my stationary bike?
For the best results, it is recommended that you plan to workout daily. Note that biking exercises work for the lower body and you may need to supplement your workout plan with exercises geared towards strengthening the upper body.