Balance bikes are as simple as bikes come, but how do you know where to set the boundaries? How simple is simple enough? Here's a detailed Schwinn balance bike vs strider review to shed more light into the topic.
Now that I am finally a parent, I am all over the place trying different activities to get this little guy interested. The first few months were pretty easy. But as he grows, I find myself running out of ideas to get him to liven up and stay active.
But everything changed on one Sunday evening on one of our family walks, we happened to pass by a bike shop. From outside I could see the most colorful bikes in different shapes. I saw my son's face light up. He was in awe!
That day we both learned something new. My son realized he loved bikes and for the first time, I saw a bike that moves without pedals! Here's what I have so far unveiled about the Schwinn balance bike vs Strider bikes.
| | | |
| --- | --- | --- |
| Model | Schwinn balance bike | Strider |
| Seat adjustability and height | 14†to 16.5†| 12†to 20†|
| Material | Steel | Steel |
| Weight | 10.5lbs. | 6.7lbs. |
| | | |
Schwinn balance bike vs Strider, differences, and similarities
Seat height
You wouldn't want to buy a balance bike, only to find out that the seat is too high for your kid with no means to lower it. The first thing to always confirm is whether the seat is adjustable to suit your child's height. Both the Schwinn balance bike and the Strider bike are designed with adjustable seats.
Schwinn balance bike is ideal for taller toddlers because its minimum seat height is 14 Inches. This height can be adjusted upwards to 16.5 Inches to suit older kids. The Strider balance bike can adjust from 12 inches up to 20 Inches to accommodate children from 18 months old to 5 years old.
Weight
The Schwinn balance bike is much heavier than the Strider bike. Schwinn weighs 10.5 Pounds against Strider's 6.7 Pounds. For a much younger child, it would be harder to maneuver the Schwinn balance bike. They would either need a lot of help keeping the bike upright and need even more help when lifting the bike up in the event that they trip and fall.
It is much easier for a younger child to lift and ride the Strider balance bike without straining or needing help. Note that the heavier the bike is the easier it is to balance because the force of gravity helps keep the bike grounded.
Tires
Schwinn bike comes in strong air-filled tires. They are 12 inches in size and are designed to make it easier to roll. The tires are pretty strong and are built to withstand pressure from sharp objects. These tires have good traction and enhanced cushioning which makes this balance bike ideal for riding on both concrete paths and rough paths.
The Strider balance bike is designed with foam tires that will never go flat because they are puncture proof. Foam tires perform well on flat concrete surfaces. Owing to their poor traction design it is better to keep off rough roads or dirt roads.
Materials
The Schwinn balance bike and Strider balance bike are both made of steel. Compared to Wood and Aluminum alloy, Steel is much heavier and better for use as the main material for balance bikes frames for heavier or older kids.
It is strong enough to withstand any type of impact especially when it hits the ground. The only problem is that it is prone to rusting if the paint chips off or if you reside in a place where there are high humidity levels.
Footrest
A footrest should be well designed so that it serves its functions without getting in the way or injuring the child. The Schwinn balance bike footrest protrudes too far outwards rendering it intrusive especially for a smaller child. The child risks injuring his or her calves when riding.
The Strider balance bike has a better, kid-friendlier design. Its footrest is narrow and is placed closer to the rear tire right under the seat. This makes it easier for the child to get on and off the bike with no incidences of them hurting themselves.
Schwinn balance bike vs Strider review. The good, the bad.
Schwinn balance bike review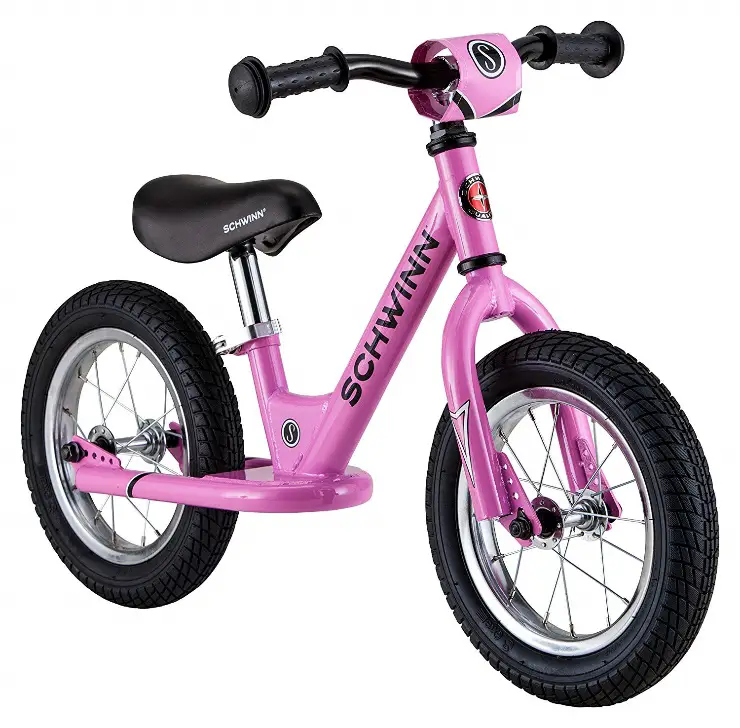 Children within the ages of 2 years to 4 years can enjoy an amazing time out riding in this beautiful balance bike. The Schwinn balance bike is designed using the unique BMX style to make your little one feel like part of the crowd when riding with older kids or adults on pedal bikes.
Made of steel, this bike can withstand impact and tough out other external agents that can prove destructive. With 12 Inch air-filled rubber tires, this Schwinn bike gives you the best cushioning and traction making it safe for smooth roads and dirt roads.
You do not need any tools to assemble any parts or make adjustments. A bike that works with you so you can focus on training your kid how to ride a bike. This bike is by far the best gift you can buy your child for their birthday.
Pros
Made of durable steel material
Has 12 Inch air-filled tires with better traction and cushioning
Designed with an adjustable seat to accommodate children between 2 to 4 years
Cons
This bike's footrest protrudes too far outwards and may injure or get in the way of the child during their bike riding session.
 
Strider balance bike review


The key to teaching your child how to ride a bike using a balance bike is to become more of a cheerleader and less of a coach. Give your kid the freedom to make mistakes and try new things. With you present, and with the child wearing protective gear, what's the worst that could happen?
The Strider balance bike is a bike that supports your child's first riding sessions. If you want a bike that will get your child to learn to balance faster, and help him or her quickly move on to a normal bike, then look no further.
This balance bike accommodates kids as young as 18 months or as old as 5 years. It is made of steel which makes it durable and is designed to promote safety for all children. Strider is a renowned brand that makes high-quality balance bikes with the best interest of the children in mind.
Pros
Elegant, ergonomic footrest design
Frame made of tougher durable steel
Adjustable seat
Con
It comes with foam tires which have poor cushioning and offers little traction when riding on a dirt road
 
Conclusion
It is a tight race on which one takes first place in this Schwinn balance bike vs Strider review. The two bikes are both good quality, well-designed bikes. Schwinn is a brand that has for long dominated the industry, but when I consider, function, convenience and comfort, the Strider bike works for me. I can overlook the small flaws on this bike just because this bike is much lighter, and more accommodating for my child through different growth stages.