Electric bikes are quickly replacing petrol cars because of their convenience. In this Schwinn vs Cannondale review, we discuss the main features that prompt bike users to go the electric way.
I commute daily to work on a bicycle. Since my office is miles away, I always ended up at my desk tired from cycling. My productivity suffered because I had to spend a considerable amount of time recovering from the ride. I finally decided I needed something that could get me through the mile-long journey fast and sweat-free. A colleague suggested I should get a city cruise e-bike. There were many options online but my eye settled on two modern e-bikes from Schwinn and Cannondale. To get a feel of what to expect, I visited a local bike shop that stocks these brands. I have enjoyed riding both bikes and this is my honest review about them.
Difference between Schwinn and Cannondale-How do they compare?
| | | |
| --- | --- | --- |
| | Schwinn Constance | Cannondale Active City |
| Frame | Alloy Steel | SmartForm C2 Alloy |
| Drivetrain | 7-speed | 10-speed |
| Tires | 26" | 28" |
| | | |
Schwinn vs Cannondale-A Detailed Comparison
Material
Electric bikes are for cruising around the city, therefore, need a quality frame for it. The Schwinn Constance e-bike features an Alloy Comfort Cruiser frame. It is a classic step-thru design made just for the city. Getting on and off the bike is super easy and you have a carrier for your groceries or if a friend tags along.
Cannondale Active City e-bike features their signature SmartForm C2 alloy frame. The frame has the right wall thickness distribution and precise tube shapes. Cannondale put more emphasis on the area that helps the frame achieve unparalleled strength. What I appreciate in the Cannondale Mavaro bike is the clever concealment of the battery pack. It hides under the back carrier leaving the frame with a cleaner urban look.
Pedal Assist
The whole point of owning an electric assist is the need to keep going with less pedaling. The electrically powered pedal assist gets you up a mountain or glides you through traffic with no fuss. The Schwinn Constance makes this happen by incorporating a 250-watt pedal assist motor. A thumbpad controller is inclusive to vary the amount of power on the motor.
Cannondale also comes with a 250-watt Bosch Active motor. The fact that is a Bosch means it is of superior quality. Another win for the Cannondale Mavaro e-cruiser is the 400Wh battery pack. It packs enough juice to clear a steep climb or a pedal-free cruise experience.
Wheel Size
Electric cruiser bikes also have large wheels for increased traction and clearance. Bigger wheels mean you pedal less to move fast. With more surface area on the tires, you have a better grip on the road equating to great handling.
Cannondale won this round as well by having 28-inch wheels. They are way superior compared to Schwinn's standard 26-inch wheels. Schwinn keeps up with the pace by adding a puncture protection feature on the tires.
Speed
There will be days when you want to get to work or a meetup faster on your cruiser bike. This means having a drivetrain with enough cogs to vary how fast you go. Schwinn Constance e-bike comes with a 7-speed drivetrain which is a standard for most cruiser bikes. Cannondale pushes the limits by incorporating a 10-speed drivetrain. Those extra gears definitely make the Cannondale run faster.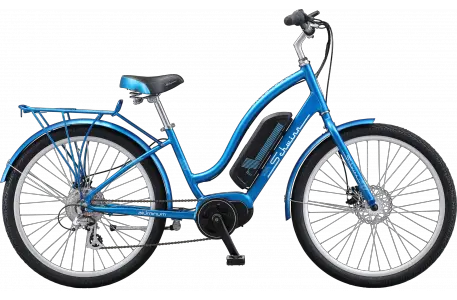 A Schwinn Constance e-bike is the ideal replacement for your car. It allows you to cruise through traffic while the rest of humanity chokes in smog and frustration. You never worry about gas money anymore and you also contribute a big deal to environmental protection.
This bike comes with an alloy frame to make it tough and light. The 250-watt battery pack sits under the step-thru cross-tube and acts as your pedal assistant. It is a great feature if you want to ride up a steep hill and not get tired.
A Shimano 7-speed drivetrain gives you enough gears to vary your speed levels. High-quality Shimano Revo twist shifters operate the alloy cog set. On the riser handlebar are alloy brake levers that work an alloy mechanical disc brake. You can rely on this brake system to slow down or stop the bicycle when need be.
Pros
Premium durable alloy frame
Electric pedal assist
Step-thru frame
Cons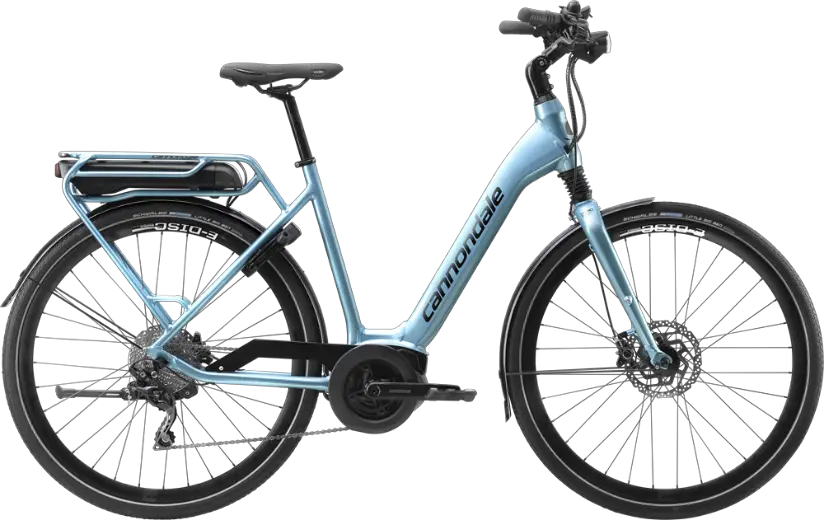 If you are looking for a convenient way to commute around the city, you need a Cannondale Active City e-bike. This bike has the ultimate step-thru frame that almost passes for a moped.
This bike is boasts of SmartForm C2 alloy which is Cannondale's premium frame. Cannondale Active City e-bike comes with a back sweep riser handlebar that ensures you ride in an upright position. A convenient back carrier stores your luggage and also conceals the bike's 400Wh battery pack. The choice to put the battery at the back leaves the front looking cleaner and pristine.
You also get Cannondale double wall rims with 28-inch Big Ben tires. You only need to pedal less to go fast with the electric throttle giving you a boost in speed. The tires on this bike feature K-Guard puncture protection. This ensures your wheels are safe as you ride through rough surfaces. Cannondale Mavaro city e-bike comes with urban pedals that feel comfortable and are durable.
Pros
Chic step-thru design
Strong frame built to precision
400Wh battery pack
Cons
Conclusion
To conclude this Schwinn vs Cannondale review, I would pick the Cannondale e-bike as the ultimate winner. It has more battery power and packs premium features for people serious about electric bike riding. If you have the budget to spend, get yourself the Cannondale.
FAQ
Is Cannondale a Good brand?
Cannondale is an excellent bike brand that produces premium products. The Cannondale Mavaro Active City is one of their flagship e-bikes with great reviews.
Are Schwinn bikes made in the USA?
Schwinn bikes are no longer in production in the USA. Schwinn sold its brand name via an acquisition after the company closed shop in the late 90s.
Why are Cannondale bikes more preferred than Schwinn?
Consumers continue to buy Cannondale over Schwinn because of the perceived high quality. Cannondale continues to release quality products with amazing features.
How far can the Schwinn e-bike travel?
The Schwinn Constance bike is capable of covering 5 to 10 miles of riding. This is because of the pedal assist feature that gives the bike a boost in speed.