What features do you look for in a hybrid bike? In this Schwinn vs Diamondback hybrid review, we give you tips on how to choose the best bike with mountain and road capabilities.
I had been searching for a hybrid bike for a while without getting what I want. To me, the best hybrid bike is one that comes in a durable lightweight frame that is corrosion resistant. I also love a hybrid with large wheels that can handle any rough riding whether it is on or off-road. The options I got on the market did not match my expectations to say the list. I had to up my budget to be able to enjoy such features. When I was ready to window shop again, I had two hybrid bikes in mind. A Schwinn Discover and a Diamondback Edgewood hybrid bike. This is my honest review after test-riding both bikes.
Differences between Schwinn and Diamondback hybrid bikes-how do they compare?
| | | |
| --- | --- | --- |
| | Schwinn Discover Hybrid | Diamondback Edgewood Hybrid |
| Frame | Aluminum | Aluminum |
| Suspension | Schwinn Suspension Fork | HL Zoom Suspension Fork |
| Handlebar Design | Back Sweep Riser | Riser |
| | | |
Schwinn vs Diamondback Hybrid bikes- A Detailed Comparison
Material
The best hybrid bike comes with a durable, lightweight and corrosion-resistant frame. This means a choice between aluminum and Chromoly steel. I would go with aluminum because it is lighter hence makes handling my hybrid bike easy.
Schwinn Discover hybrid bike comes in an aluminum frame. This frame features a comfort-hybrid design which ideal for cruising the urban jungle. Schwinn adds that this bike boasts of a dual density construction which fortifies its ability to take a beating on any riding surface.
Diamondback Edgewood hybrid bike comes in with an aluminum frame as well. The frame boasts of a Sports Hybrid geometry. It ensures a comfortable and stable ride whether you are on tarmac or gravel.
Suspension
A good hybrid bike comes with suspension forks to iron out the bumpy surfaces on the road. Schwinn Discover hybrid features high-quality front suspension forks. This ensures the handlebar remains stable even in the rockiest of paths.
Diamondback Edgewood bike features HL Zoom suspension on the front forks. It allows you to enjoy your riding whether you are on tarmac or pebbled path. This bike includes a KindShock suspension seat post. Together with the front suspension forks, it ensures this bike feels smooth to ride no matter how rough the terrain is.
Riding Position
A comfort bike should allow you to ride in an upright position for back support. Schwinn Discover hybrid features a back sweep riser handlebar. The handle grips curve towards the rider. This allows you to ride in an upright position with the handles within reach.
Diamondback Edgewood bike also features a riser handlebar. The diagonal cross tube raises the handlebar to a comfortable holding position. Your back maintains an upright posture as you cruise around the city enjoying the views.
Schwinn Discover Hybrid bike review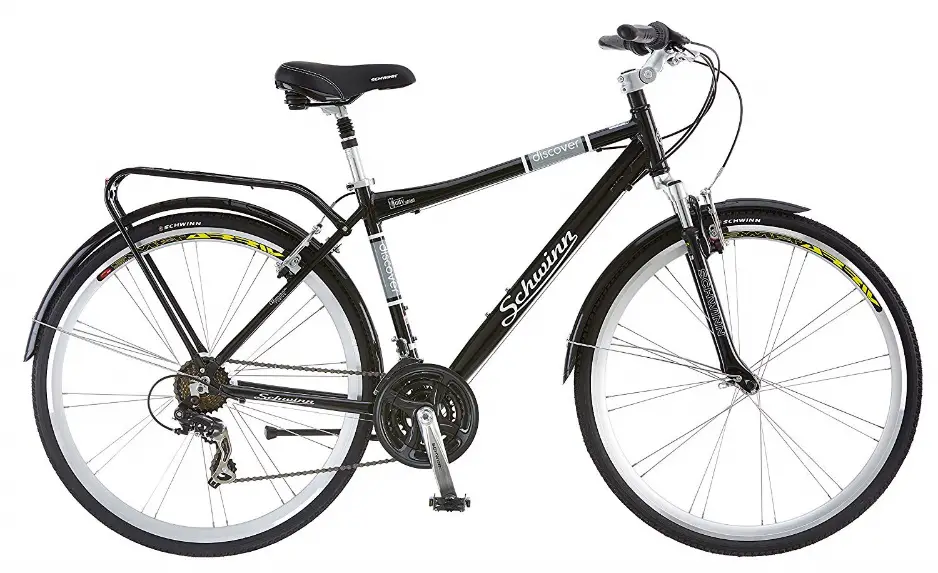 Schwinn is one of the industry leaders in crafting quality hybrid bikes. This Schwinn Discover bike features an aluminum frame with dual-density construction. The frame is tough, durable, and feels light to handle.
The front wheel has Schwinn suspension forks to absorb shock while riding in bumpy terrains. You will always be in control of the handlebar even when speeding in rough surfaces. On the rear wheel is a Shimano 21 speed drivetrain operated by SRAM grip shifters.
This bike has quality Promax alloy linear pull brakes. The brake lever fit your four fingers which makes braking convenient. A padded seat ensures you sit comfortably while enjoying your cruise in the city or countryside.
Schwinn Discover hybrid bike comes with front and rear fenders. You will never worry about getting your shoes or pants dirty as you pedal in the rain. You also have a built-in rack to travel with a friend or your grocery bag.
Pros
Lightweight and durable frame
Front suspension forks
Front and rear fenders
Cons
 
Diamondback Edgewood hybrid bike review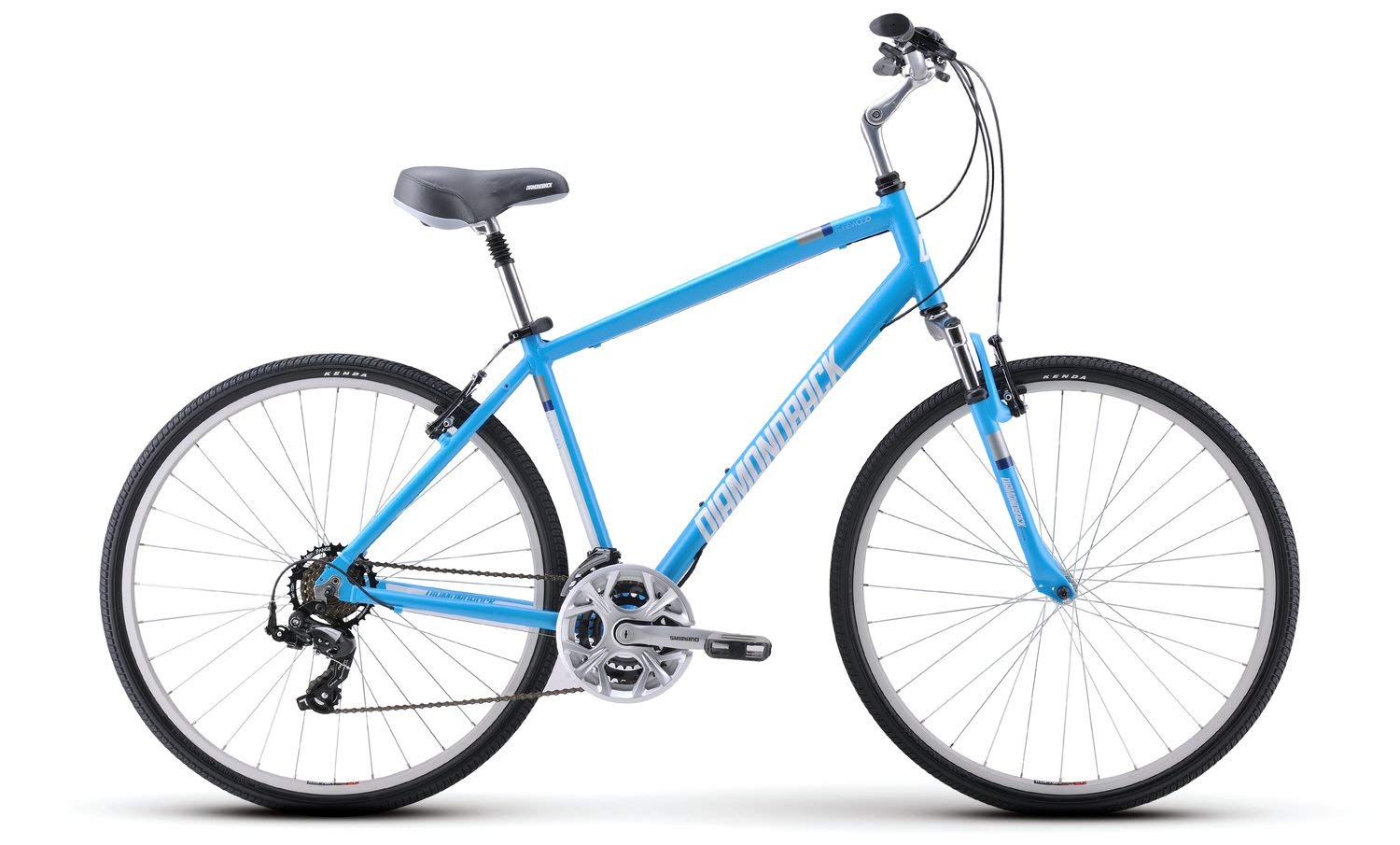 Diamondback Edgewood is a simple looking bike but with great hybrid capabilities. It features an aluminum frame with front and rear seat post suspension. This bike is sturdy and stable providing a smooth ride in the roughest of terrains.
The Sports hybrid geometry ensures you maintain an upright position when riding. The adjustable saddle features seat post suspension for comfort. The rear wheel boasts of a Shimano Tourney 10-speed drivetrain. Three gears On the rims are 700 x 40cc Kenda tires which are thick to absorb shock. You will enjoy the smooth roll of the wheels on pebbles, rocks, gravel, and tarmac.
The stem is adjustable allowing you to vary the height and angle of the handlebar. With the handle grips within reach, you have better control of your bike. This bike comes 95% assembled and will only take you less than an hour to complete.
Pros
Strong and lightweight frame
Front and rear suspension forks
Large tires with good grip
Cons
 
Conclusion
I hope this Schwinn vs Diamondback hybrid review has been helpful. As I sum up, I would say my ultimate winner is the Diamondback hybrid bike. The front and rear suspension is a win for me. I love to cruise around the city enjoying the ride and not worry about bumps or rough paths. I also appreciate the adjustable stem to keep the handlebar within reach. I installed a carrier to make my Diamondback hybrid more city worthy.
FAQ
Is Diamondback hybrid bike any good?
Diamondback is a bike brand that focuses on quality products. Their Edgewood hybrid bike comes with features such as full frame suspension for riding comfort. Ensure you order a bike with a frame that accommodates your stand-over height.
Schwinn or Diamondback Mountain bikes?
It all depends on what type of features you are looking for in a mountain bike. Most top bike companies use components from the same suppliers. The difference may be in the size of tire, drivetrain choice, or frame material.
Do I buy an expensive Schwinn or a Cheap Diamondback?
When shopping for a bike, going by brands should be the least of your concern. Where you will be riding your bike most determines what kind of features to look for in any brand.
Do they still make Schwinn bikes?
The original Schwinn company does not produce bikes under the Schwinn name anymore. The company retained the Schwinn Paramount bike which they offer custom restoration for to date.