If you are thinking of losing some weight, overcome joints and ligament pain then you this Schwinn vs. huffy cruiser bikes will help you make the right purchase. Find the most comfortable cruiser bike here.
During weekends, many people prefer to take leisurely walks as they unwind from busy work life. One way you can do this while keeping fit is riding a cruiser bike. Cruiser bikes are ideal for casual rides due to their upright riding position and comfortable saddle. With a carrier seat, you can carry your groceries or a young one. I love taking my cruiser bike for rides along the beach as I take in the scenery. The effect on my weight and stress levels is noticeable after several rides. My cruiser bike is lightweight and fits perfectly on my SUV rank. If you have never ridden one it can be challenging identifying the right brand and that is why we have created this review for you.
What are the differences between schwinn Ladies Perla and Huffy Panama? How they compare
| | | |
| --- | --- | --- |
| Model | Schwinn Ladies Perla | Huffy Panama Jack women cruise bike |
| Bike dimensions | 65â€X31â€X37†| 67â€X 26†X42†|
| Speed | Seven-speed | Single speed |
| Weight | 53 pounds | 55 pounds |
| | View price | View price |
Schwinn vs. huffy cruiser – A quick roundup?
Performance
Most of the cruiser bikes are designed for comfort and are therefore single speed, but you do find some modern models with six-speed gears. The Huffy Panama jack 26†women are single speed, but you can get more gears for the male versions. Braking is through backward peddling. The Schwinn Ladies Perla comes with a seven-speed gear system which means you have more options when it comes to cruise control.
Comfort
Comfort is paramount when searching for an ideal cruiser bike. The wheels should have the right thickness to help you navigate sandy terrain. The Schwinn ladies Perla comes with a comfortable spring saddle that ensures that you ride in an upright position without strain to the back. This ensures that you bike does not skid in sandy beaches. The Huffy additional weight can be a hindrance when you are navigating sharp corners.
Design
The Huffy Panama is a bike suitable for persons of height 5.7†and above. It also has a maximum load capacity of more than 250 l.b, this contrasts sharply with the Schwinn Perla, which is recommended for persons of a height of between 5.4†and 5.9â€.
Schwinn Ladies Perla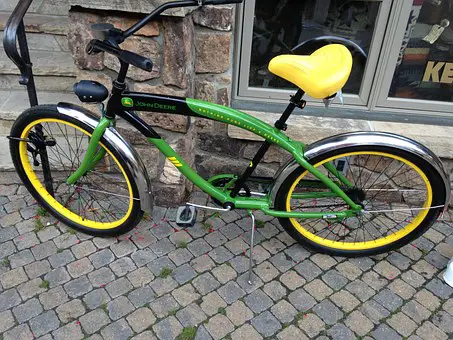 This is a pretty bike for any lady serious about losing weight while taking leisure rides. Its a padded seat that is adorned with embroidery is comfortable enough for long rides. The Perla comes with an easy to shift seven gear system, and this lets you navigate hilly terrain with ease.
The V brakes have a grip on the wheels and come in handy during emergency stops. However, this is a shift from most cruiser bikes that have backward peddling brakes. The bike rides on large 26†wheels that can handle most sandy terrains.
The position of the saddle and handlebars ensure that you ride in an upright position. The main drawback for the Perla is that it is not suitable for shorter people.
Pros
Seven-speed gears ensure fast performance
Comfortable saddle
Front and rear fenders keep off dirt
Carrier seat
Cons
Not suitable for short people
 
Huffy Panama Jack women cruiser 26.â€


Huffy has been selling branded bikes since the 1950s. The Panama Jack range features various cruiser bikes for people of all sizes. The Huffy Panama Jack 26†is a comfortable women cruiser bike that is loaded with accessories like a front basket, bottle opener, and fenders.
The bike comes with wide tires that make for a smooth journey along the beach or on bumpy terrain. Also, Panama uses a patented perfect fit frame that ensures that the rider sits upright. This lowers the center of gravity hence making the bike more stable. The lowered frame has the added advantage of keeping your feet on the ground whenever you stop.
You can adjust the handlebar and seat to accommodate the height. The Panama range comes in 20, 24, and 26-inch tires. This makes them ideal for adults of a minimum rider height of 5 ft. The bike is a single speed with backward peddling braking.
Pros
Large balloon tires offer a comfortable ride
Patented frame with ten year warranty
Carrier basket and opener
Variety of bike sizes for all heights
Cons
The bike can be slow due to a single gear
 
Conclusion
The battle between Schwinn vs. Huffy cruiser bikes is a close one, but we have a winner. The Huffy Panama Jack 26†cruiser bike is the ideal for taking chilled out rides around the beach. The bike has all the typical features that make a cruiser bike stand out like balloon tires, upright seating frame, backward peddling brakes, and single speed gear. This bike comes in varying sizes which gives people of different heights options.
FAQ
Can I use my cruiser bike for long rides?
Cruiser bikes are meant for comfortable rides. They lack good suspension and most come with single gears, this makes them ideal for short leisurely trips to the grocery store or along the beach.
How are the brakes in cruiser bikes?
Most traditional cruiser bikes stop through backward peddling. This works fine since you are not riding the bike at high speeds. However, newer cruiser bikes have handlebar brakes which are often accompanied with multiple gears.
Can I use my cruiser bike for the daily commute to work?
The cruiser bike lets you sit in an upright position, and this gives you a good view of traffic ahead. They have large tires that act as shock absorbers and make for excellent rides for short commutes; they are also relatively inexpensive.
Can I include my beach bike in my workout plan?
You can use any bike to lose some pounds. The cruiser bike lets you work on your back and legs will you absorb the scenery.
How fast are cruiser bikes?
Cruiser bikes are restricted when it comes to speed due to their single speed gears. You should expect to ride at an average of 3 to 15 mph. however, faster speeds can be attained if you have multiple speed cruiser bikes.