The best cruiser bike is comfortable to ride and handles well on smooth surfaces. In this Schwinn vs Huffy Cruiser bikes review, we look at the top features to look for in a comfort bike.
I frequently used taxi services to get around the city. The company I worked for paid for the taxis so I never felt the financial pinch. only problem is I found myself arriving late to my appointments. The biggest problem in my city, just like any other advancing city in the world, was traffic. It was about time to get myself something that could go fast even in traffic. I decided to get a cruise bicycle so that I can maintain the timelines on my daily schedules. Since it was long since I was on a bicycle, I had to get something that ensured I am comfortable while cruising. I got myself a Schwinn Sanctuary cruiser which I will compare to the Huffy Cranbrook city bike.
Schwinn and Huffy Cruiser Bikes – How do they compare?
| | | |
| --- | --- | --- |
| | Huffy Cranbrook Bike | Schwinn Sanctuary Bike |
| Frame | Steel | Steel |
| Saddle | Padded/Springs | Padded/Springs |
| Back Carrier | No | Yes |
| | | |
Schwinn vs Huffy Cruiser bikes-A Detailed Comparison
Frame
Cruiser bikes feature frames designed for comfort. The frame is also the backbone of a bicycle and must boast of quality design and built material. Most comfort bikes have a Steel frame which is strong and comfortable to handle. Steel frame bikes are cheaper to buy as well.
Huffy Cranbrook bike boasts of an urban comfort steel frame. The frame design places the saddle lower and the handlebar higher allowing the rider to be in an upright position. The lowered seat also both feet to be on the ground when not moving. It makes the Huffy cruiser bike ideal for shorter people.
Schwinn Sanctuary bike features a steel frame as well. The frame also comes with a lower seat and raised handlebar for a comfortable riding position. The cross tube curves outwards leaving ample space in the frame for a water bottle or a pedal-assist battery. A lower seat makes it easy to reach the pedals as well.
Saddle
Bicycles designed for cruising emphasis a lot on comfort. Both Schwinn and Huffy cruiser bikes feature an ergonomic saddle with padding for comfort. The saddle features springs on the seat post to absorb shock when riding. This ensure you do not feel the sting of riding through gnarly surfaces.
Back Carrier
As you cruise and enjoy the city, you might want to stop at a convenient store or souvenir shop. You will need a bike carrier to hold your shopping as you ride back home. Schwinn thought this through and added a spacious and strong carrier on their cruiser bike. If you are not carrying luggage, you may decide to give a friend a lift home. Huffy Cranbrook bike lacks a back carrier so you may have to buy and install one yourself.
Schwinn and Huffy Cruiser Bikes – A Comparison Overview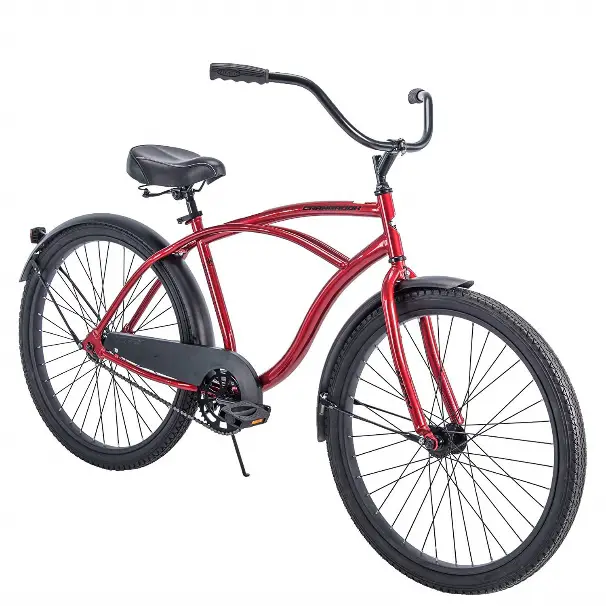 Huffy Cranbrook bike features what the bike maker calls a Huffy Perfect Fit Frame. The ergonomic frame design ensures you ride in an upright position for comfort. The saddle is lower to reach the pedals and put both feet on the floor when you stop.
A padded saddle includes springs to absorb shock when riding in rough patches. This bike also includes front and rear fenders to keep you clean even when riding through muddy paddles. A drive chain guard keeps your feet or pants protected from grease stains.
The rear wheel features a coaster brake for reliable braking. When you stop pedaling, the bike automatically starts slowing down and comes to a complete stop. You also get dual density pedals and grips for comfortable handling and riding. If you want a bike that does everything for you as you enjoy the cruise, this is the bike to get.
Pros
Strong and durable frame
Riser handlebar design
Ergonomic and comfortable saddle
Cons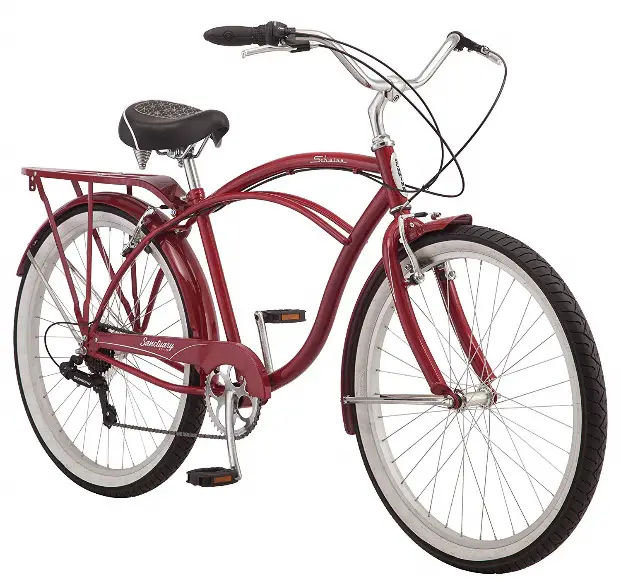 A Schwinn Sanctuary is the right bike for a leisure cruise through the city or the countryside. This bike features a steel durable frame built for urban riding. The raised cross tube creates ample storage space on the frame. Add a water bottle to carry your cold beverage when riding in hot weather.
A Shimano 7-speed derailleur makes your riding experience exciting. You do not have to sweat a muscle when cruising up a mountain. higher gears allow you to pick up speed fast and get to your destination on time. On the handlebar are SRAM twist shifters for convenient gear shifting.
This 18-inch frame bike rides on 26inch tires. 26inch wheels are ideal if you want reliable control of your bicycle. Whether you riding down or up steep slopes, you enjoy how responsive the wheels are. You have full control of your bike when accelerating or cruising at top speeds.
Schwinn Sanctuary cruiser bike comes in three colors. Get this bike in all red, cream and purple or cream and copper. You also get a back carrier for your luggage.
Pros
Urban comfort frame
Front and rear brakes
Reliable wheels
Cons
Conclusion
As we wind up this Schwinn vs Huffy cruiser bikes review, we hope you now understand what makes a great cruiser bike. The ideal comfort bike has an ergonomic saddle with padding and springs for comfort. The frame features a design that makes getting on and off the bike easy. Both the Schwinn and Huffy cruiser bikes come with all these key features. I will choose the Schwinn bike as the winner for including a back carrier and having color variety.
FAQ
Who makes a sturdier bike, Huffy or Schwinn?
Schwinn bikes bought from bike shops have great quality compared to Huffy. If both bikes are from a chain store, then the bike components determine quality.
Is Schwinn owned by Huffy?
Schwinn is under Dorel Industries, the company that owns the brand to date. The brand Huffy belongs to the Ohio-based bike company, UWHK Ltd.
Are Huffy mountain bikes good?
Huffy produces mountain bikes for casual riders. It is an ideal bike if you want a bike to ride on flat surfaces but comes with mountain-bike features.
What makes Schwinn bikes cheap?
Schwinn bikes bought from department stores are cheap because they are mass-produced. If you are looking for quality Schwinn bikes, you can get one bike shops albeit at a higher price.